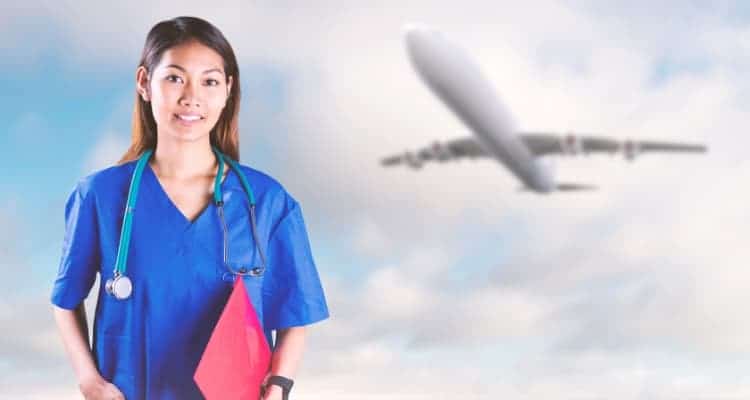 Nursing is a popular career and is one that's always in demand.
The health sector is one of the fastest-growing areas in our communities and graduate nurses are never short of opportunities for work.
The demand for nurses has led many new grad nurses to look at job opportunities beyond their city. One way they do this is by trying to become a travel nurse.
But can a new nursing graduate move into the travel nursing field immediately or is there more to it?
Can a New Nurse Be a Travel Nurse?
No new nurses shouldn't be travel nurses because most agencies and facilities require 1-2 years of experience in a specialty to start taking assignments.
Even if you find an agency that will accept new grad nurses (and there are), most new nurses would greatly benefit from holding off from travel nursing until they have 1-2 years of experience under their belt.
What Is Travel Nursing?
Many nurses find the idea of travel nursing an exciting one.
The chance to travel to other cities and even other countries holds great appeal.
Travel nursing is not any different than regular nursing, except that the nurses get to do it somewhere else.
They are employed by an agency that will send them anywhere they are needed.
This could be local and it can even be in another country.
For many nursing graduates who want an exciting career, travel nursing offers them the chance to practice their skills and help other people in an entirely different city, town, or country.
In this context, travel nursing appeals to people who also have a love of travel.
Find Your Next Nursing Job
Use the NurseMoneyTalk job board to look for and apply to great nursing jobs near you.
Can Any Graduate Be a Travel Nurse?
If you've just graduated from nursing school or you're about to graduate, you might be interested in a career as a travel nurse.
So is it possible to move directly into this career as a graduate nurse?
The short answer is "yes" and "no."
You see most agencies who deal with travel nurses require them to have at least one to two years of experience many times in the nursing specialty they want to take assignments in.
This immediately rules out travel nursing as a career path for a recent graduate.
In fact, if new nurses want to move into a more specialized area as a travel nurse, such as working in the ICU, an agency will likely prefer them to have even more prior experience as a bedside nurse.
Are There Travel Agencies That Accept New Nurses?
As we mentioned earlier there are some agencies that will accept nurses with experience and some facilities who are willing to accept new grad travel nurses.
While you can find them we caution you against being a travel nurse without prior experience for several reasons, but we're going to focus on two.
1. No Support
When you're a travel nurse you don't have the same level of support you have as a staff nurse.
While we understand that there's a lot of great travel agencies out there the level of support you will get from them will never quite be what it will be as a staff nurse.
2. You Lack the Experience
When we say lack the experience we're not just referring to the nursing knowledge and skills needed to keep you and a patient safe.
We're also talking about not having what you might call "nursing street smarts." So these are knowing things that you really can't teach or would be hard to teach but you just know after so many years of working or taking care of patients.
Here's What Else You Need to Know
Apart from the fact that bedside experience is necessary for any agency to consider you for travel nursing, here are some other requirements you need to know about:
1. Licensing Requirements
All travel nurses will require some extra licenses if they are to practice elsewhere.
In most states, it's required that a nurse from another state has a license to practice in their jurisdiction.
There may also be additional license requirements for work further afield, such as in other countries.
This will depend on their specific laws regarding healthcare practices and nursing.
Find Your Next Nursing Job
Use the NurseMoneyTalk job board to look for and apply to great nursing jobs near you.
2. Extra Study May Be a Requirement
There are numerous agencies that manage travel nurses but some of them require their nurses to have their BSN, or Bachelor's of Science in Nursing.
If you already have that and have the necessary experience and licensing, you're already ahead of the game.
3. Tax Implications
Most people don't think about the tax implications but they're important.
If you travel around a lot as a nurse, you may have no fixed residential address.
The issue here is that the tax office requires travel nurses to prove that they have permanent residential addresses when they're not working.
If you don't happen to have a permanent address, you can still work as a travel nurse.
You'll just be classified as an itinerant worker and will need to pay different rates of tax on your income.
4. Certification Requirements
All travel nurse agencies will require these two certifications: ACLS (Advanced Cardiac Life Support) and BLS (Basic Life Support).
You may be required to get some additional certifications if you intend to work in a specific area, such as labor and delivery.
What Are the Pros and Cons of Being a Travel Nurse?
Travel nursing sounds like a great idea to many graduate nurses who are looking for a bit more excitement in their lives and more experience but what are the real pros and cons of this career pathway?
Consider the following benefits:
The Pros of Being a Travel Nurse
1. Travel
Perhaps the greatest benefit is the fact that you get to travel away from home.
It's a life that suits many graduates as they seek to build their own life experiences.
It can also be a great way to experience other countries.
2. Experience and Skills
The other benefit is that a travel nurse builds up a wealth of valuable skills.
Nursing is a lifelong learning experience and travel nursing really does amplify learning.
Working in a range of different environments and being able to learn from a wealth of different people is invaluable.
3. Extra Licensing
It might seem a bit of a hassle getting those extra licenses and qualifications but they are all valuable when it comes to furthering your career as a nurse.
Consider the following cons:
The Cons of Being a Travel Nurse
1. Travel
As much as the travel can be a benefit, it's not for everyone and some graduates find the constant change in scenery and working environments difficult to deal with.
2. Unpredictability
If you signed up as a travel nurse to go to another country, you have to accept the fact that this might not happen for a long time, if at all.
Travel nursing agencies simply send their nurses where they are needed most.
That could be in another country, another city, or even in the same town as the nurse.
3. Not for Everyone
The truth is that travel nursing is not exactly the same as regular nursing.
You have to be flexible, adaptable, and open-minded if you want to be a travel nurse.
You also need to be able to commit your life and time to nursing as a career.
This is clearly not a path for everyone.
Find Your Next Nursing Job
Use the NurseMoneyTalk job board to look for and apply to great nursing jobs near you.
Conclusion
Travel nursing can be a hugely rewarding career pathway for nurses.
Having said that, new and graduate nurses do need extra bedside experience and licensing if they're to sign up with most travel nurse agencies.
There are pros and cons but for any nurse who is open to the experience, it can be thoroughly invaluable as a career choice.
Related Articles: