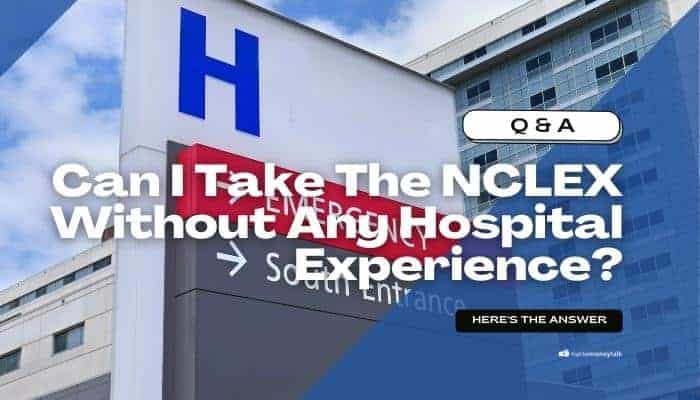 In this article, I'll answer a question I got which was centered around the NCLEX.
Specifically, the question had to do with whether or not you could take the NCLEX if you don't have any hospital experience.
Can I Take the NCLEX With No Hospital Experience?
Yes, you can take the NCLEX without hospital experience. To take the NCLEX, you need to complete a nursing program. As a condition of that program, you would have had to attend clinical. Clinicals are the minimum hospital experience level you need to take the NCLEX.
The only NCLEX prep you'll need. Check out the nclex prep course that helps graduate nurses pass their state board.
What does it cover?
Just to name a few.
Why Don't You Need Hospital Experience?
I think it's important to note that even though you don't need to have worked in a hospital, you're still going to spend some time in a hospital before taking the NCLEX.
Why is that?
It's because to take the NCLEX, you'll need to graduate from an approved nursing program.
As a condition of graduating from those nursing programs, you're required to attend and pass nursing school clinical.
What is Nursing School Clinicals?
If you don't know what clinicals are or what to expect in a nursing school clincals, they are when nursing students go to a facility (usually a hospital) to practice what they learn in class.
At clinicals, licensed nurses supervise students as they do various nursing tasks ranging from the simple med pass to sterile procedures like inserting foley catheters.
Even though some students don't like clinicals, they are a mandatory and vital part of the nursing school process.
Do Clinicals Count As Work Experience?
Even though students spend a lot of time during nursing school clinicals in a hospital, students are not paid for clinicals, and clinicals are not counted as work experience.
NCLEX Prep Academy
Check out the comprehensive NCLEX prep review that I recommend. Don't bother with other NCLEX preps that overpromise and underdeliver. Did I mention they have a 99.86% NCLEX pass rate?
Related Articles
Here are some articles related to "can I take the nclex without hospital experience."