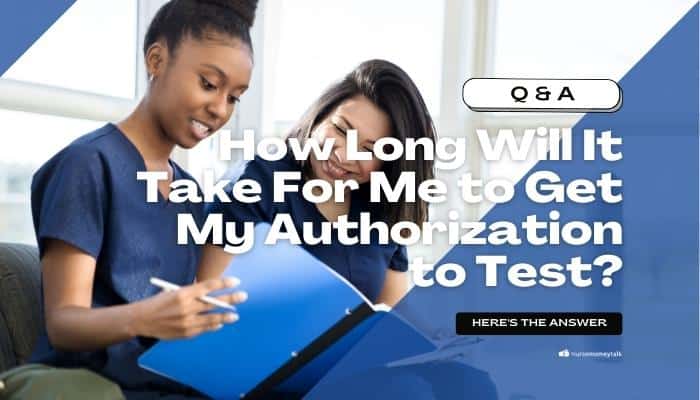 In this article, I'm answering a question about the authorization to test needed to take the NCLEX.
I just graduated from nursing school, and I still haven't received my ATT so I can take the NCLEX.
Do you know how long it usually takes?
How Long Does it Take to Get Your ATT to Take the NCLEX?
It may take 3 to 4 weeks to receive the ATT, so you can schedule to take the NCLEX. There are a lot of moving pieces, so ultimately it will depend on how quickly your school and your state board of nursing do what they need to do.
The only NCLEX prep you'll need. Check out the nclex prep course that helps graduate nurses pass their state board.
What does it cover?
Just to name a few.
What Needs to Happen to Recieve Your Authorization to Test?
To be eligible for the authorization to test, you need to apply with your state board of nursing (also called the nursing regulatory body, NRB) and sign up with Pearson Vue.
Make sure to do this as early as possible as there's a lot of paperwork involved, and this process takes time.
After you do your part, your nursing program will then send your transcript (and any other paperwork) to the board of nursing. This happens after you graduate.
After all the paperwork is sent to your state nursing board, you'll receive your authorization to test if they approve you.
What Happens if I don't Recieve the ATT?
In some rare instances, you may be approved but not receive the ATT. At that point, you'll need to contact NCLEX candidate services.
Example Time Lines
To give you a rough idea of what the timeline looks like here are a couple of examples I've heard of happening.
Graduated from nursing school on May 15.
School sent the transcript on May 22.
Registered with Pearson Vue on May 24.
ATT was received on June 4.
I believe in this situation this student was able to test on June 28. Here's another scenario:
Registered with Pearson Vue on April 17.
Graduated from nursing school on April 28.
Received authorization to test on May 1.
Please note that these are just examples and it doesn't necessarily mean yours will take this long. Nor does it mean you'll get yours as quick.
How to Be Successful on the NCLEX
Now that you know when your ATT will get to you here's how you can be successful on the NCLEX.
Get an NCLEX Prep Course
The NCLEX is a challenging licensure exam. Everything you've done in school depends on this one exam.
This is why I recommend you check out an NCLEX prep course that boasts an almost 100% pass rate.
Many students have found success taking this nclex prep and I think you can too.
Related Articles
Frequently Asked Questions