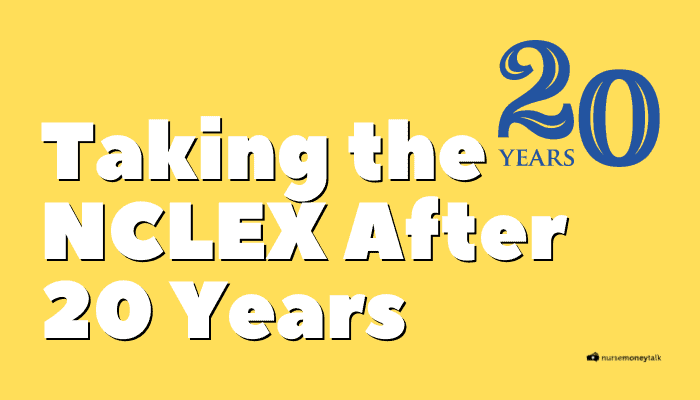 Not everyone who finishes nursing school takes the NCLEX exam straight away.
For some, life gets in the way in the form of illness, inability to pursue nursing at that time, or other reasons.
Luckily, there doesn't seem to be a limit to how many years after nursing school you're ineligible to take the NCLEX.
Still, if you've been out of nursing school for 20 years, you'll need to do some extra preparation to bring your knowledge and skills up to date to pass the NCLEX exam.
tips for Taking the NCLEX After 20 Years
To be successful in taking the NCLEX after 20 years, you should take refresher courses and attend seminars and workshops so you can get up to speed on things that have changed in nursing practice.
The only NCLEX prep you'll need. Check out the nclex prep course that helps graduate nurses pass their state board.
What does it cover?
Just to name a few.
1. Take an NCLEX Review Course
Nursing knowledge evolves, and evidence-based practice changes.
Since you've been out of touch with current trends for a long time, you will need to take a review course to help you study for the exam.
A good review course (like this one I recommend) will present information in a structured way to ensure you won't feel lost and overwhelmed by the volume of the material.
To help you out, this is the NCLEX prep course I recommend. That prep course will do three things.
The first is that it will help you identify where your strengths and weaknesses lie.
Secondly, it will show you where you have knowledge gaps due to changes in practice over the years.
Lastly, it will give you the confidence you'll need by helping you bring your knowledge up to date.
2. Take an RN Refresher Course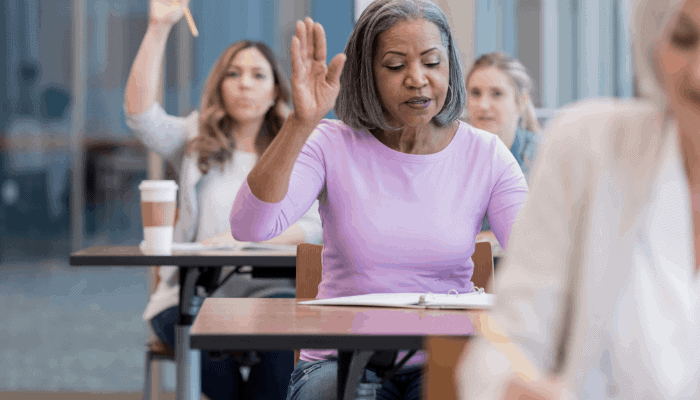 You should do a refresher course in addition to the NCLEX review course.
Refresher courses are an excellent way to brush up on your skills and ensure your practice is current.
It usually contains a didactic and a practical component.
The timeframe needed to complete the course is at most six months, but it will provide helpful updates for a nurse who has been out of the field and now wants to return.
3. Join Continuing Education Programs
One way to upskill yourself is to take on some of the available online continuing education programs.
Most licensed nurses (depending on their state) are required to complete mandatory continuing education courses to maintain their licensure.
But even if you don't have your license yet, officially, nothing is stopping you from enrolling in some of these to brush up your knowledge and skills.
4. Join a Professional Organization like the American Nurses Association
Consider joining the American Nurses Association and your state nursing association for professional support and growth.
It can be a springboard for your nursing career by providing education and career development.
For someone who has been out of the nursing circles for a time, the association provides career networking opportunities that can prove invaluable as a way of letting people know you and growing your professional reputation.
5. Volunteer at Free Clinics and Public Health Department
If you feel you need more opportunities to work with real patients, there is no better way than to volunteer your services at clinics and public health services.
You will not be allowed to work as a nurse at these facilities.
However, working as a nursing assistant or another auxiliary position will give you experience that will be important to help you regain your confidence and get used to working with patients again.
6. Attend Seminars and Workshops
Attending seminars and workshops will enhance your nursing knowledge and provide opportunities to get to know other registered nurses in your state.
Many of these are offered online, so it's an easy way to sharpen your skills.
Of course, there are also opportunities to attend in person, if that is what you prefer.
7. Get a Refresher Course in Technology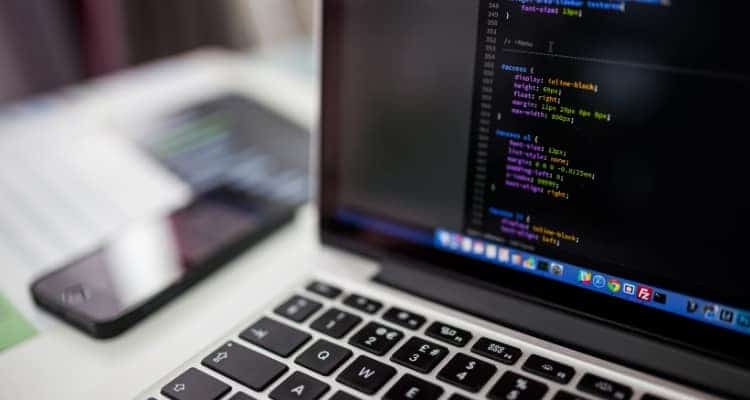 New technology may be the biggest stumbling block in returning to the nursing profession full-time.
Twenty years ago, most charting and nursing communication were done on paper, but now it's done electronically.
Recently graduated students are used to using devices and software because that is how they're taught.
Furthermore, patient treatment devices have changed over the past 20 years, so make sure you don't forget to upskill in this area.
How NCLEX was presented 20 years ago is not the same as it is now.
The NCLEX review course mentioned above will introduce you to the different types of questions you can expect to see on the exam.
Make sure you take as many practice tests as possible to get used to the way questions are asked by the Computer Adaptive Testing (CAT) system.
Check out this article to learn how the NCLEX is scored. You can also check out this article to learn what score you need to pass the NCLEX.
9. Before Registering for NCLEX, You Need Proper Credentials From the State Regulatory Body
Before booking your NCLEX date, reach out to your state regulatory body to determine if your credentials are in order.
There is no time limit on when you should take your NCLEX after finishing nursing school, but some state boards may find your 20-year-old nursing qualification too old.
They may want you to pass a nursing refresher course before attempting your NCLEX to ensure you have all the skills and knowledge to return to the profession.
10. Take the NCLEX
Once you have completed some of the above ideas, you now need to actually study for and take the NCLEX.
I know it might seem daunting, but remember that even if you fail the NCLEX, it's not the end of the world. There are options available to you.
The goal is to hopefully not have you wait or be delayed another 20 years.
NCLEX Prep Academy
Check out the comprehensive NCLEX prep review that I recommend. Don't bother with other NCLEX preps that overpromise and underdeliver. Did I mention they have a 99.86% NCLEX pass rate?
Key Takeaways
It's not easy to take and pass the NCLEX 20 years after graduating from a nursing program, but it's not impossible.
As long as you're prepared to put in the work to bring your skills up to today's standards and network to gain valuable contacts within the profession, there's no reason why you would not succeed.
Related Articles
Frequently Asked Questions