What Are Considered Easy Questions On The NCLEX?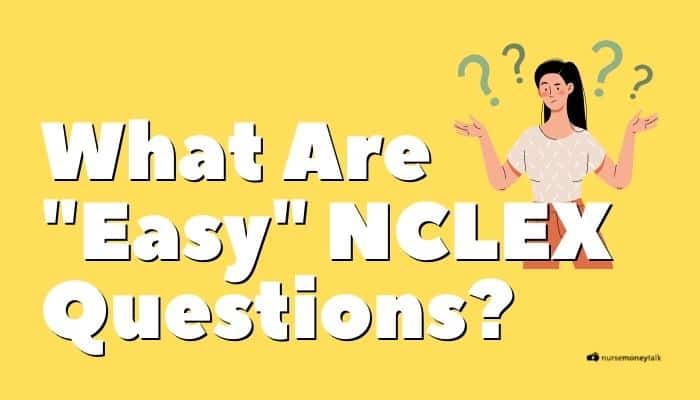 Students often panic when they think the questions they got on their NCLEX exam fall into the "easy questions" category.
You may think you failed the NCLEX when the test shuts off after 75 questions, and you did not get many "difficult" questions.
But what exactly makes a question easy or difficult?
*Disclosure: This article on Here's the answer to the question of what is considered easy questions on the NCLEX. may contain affiliate links. If you click and make a purchase, I may receive a commission. For more info, please see my disclaimer.
What are Considered Easy or Low-Level Questions on the NCLEX?
Easy questions on the NCLEX are questions that are lower on Bloom's taxonomy level. These are memorization style questions that do not require any critical thinking or application.
NCLEX Prep Academy
Check out the comprehensive NCLEX prep review that I recommend. Don't bother with other NCLEX preps that over promise and under deliver. Did I mention they have a 99.86% NCLEX pass rate?
It's important to note that the National Council of State Boards of Nursing (NCSBN) ranks the difficulty of the NCLEX exam questions (or exam items as they are referred to) according to the cognitive domain of Bloom's Taxonomy.
I'll discuss more on Bloom's taxonomy below.
What is Bloom's Taxonomy?
Benjamin Bloom designed the classification of learning objectives and skills to help educators design and assess learning for students.
The model consists of six levels where students must master all lower levels before reasoning and cognitive ability can move to a higher level.
The cognitive levels range from remembering information to creating new information.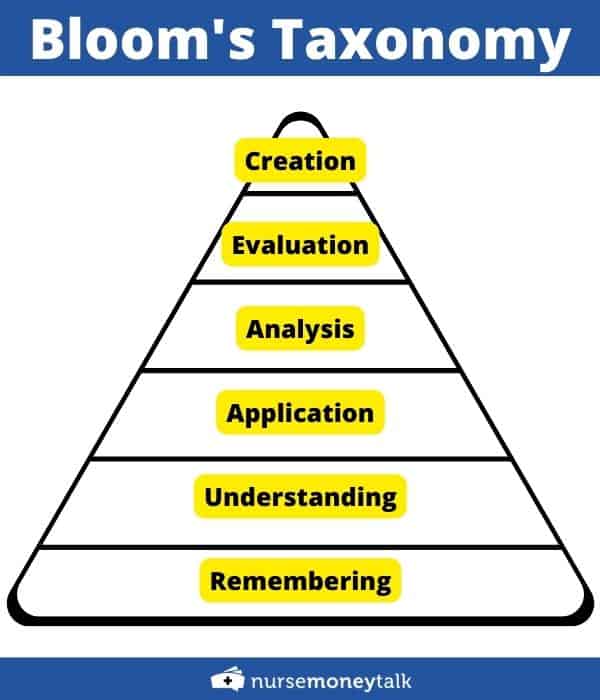 They are arranged in the following manner:
Remembering. First, you need to discover new information and remember it.
Understanding. You need to be able to remember information so that you can understand it.
Application. Once you understand the information, you will be able to apply that information where you can choose, solve or illustrate a concept taught.
Analysis. Once you successfully apply information, you can move on to the analysis level. Analysis means comparing, contrasting, criticizing, and differentiating between two concepts.
Evaluation. Once you can analyze the information, you can evaluate your choice and defend your position by providing defense, judgment, and evaluation of ideas.
Creation. The highest level of cognitive learning is creating new information based on evaluating the given information. At this level, you can create, formulate or invent new ideas or a point of view.
Criteria that make "Easy" NCLEX question
Since the nursing profession relies on students applying theoretical knowledge to practice, most NCLEX questions are set at the level of knowledge application and higher in Bloom's taxonomy.
In an "easy" question, you will be asked to apply your knowledge to a practical situation that a novice nurse may be expected to witness in practice.
The "difficult" NCLEX questions will ask you to analyze the situation and apply critical thinking skills to provide safe patient care.
What makes a question "easy" can be interpreted differently by individuals.
That's why the NCLEX exam objectively evaluates each candidate's knowledge and skill by using Bloom's taxonomy to rate the question's difficulty level and your performance in answering it.
Each time you get an answer wrong, the system displays the next question from the lower level of Bloom's taxonomy (easier question), to see if you answer that correctly.
If you provide the correct answer, the following question will be more difficult. The system arrives at the pass or fail grade by analyzing all the answers you give.
Related: How is the NCLEX Scored?
Example of the "Easy" NCLEX question
Here is an example of how "easy," lower-level taxonomy questions may look on the NCLEX exam:
Question: Which of the following pulse oximetry readings will indicate mild hypoxemia?
a) 100% SpO2
b) 94% SpO2
c) 0% SpO2
d) 88% SpO2
Answer: d. The student needs to remember that the normal values of pulse oximetry readings vary from 94-100% SpO2. 88% SpO2 is a low oxygen level in the patient's blood.
The question above is a lower-level question because it doesn't require you to use any critical thinking or nursing judgment. You just need to know what hypoxemia means and what a normal oxygen level is.
Key Takeaways
To pass the NCLEX successfully, you need to grasp the curriculum well and apply the knowledge to real-life situations.
Because of the way the exam is designed, no one gets only easy questions or only difficult ones.
The CAT system asks questions in a way you can objectively demonstrate whether your nursing knowledge is above or below the passing standard and awards the grade accordingly.
Good luck with your exam.
NCLEX Prep Academy
Check out the comprehensive NCLEX prep review that I recommend. Don't bother with other NCLEX preps that over promise and under deliver. Did I mention they have a 99.86% NCLEX pass rate?
Related Articles