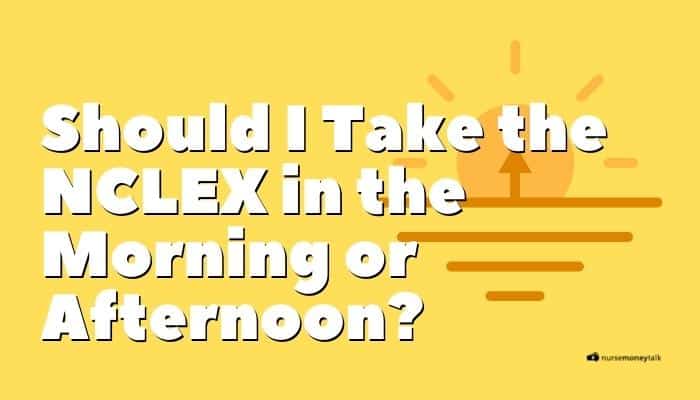 The NCLEX exam is offered in two sessions each testing day to accommodate all students.
The first session begins at 8 am and the second one starts at 2 pm.
To give yourself the best chance of passing the NCLEX the first time, you must choose your starting time wisely.
What Time is Best to Take the NCLEX?
For most students, taking the NCLEX in the morning is best because you're more fresh and likely to do better. But, if you're more likely to run late or you're not a morning person, then consider scheduling it in the afternoon.
The only NCLEX prep you'll need. Check out the nclex prep course that helps graduate nurses pass their state board.
What does it cover?
Just to name a few.
What to Consider When Scheduling Your NCLEX Time
Even though research shows morning is the best time to take an exam, there are other factors you'll need to consider.
1. Slot Availability
Sometimes the choice of when you'll take the NCLEX will be made for you.
The reason is that there are only so many slots available for a morning or afternoon session on any given date.
So if you want an afternoon session for a date you want, you may not be able to get that if the only available slots are in the morning.
2. Anxiety Levels Before Taking an Exam
If your exam being scheduled for an afternoon session will cause you to worry the whole day, you might be better off taking the exam in the morning.
Taking the exam first thing in the morning will stop you from stressing about the exam all day.
3. Traffic Headaches
You need to consider your travel time to the testing facility.
How far away is it from where you're staying?
Are you going to drive to the venue or will you rely on public transport?
What's the normal traffic flow for your area in the morning and afternoon.
Remember that traffic volumes tend to be high in the morning during rush hour.
This will ultimately make it more difficult for you to reach the testing center on time.
If you feel there's a chance of getting stuck in traffic and being late for your test, you might be better off scheduling it in the afternoon when the traffic volume tends to be lower.
4. Sleep Deprivation
If you have a habit of not going to be on time, it might be best not to schedule your exam in the morning.
The afternoon session will help you not feel rushed in the morning, and you can take your time getting up late and having a nutritious breakfast before heading out to make your way to the venue.
5. Ability to Get There Early
You should arrive at your testing venue at least 30 minutes early. If your exam starts at 8 am, you need to be at the venue by 7:30.
That pushes your wake-up time forward, and if you're not used to waking that early, you may be drowsy when taking your exam or worse oversleep and be late for the exam or miss it entirely.
If you're taking public transport, you also need to check the schedule to ensure you'll have adequate transportation on time.
NCLEX Prep Academy
Check out the comprehensive NCLEX prep review that I recommend. Don't bother with other NCLEX preps that overpromise and underdeliver. Did I mention they have a 99.86% NCLEX pass rate?
Key Takeaway

Ultimately, whether you take your test in the morning or afternoon session is up to you.
But if you're struggling to decide, consider the factors mentioned above to help you make up your mind.
Related Articles