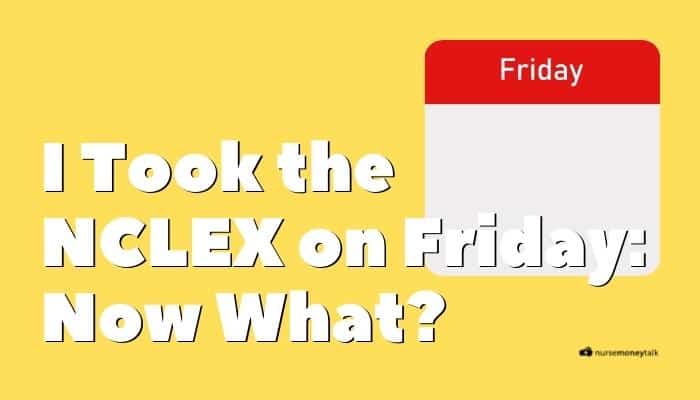 If you took the NCLEX on Friday, you're probably now wondering what's next. What should be your next course of action?
Here's what you should do.
What to Do After Taking the NCLEX on Friday?
After taking the NCLEX, you should relax and plan out what you're going to do to celebrate over the weekend. In many cases, you won't even know if you passed or failed the NCLEX until starting Monday.
Trusted by 430,000+ future nurses and new nurses everywhere. Check out the course that helps new nurses bridge the gap and transition smoothly to becoming nurses.
What does it cover?
Just to name a few.
Relax After Taking the NCLEX
I know you're not going to want to, and this will probably fall on deaf ears, but you should really try to relax after taking your NCLEX.
Even if you don't want to relax, you're probably not going to know what you scored on there. It could take up to 6 weeks for the official results.
It probably won't take that long since many of the board of nursing will probably have it posted by the following week.
How to Find Out If You Passed the NCLEX
If you want to know if you passed before the official results come in, you have a couple of options.
Pearson Vue NCLEX Trick: Check out the linked article for more information. It's essentially a way to see if you passed by seeing if the system will let you schedule another exam.
Buy the NCLEX Quick Results: Not all states participate in this, but it's a way for you to buy the unofficial results from Pearson Vue. Check out the linked article for more information.
What to Do If You Passed or Failed
Depending on whether or not you passed or failed, I think you should consider a couple of things.
If you Passed
If you passed then CONGRATULATIONS! You've just completed the last hurdle on your road to becoming a licensed nurse.
The next thing is to start your new nursing job as a graduate nurse.
If you haven't already secured a job, I have several helpful articles that I think could help you. The first is how to get your first nursing job. The second is my list of the best jobs for new grad nurses.
Lastly, I think you should consider the New Grad Academy. It's a course for new nurses that'll go over a lot of the concepts you'll deal with as a recent grad.
For instance:
IV insertion course
Documentation
How to interview
How to set up your nurse resume
The list goes on and on.
You might be wondering how this is different from the courses you took in nursing school.
It's different because nursing school courses were geared towards you passing nursing school exams and then hopefully the NCLEX.
This course is geared towards you being a practicing nurse. It might not seem like there's a difference, but there is.
If You Failed
If you failed, you should consider checking out this article I wrote on what to do if you failed the NCLEX.
In a nutshell, failure doesn't define you.
I have an example of someone who failed the NCLEX over 10 times and eventually passed. The second thing is to consider what you could have done differently.
One of those things is to get a good NCLEX prep course.
This is the NCLEX prep course that I recommend. They also boast an almost 100% pass rate.
Related Articles
Here are some articles related to taking the NCLEX on Friday.