National Council Licensure Examination (NCLEX) is the bridge that all nurses need to cross after completing their nursing program.
It's required to prove that you meet the minimum competency level needed to practice safely as a nurse.
The passing of this exam is required for both registered nurses and licensed practical nurses.
*Disclosure: This article on what are considered higher level questions on NCLEX may contain affiliate links. If you click and make a purchase, I may receive a commission. For more info, please see my disclaimer.
What Are Considered Higher-Level Questions on the NCLEX?
Higher-level questions on the NCLEX are the questions that demand a greater degree of skills like analyzing, synthesizing, and evaluating information to deduce the correct answer.
NCLEX Prep Academy
Check out the comprehensive NCLEX prep review that I recommend. Don't bother with other NCLEX preps that over promise and under deliver. Did I mention they have a 99.86% NCLEX pass rate?
The examiners can determine your knowledge and skill level according to how many answers you get right.
To pass the NCLEX exam, you need to obtain at least the required minimum competence level.
The higher-level questions you answer correctly mean that your skill level is above the basic minimum required.
What Are Higher Level NCLEX Questions?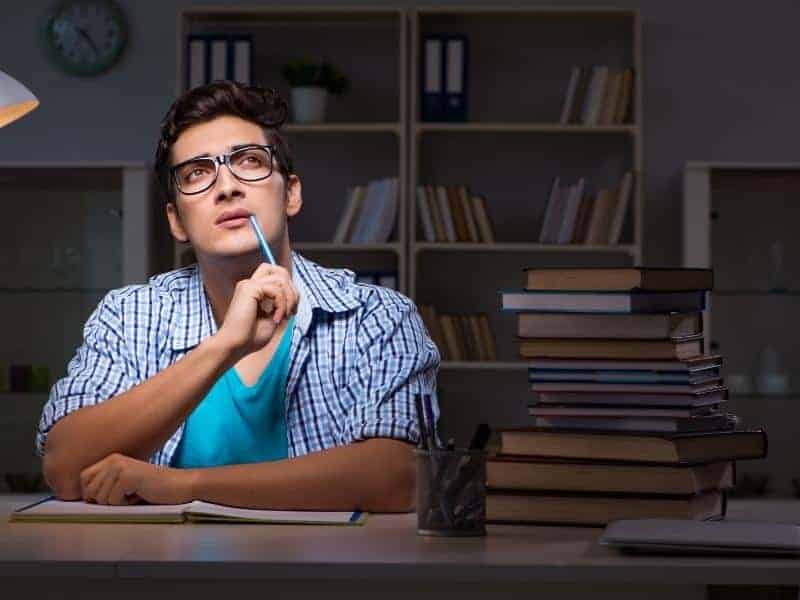 The NCLEX exam follows the widely accepted framework of Benjamin Bloom.
He and his collaborators originally published the "Blooms Taxonomy" in 1956, where cognitive levels of conceptual understanding are described.
Bloom proved that your skills and ability to analyze information increase as your cognitive levels increase.
Therefore, through careful design of the questions, the NCLEX exam can identify the candidate's level of subject mastery.
NCLEX exam consists of multiple-choice questions that require applying knowledge and critical thinking skills to provide correct answers.
The higher-level questions require the candidate to analyze or synthesize information rather than recall it.
For instance, a basic knowledge recall question will look like this "State the normal value of sodium in the human body."

The only skill needed is memorizing the normal lab values and recalling them during the exam.
But nurses need to do more than recall information at the patient's bedside. To be a proficient practitioner, a nurse needs to analyze and prioritize needs according to patients' state of health.
Higher-level questions are asked to evaluate whether a candidate has sufficient knowledge to cope with the demands of working as a competent nurse.
You can recognize the higher-level questions by their phrasing. Usually, a scenario will be given where a nurse needs to analyze the given information and respond accurately to the situation.
A higher-level question about sodium would be phrased as:
"Your patient did not drink any fluids yesterday and voided 1 liter of urine in the past 24 hours. What is the likely sodium level reading for this patient?."
In this question, you are asked to recall the normal sodium level and analyze the given information to predict whether this patient will present lower or higher than normal sodium levels.
This question is more difficult to answer correctly than the first one. It requires critical thinking skills in addition to basic recall skills.
Related: 5 Best NCLEX-RN Review Books
Example of Higher-Level Questions on the NCLEX
The higher-level questions in the NCLEX exam will all require you to either analyze, evaluate, or create something. For instance, the question may read as follows:
You are working with unlicensed assistive personnel (UAP) today. Which patients from the following list will you be able to delegate for your assistant to attend?
A – 50-year-old female, 24-hour post abdominal surgery needing a dressing change.
B – 63 year-old-male learning to administer insulin subcutaneously for the first time.
C – 55-year-old female post-hysterectomy requiring four-hourly vital signs check.
D – 23 -year-old male requiring tube feedings
E – 70- year- old male post hip replacement who needs postoperative mobilization.
As you see, this question requires that you consider the scope of practice of UAP vs. the scope of practice of an RN.
You must then use critical thinking to apply that knowledge and show insight into pathological problems each patient presents.
If you recognize that UAP should be competent to take vital signs and help patients ambulate, the answer to this question becomes apparent C and E.
NCLEX Prep Academy
Check out the comprehensive NCLEX prep review that I recommend. Don't bother with other NCLEX preps that over promise and under deliver. Did I mention they have a 99.86% NCLEX pass rate?
How Can You Prepare For the NCLEX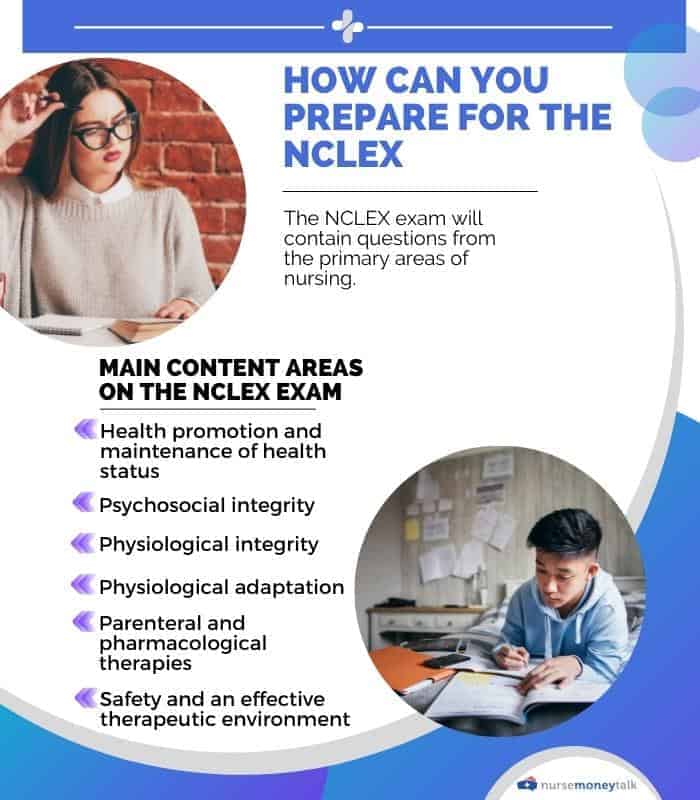 All NCLEX exams will contain questions from the four primary areas of nursing. The main groups are:
Health promotion and maintenance of health status
Psychosocial integrity
Physiological integrity (including basic care)
Physiological adaptation
Parenteral and pharmacological therapies
Safety and an effective therapeutic environment that covers infection control and care management
The exam will include questions from all four of these main sections.
It seems like a lot, but before you panic, remind yourself that you already have learned most of that work in nursing school.
The exam is only the revision of your knowledge.
Regardless, it's still necessary to thoroughly prepare for your exam. To guide you, look up the National Council Licensure Examination study guides available for free from their website.
However, if you need more practice and like the camaraderie of friends in the same boat, how about joining a platform that helps nurses prepare for the exam by providing practice questions and a community to give you honest feedback?
Joining this NCLEX prep platform will ensure your preparation is effective and give you the confidence to take the test.
If you feel confident in your ability, it will mean that you are less nervous during the test and are more likely to pass successfully.
NCLEX Prep Academy
Check out the comprehensive NCLEX prep review that I recommend. Don't bother with other NCLEX preps that over promise and under deliver. Did I mention they have a 99.86% NCLEX pass rate?
Key Takeaways
Taking the NCLEX exam is a skill every nursing student must master.
You can prepare for the test by practicing questions similar to those in the exam to give you confidence in your ability.
Having the support and fellowship of other nursing students will help you master even the most difficult concepts.
Have You Read These Yet?
Frequently Asked Questions