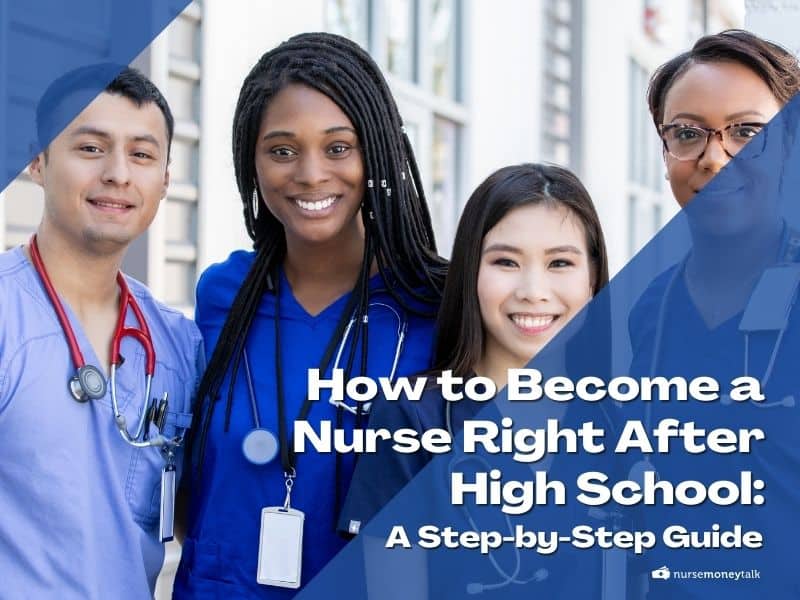 Becoming a nurse is an excellent option for those looking to jumpstart their career right after high school.
But what does it take to become a nurse? How much do nurses make, and what are the different types of nurses?
Whether you're just starting out or already have experience in healthcare, this guide will provide everything needed to become a nurse right after high school.
What Does a Nurse Do?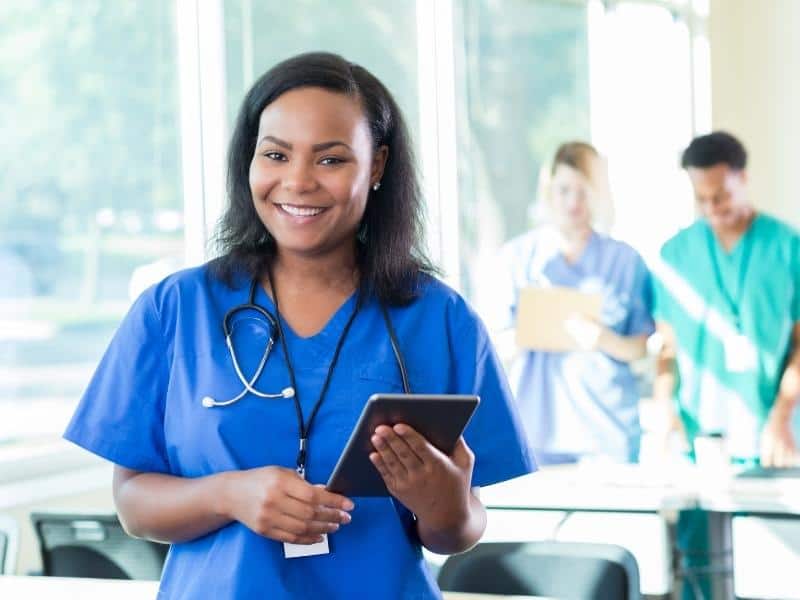 Nurses are responsible for providing care to patients in a variety of settings. They
Assess patient health
Develop and implement nursing care plans
Administer medications and treatments
Monitor patient progress
Educate patients about their health conditions
Provide emotional support to both patients and their families.
Nurses may work alongside doctors in hospitals or clinics to diagnose illnesses and injuries.
They also help with medical procedures such as administering intravenous fluids or taking blood samples.
Nurses must be knowledgeable about the latest medical technology to properly use equipment like ventilators or heart monitors.
Nurses also play an important role in preventative healthcare. Nurses do this by educating patients on the following:
Maintaining good health through proper nutrition
Exercise habits
Other lifestyle changes that improve overall well-being
Nursing is not just limited to physical care. It also includes psychological support for those dealing with mental illness or grief counseling for those who have lost loved ones.
Find Nursing Programs
Search our school database to find schools and get information on the right programs for you. (Don't worry, it's fast and free!)
Nurses often act as advocates for their patients' rights by advocating for better access to healthcare services or working with insurance companies on behalf of their clients.
Finally, nurses are responsible for keeping accurate records of patient information.
This includes vital signs such as temperature readings and blood pressure measurements.
They must also document changes in a patient's condition over time so physicians can make informed decisions about treatment options.
Nurses provide compassionate care to patients in various settings and are an integral part of the healthcare system. With this knowledge, let's explore what it takes to become a nurse right after high school.
How Much Does a Nurse Make?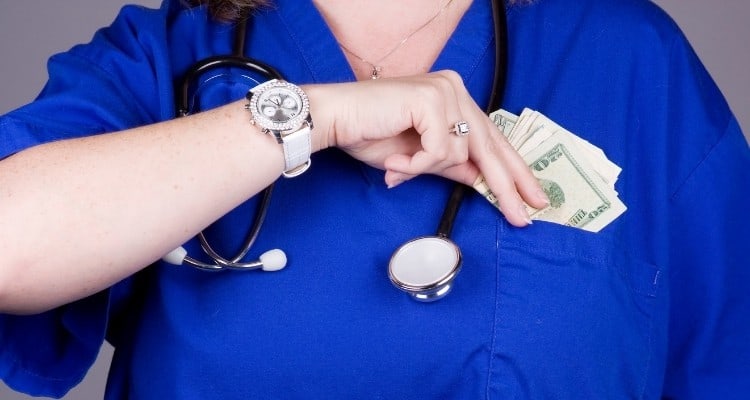 Nursing is a rewarding and well-paying profession. According to the Bureau of Labor Statistics, nurses make an average of $37.31 per hour.
This means registered nurses can earn up to $77,600 yearly, depending on their experience and qualifications.
In addition to hourly wages, many nurses receive additional compensation for overtime work or shift differentials (higher pay for working nights or weekends).
Some employers also offer bonuses or other incentives based on performance or years of service.
The amount a nurse makes will depend on several factors including location, specialty area, education level, and experience level.
For example, experienced nurses specializing in critical care may make more than those with general nursing backgrounds due to the increased demand for their skill set in this field.
Similarly, those who work in larger cities tend to have higher salaries than those in rural areas.
This is due to the cost of living differences between these locations and greater competition among healthcare facilities vying for talent within metropolitan areas.
Nurses also benefit from various tax deductions such as mileage reimbursement when traveling between patients' homes or medical offices and tuition assistance programs offered by some employers.
This helps cover educational expenses related to continuing professional development activities like certification courses or advanced degrees such as master's degrees in nursing specialties like midwifery or anesthesia technology management.
Overall, being a nurse can be very lucrative if you're willing to invest time into learning new skills and staying up-to-date with industry trends.
This will help ensure you remain competitively marketable throughout your career.
Nurses are well-compensated for their hard work and dedication, making it a great career choice for those looking to start working right after high school.
Now, let's examine the education and certification requirements necessary to become a nurse.
Steps to Becoming a Nurse After High School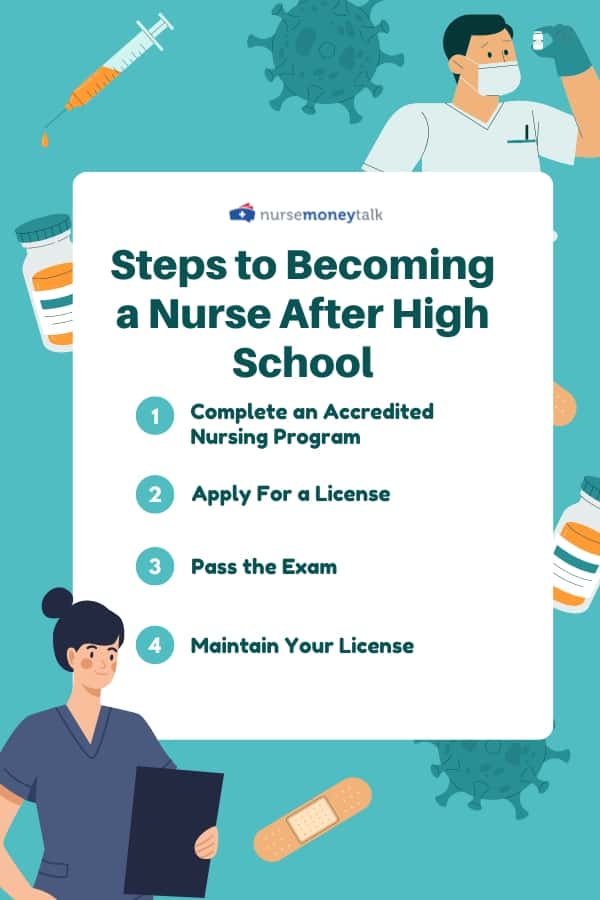 Here are the steps you need to become a nurse right after high school.
1. Complete an Accredited Nursing Program
Completing an accredited nursing program is the first step to becoming a nurse after high school.
There are many different types of programs available, such as Associate Degree in Nursing (ADN), Bachelor of Science in Nursing (BSN), and Licensed Practical Nursing (LPN).
Each type of program offers unique benefits, so it's important to research each one carefully before deciding.
2. Apply For a Nursing License
Once you have completed your nursing program, the next step is obtaining licensure from your state board of nursing.
This will require you to meet certain requirements set forth by each state. This may include:
Submitting an application form with proof of completion of an approved nursing program
Passing criminal background checks
Completing continuing education courses
Or other requirements depending on where you live.
3. Pass the Licensing Exam
The next step is passing your nursing licensure exam. The licensure exam is called the National Council Licensure Examination (NCLEX).
This exam tests your knowledge and skills in providing safe and effective patient care.
You must prepare for this exam by studying the material thoroughly and taking practice exams before sitting for the actual test.
4. Maintain Your License
Finally, once licensed as a registered nurse, it's important to maintain your license through continuing education courses or additional certifications if desired.
Continuing education helps nurses stay informed on current trends in healthcare while also developing new skills needed for their profession.
Additionally, some states require RNs to renew their licenses every few years to remain eligible for employment opportunities.
Completing the steps to becoming a nurse after high school can be an exciting and rewarding journey. Next, I'll discuss what types of education are available for those who want to pursue nursing as a career.
What are the different types of nurses?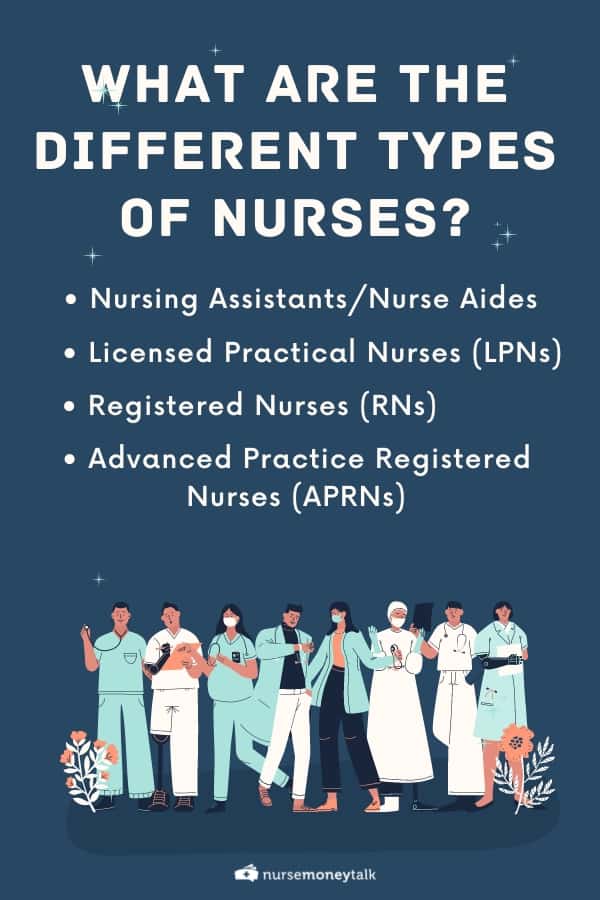 There are several types of nurses, each with their own unique set of responsibilities.
Nursing Assistants/Nurse Aides
Certified Nurse Assistants (CNAs) provide basic bedside care for patients in hospitals or long-term care facilities under the direction of registered nurses or licensed practical nurses. Some of the duties of a CNAs include:
Keeping track of vital signs like blood pressure and temperature
Assist with activities like bathing
Feed patients who need assistance
Answer call lights
Document patient information
Clean rooms between admissions
Make beds
Turn immobile patients regularly to prevent bedsores
Collect specimens for lab tests when necessary
Help transport patients around the facility when needed and perform other related tasks
Licensed Practical Nurses (LPNs)
Licensed Practical Nurses (LPNs) typically complete a one-year program from an accredited school before taking the licensing exam to become an LPN. Their duties include:
Monitoring vital signs
Assisting with medical procedures
Giving injections
Collecting specimens for testing
Changing dressings on wounds
Helping patients bathe or dress if needed
Providing other nursing-related care
Registered Nurses (RNs)
Registered Nurses (RNs) are the most common type of nurse. They must have at least a two-year degree from an accredited nursing program to practice as an RN.
RNs provide direct patient care, such as administering medications or performing diagnostic tests, as well as providing emotional support for patients and families.
They also coordinate care plans with other healthcare professionals and may supervise Licensed Practical Nurses (LPNs).
Advanced Practice Registered Nurses (APRNs)
APRNs are highly trained specialists who can diagnose illnesses independently.
However, they must work within their state's regulations when prescribing medication depending on their specialty area (e.g., family nurse practitioner).
APRNs may specialize in specialty areas such as:
Family Practice
Adult-Gerontology
Pediatrics
Women's Health
Just to name a few. Certification requirements vary by state, so it is important to research local laws before pursuing this career path.
FAQs in Relation to How to Become a Nurse Right After High School
What's the fastest way to become a nurse?
The fastest way to become a nurse is to enroll in an accelerated nursing program. These programs are designed for individuals with a bachelor's degree in another field and can be completed in as little as 12 months.
Once the program is complete, students must pass the NCLEX-RN exam before receiving their license and practicing as a registered nurse.
How hard is it to get a nursing job right out of school?
Getting a nursing job right out of school can be challenging but not impossible.
The competition for jobs is often high, and the number of available positions may be limited in some areas.
It's important to research the local job market and ensure you have the qualifications and experience to stand out from other applicants.
Additionally, networking with current nurses or attending career fairs can help increase your chances of finding employment after graduation.
With hard work and dedication, it is possible to secure a nursing position shortly after graduating from school.
How do I prepare to become a nurse in high school?
High school is a great time to start preparing for a career in nursing. Start by taking courses related to the medical field such as biology, chemistry, and anatomy.
Consider joining health-related clubs or volunteering at local hospitals or clinics. Researching different types of nursing specialties can help you decide which kind of nurse you would like to become.
Additionally, look into available scholarships and grants to help fund your education after high school.
Finally, make sure you have strong communication skills and are comfortable working with people from diverse backgrounds – both will be important when pursuing a career in nursing!
What is the youngest age to be an RN?
There is no specific age requirement to become a registered nurse. However, most nursing programs require students to be at least 18 years old before beginning the program.
Key Takeaways
Becoming a nurse right after high school is an achievable goal. With the right education, experience, and dedication, you can become a successful nurse in no time.
Are you looking for a way to become a nurse right after high school? NurseMoneyTalk.com is the perfect resource for nurses and nursing students!
With helpful articles, videos, and more from experienced professionals in the field of nursing we provide you with all the tools necessary to make your dream come true.
Take advantage of our resources today.
Find Nursing Programs
Search our school database to find schools and get information on the right programs for you. (Don't worry, it's fast and free!)
Have You Read These Yet?