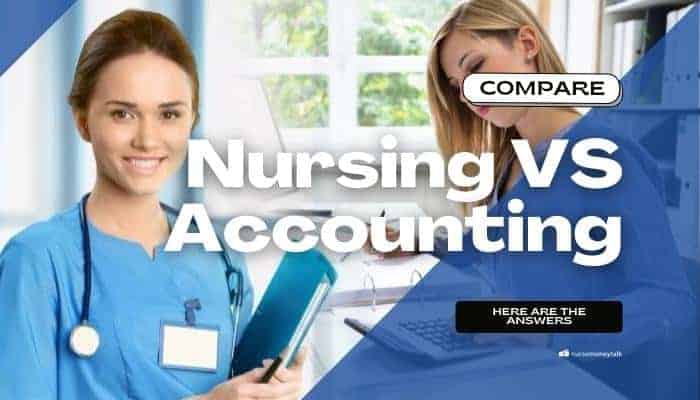 Nursing and accounting might seem like distant career choices.
One deals with medicine and people, while the other deals with crunching numbers.
However, both of these careers have one thing in common: they pay well and are excellent career choices for driven individuals.
*Disclosure: This article on accounting vs nursing may contain affiliate links. If you click and make a purchase, I may receive a commission. For more info, please see my disclaimer.
Should I Major in Accounting or Nursing?
If you want a career that pays well, is expected to keep growing, and allows you to help others, accounting or nursing can both be great fits. They are both exciting careers that are lucrative and can help you feel fulfilled.
Your Future Starts Here
Search thousands of featured schools to find the best degree program for you. Get results instantly. (it's FAST and FREE!)
What is An Accountant?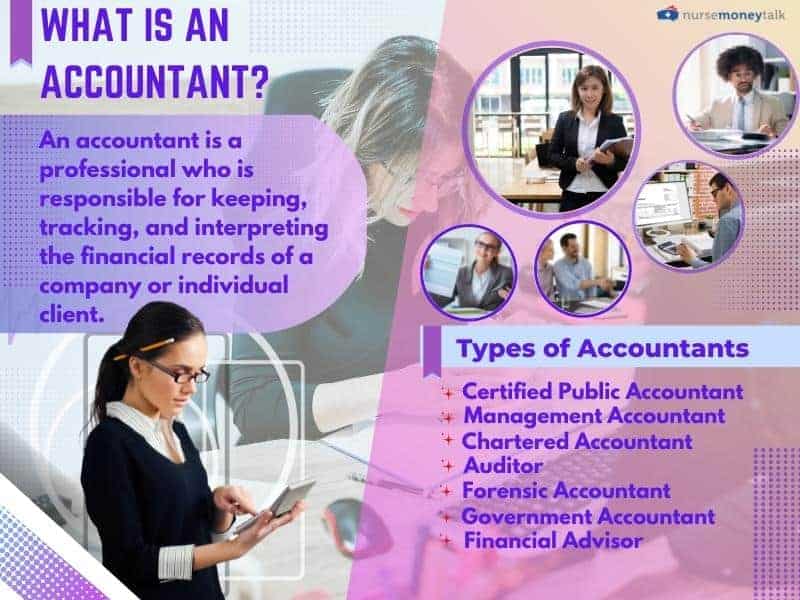 An accountant analyzes numbers and keeps track of a company or person's budget, offers financial planning advice, and ensures they stay financially healthy.
There are a variety of different accountants, including:
Certified Public Accountants, or CPA's
Management Accountant
Chartered Accountant
Auditor
Forensic Accountant
Government Accountant
Financial Advisor
These are just some of the many different types of accountants and their official titles. However, you can work as a junior accountant or assistant helping senior accountants manage their reports.
What Are the Duties Of An Accountant?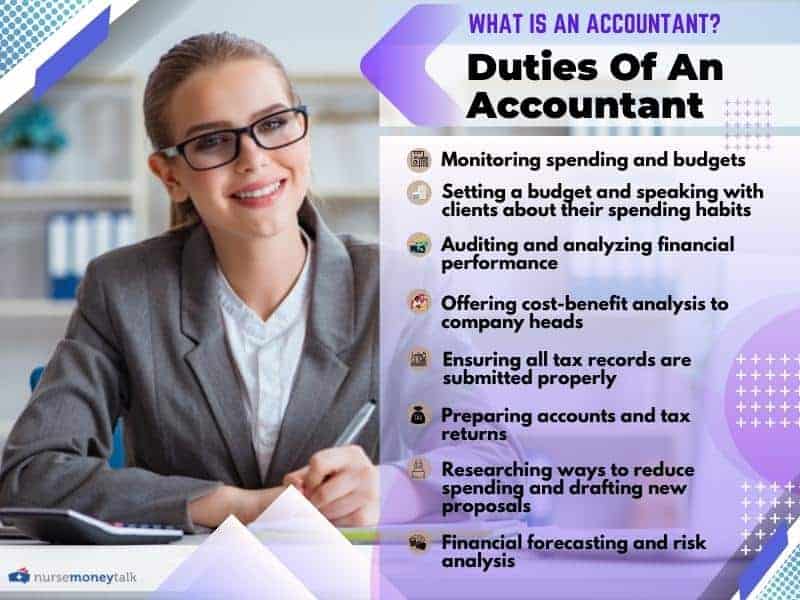 With so many different types of accountants, it's easy to see why this is a job that requires flexibility.
Accountants are all expected to be great with numbers, detail-oriented, and able to interact well with their clients through interpersonal skills.
However, depending on the company you work for, there will be other requirements set forth for you.
Requirements expected from an accountant during their work duties include:
Monitoring budgets and spending
Setting a budget and speaking with clients about their spending habits
Auditing financial performance and drafting reports, such as quarterly reports
Offering cost-benefit analysis to company heads
Ensuring all tax records are submitted properly
Helping ensure only the minimum amount of tax liability is paid
Researching ways to reduce spending and drafting new proposals
Providing financial forecasting
What Skills Should An Accountant Have?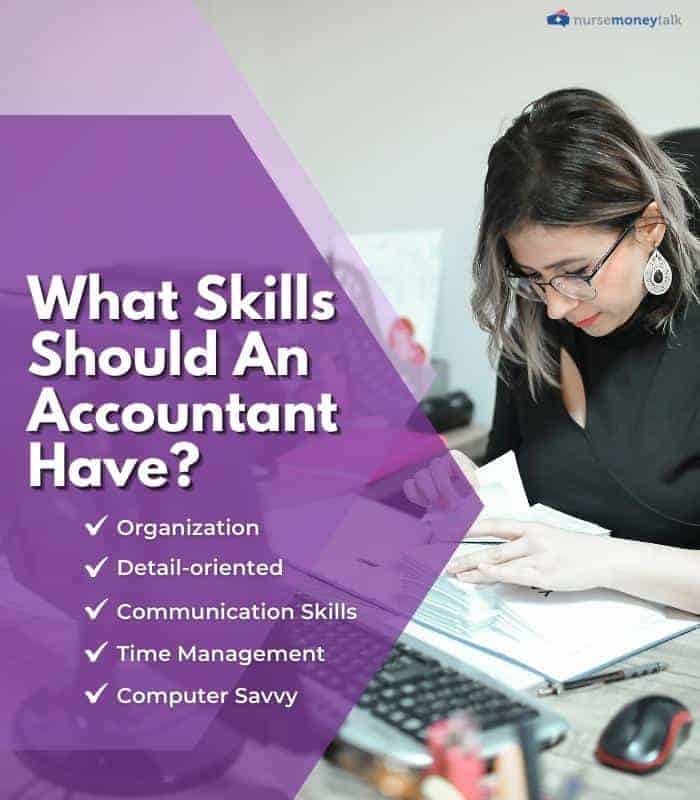 As an accountant, you have a large responsibility toward your clients.
Your clients expect you to produce accurate reports and information since this is what they depend on to make financial decisions and adjust their livelihood.
As an accountant, you must possess various skills, including:
Organization
As an accountant, you need to keep track of your client (or multiple clients) spending, organize budget reports, and keep all financial information up-to-date.
You'll also need to organize receipts and other spending appropriately to share with your clients.
Detail-Oriented
In accounting, math is everything.
It's important you continue to remain detail-oriented to be a good accountant. It's crucial to minimize or even eliminate the possibility of errors.
This can only be done by being detail-oriented, examining your reports, and double-checking your work carefully.
Time Management Skills
Reports are incredibly important for a company's overall success.
Financial reports will be shared with investors, and these reports cannot be delayed.
In addition, if you're a CPA, you'll have to manage various budgets and file taxes for your clients on time. Therefore, having time management skills is critical.
Computer Savvy
Although you don't have to know detailed coding in some areas of accounting, you will need to know how to use basic accounting software.
In addition, knowing how to use Excel will help immensely in keeping you organized and sharing important budgeting information with your clients.
Learning how to use charts, graphs, and inputting formulas into Excel sheets will give you a leg up and help streamline your workflow as an accountant.
You must also have some knowledge of software such as Microsoft Office Word to prepare budgeting reports.
Communication Skills
You must be able to communicate information effectively with your clients, both in writing and in person.
Having good writing and interpersonal speaking skills can help you gain a competitive advantage, gain more clients, and help you perform your accounting duties better.
Some accountants will also be expected to deliver reports in front of clients and board members.
How Do You Become an Accountant?
To begin your accounting career, you'll want to obtain your Certified Personal Accountant license and become a licensed CPA. To do so, you must first:
Obtain a Bachelor's Degree in Accounting or another field that provides:
24-semester units of accounting-related subjects
24 semester units of business-related subjects
150 total semester units.
You must then pass the Uniform CPA exam and pass the professional ethics CPA exam (you are dealing with people's sensitive financial information, after all).
Finally, you must work under someone that has a CPA for at least a year before obtaining your CPA license.
What Are the Costs to Become an Accountant
Most states, such as California, require accountants to obtain a CPA if they perform duties for the public.
If you're a CPA, you can work as a personal accountant and be your own boss, or get hired with a company.
However, although it's important to obtain a CPA if your state requires it, not all states or employers require a CPA, which costs around $3,000 to obtain.
There are still many jobs you can take to help you gain experience.
In addition, the average cost to obtain a bachelor's degree in accounting at a four-year college can range from around $8,000 to $36,000 per year.
Remember, obtaining a degree is necessary to pursue a CPA.
If you want to pursue your degree, you'll need to obtain scholarships or find other ways to help you pay for college.
Your Future Starts Here
Search thousands of featured schools to find the best degree program for you. Get results instantly. (it's FAST and FREE!)
What is a Nurse?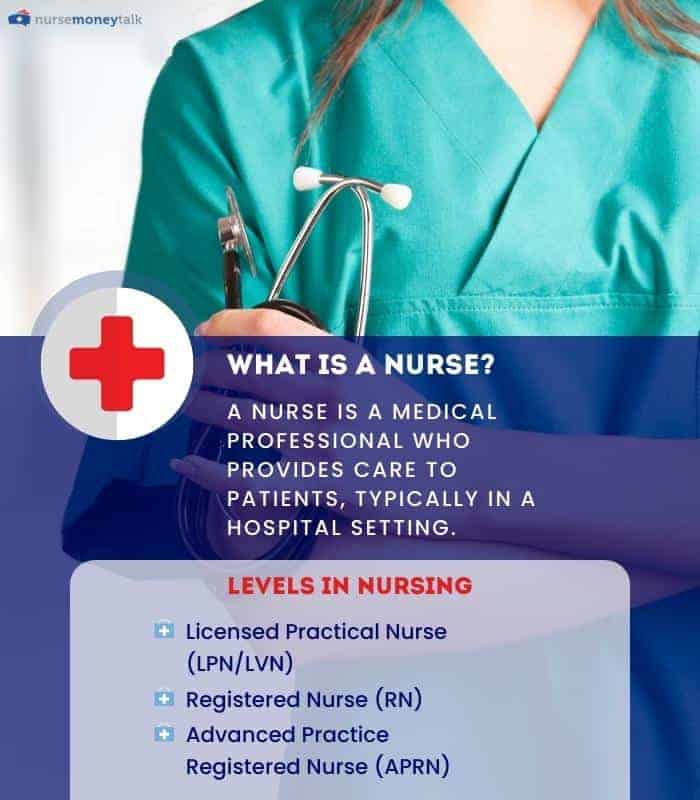 Nursing is quite different from accounting.
A nursing career involves caring for patients in a medical setting and providing help to other medical providers such as doctors and surgeons.
There are different levels to nursing, including:
Licensed Vocational Nurse (LVN) or Licensed Practical Nurse (LPN)
Registered Nurse (RN)
These different types of nursing paths will require different duties, with an RN having the highest scope of practice.
What Are the Duties of a Nurse?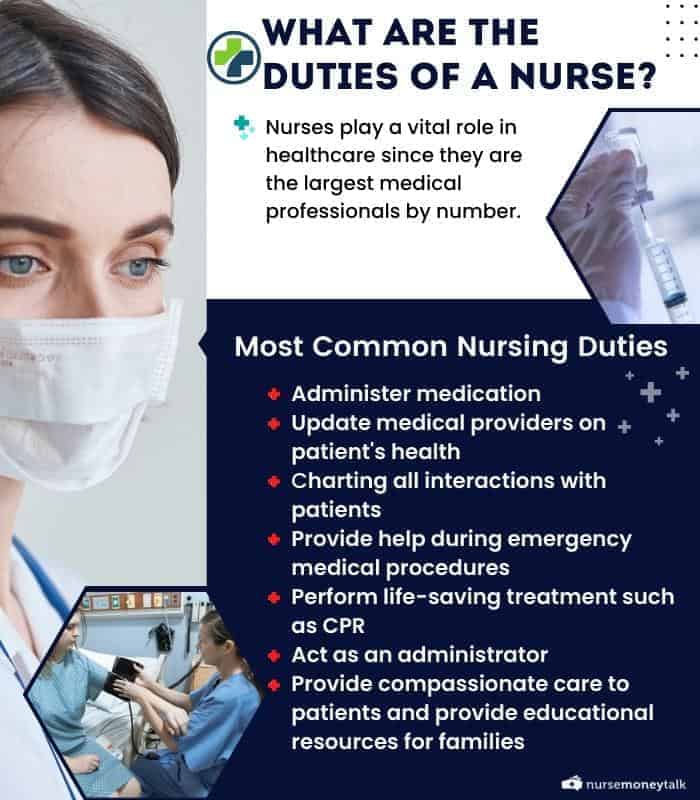 Depending on the type of nurse you are and the clinical setting you work in, you will have to perform various duties as a nurse, including:
Administering medication
Updating medical providers on patient's health
Properly charting all interactions with patients
Providing help during emergency medical procedures
Performing life-saving treatment such as CPR
Acting as an administrator and overseeing other nurses
Providing compassionate care to patients and providing educational resources for their families
What Skills Should a Nurse Have?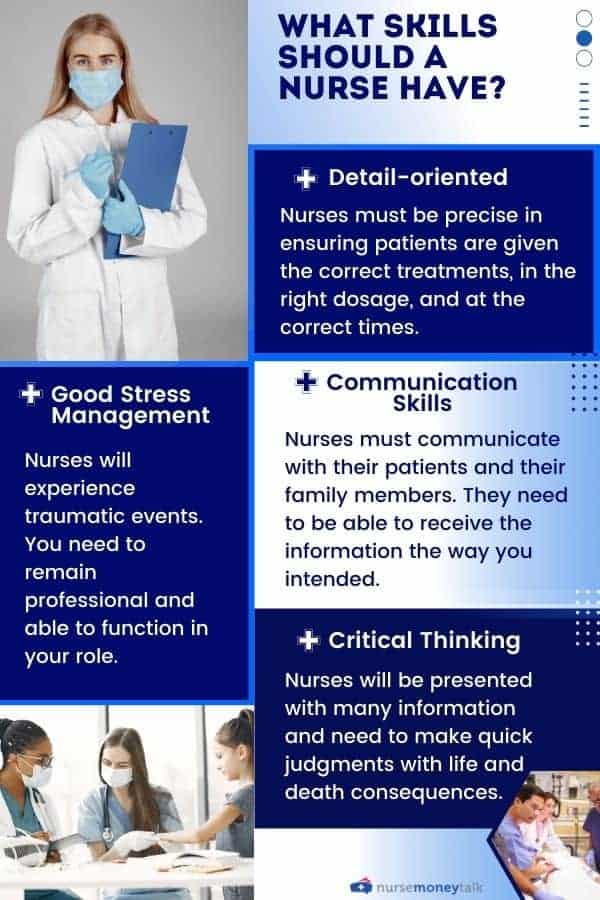 Similar to accountants, nurses should all have the following essential nursing skills to help them provide better care:
Detail Oriented
As a nurse, you will need to administer medications and update your patient's medical records appropriately. Making a mistake in any of these categories could be fatal.
Good Stress Management
It's important for nurses to manage stress well. Working in a hospital means you will be exposed to traumatic events and need to juggle multiple patients, with lives on the line.
Communication Skills
You will need to have written communication skills to chart on your patients and be familiar with your clinic's software.
You will also need to communicate effectively with your healthcare provider/team lead, patient and their families as well.
Critical Thinking
If a patient suddenly gets ill, you'll need to use critical thinking skills to deduce what could be happening and work with the multidisciplinary team to treat the patient.
How Do You Become a Nurse?
The good news is that you can work as a nurse without obtaining a BSN or bachelor of science degree in nursing.
You will, however, need to obtain a BSN if your state requires it. Otherwise, you can complete an associate of science degree in nursing and receive employment after passing your NCLEX exam.
Alternatively, you can complete a bridge program and use your existing bachelor's degree to obtain your BSN.
After passing the NCLEX and obtaining your BSN degree, you can work as a nurse once you are state-licensed.
Choosing the Right Path
Accounting and nursing fields are different, but both require detail-oriented and highly communicative individuals.
In addition, both fields are projected to grow, with a 7% job growth predicted for accountants, and a 9% job growth expected for RNs.
Both of these jobs are also stressful, with 25% of accountants reported job-related stress, and nurses dealing with stress everyday.
However, both of these fields are extremely rewarding and flexible. You can work as a personal accountant helping people file their taxes, or work at a large corporation.
You can work as a nurse providing one-on-one care with a private patient or at a large hospital. The choice is up to you!
Finally, the salaries for both these occupations are excellent, with both accountants and nurses earning on average $75k a year.
| | Nursing | Accountant |
| --- | --- | --- |
| Job Growth | Yes | Yes |
| Four-year degree | No (you can start working as a nurse with an LPN license) | Yes |
| Avg annual salary | $75,000 | $75,000 |
| Flexible career | Yes | Yes |
Listed are the key differences and similarities between nursing and accounting.
Take the Quiz
I made a short quiz that will give you some good points to consider as you decide which career is best for you.
Check it out below, and let me know what you think in the comments section.
Start Your Career Today
If becoming a registered nurse better suits your skillset, take the leap and start applying for a nursing program today!
Search for schools on our site to get started on your dream career.
Your Future Starts Here
Search thousands of featured schools to find the best degree program for you. Get results instantly. (it's FAST and FREE!)
Have You Read These Yet?
Frequently Asked Questions