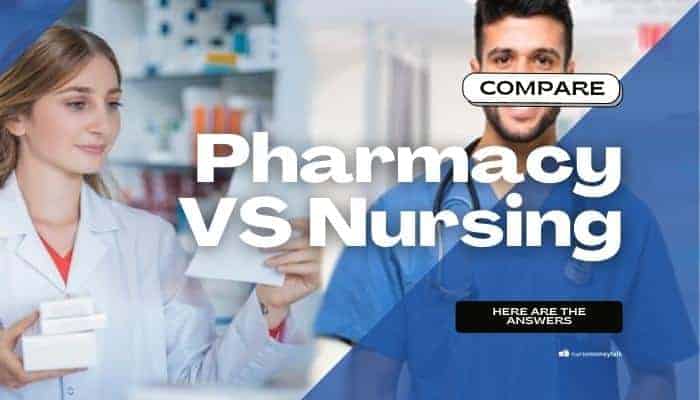 Working in health care is a dream come true for many people.
This is a field that allows you to help people, put your medical skills to the test, and truly make a difference.
There are different roles you can play when deciding what field to pursue.
*Disclosure: This article on pharmacy vs nursing may contain affiliate links. If you click and make a purchase, I may receive a commission. For more info, please see my disclaimer.
Pharmacy vs Nursing: Which One Should I Study?
When deciding between being a pharmacist and a nurse, know that there are different levels of schooling you must prepare for. There are also differences in the level of interaction you'll have with patients and colleagues. These two are key factors in determining which career path to take.
Your Future Starts Here
Search thousands of featured schools to find the best degree program for you. Get results instantly. (it's FAST and FREE!)
What is a Pharmacist?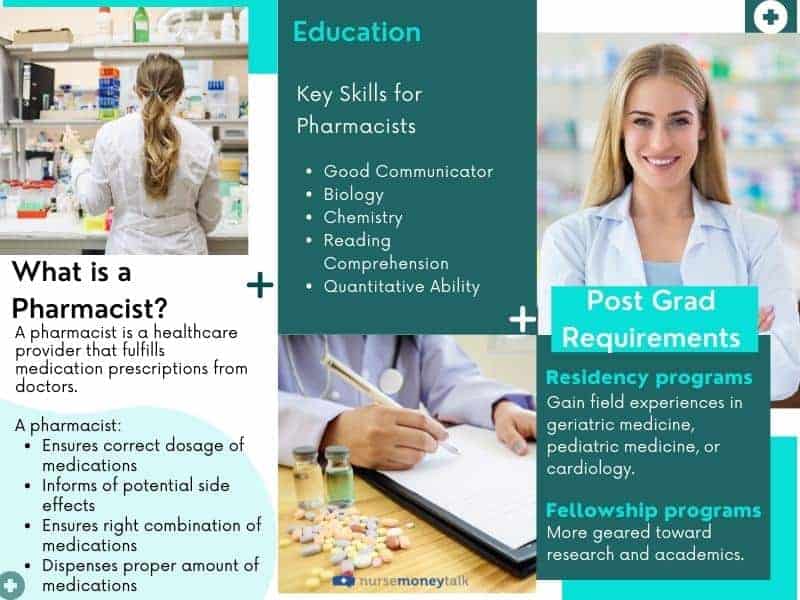 For those that don't know, a pharmacist is a type of healthcare provider that fulfills medications prescriptions from a doctor. A pharmacist:
Ensure the dosage of medications is correct
Informs the patient or family about potential side effects
Ensures medications do not combine to have negative side effects
Dispenses the proper amount of medications
Without medication, medicine is virtually useless! Therefore, a pharmacist is the first line of defense when it comes to patients properly receiving the correct medication.
Education Requirements to Become a Pharmacist
As a pharmacist, you are expected to complete a four-year undergraduate degree.
Typically, you can major in any field you like, but completing the undergraduate requirements of the pharmacy program you'd like to attend is critical.
Therefore, it's best to major in a science such as biology or chemistry.
After you complete your four-year degree, you will then have to take what is known as a pharmacy college admission test, or PCAT.
The PCAT is scored between 200 to 600, with the average student scoring an average of 430. Therefore, you don't have to score exactly perfect, but it's best to brush up on your:
Verbal Ability
Biology
Chemistry
Reading Comprehension
Quantitative Ability
These are crucial skills for any prospective pharmacist to have before they even attend pharmacy school.
After scoring well enough on the PCAT, you can apply for several pharmacy school programs that will issue you a doctorate of pharmacy (AKA Pharm. D).
This is a four-year program in which you will study various courses to prepare you for your career as a pharmacist. These include:
Ethics in research
Neuropharmacology
Medicinal chemistry
Structural Biology
Drug discovery computing techniques
and many more.
Post Graduation Requirements
After completing their education, pharmacy graduates have the option of pursuing a residency or fellowship program.
Residency programs are known as PGY-1 (first year after graduate school) and PGY-2 (two years after graduate school).
Residency programs allow prospective pharmacists to gain more experience in a specific field, such as geriatric medicine, pediatric medicine, or cardiology.
Although residency programs look great on a resume, they are not typically required to get hired with a specific hospital.
In fact, many students choose not to pursue a residency program and instead pursue a fellowship.
Fellowship programs are less reliant on clinical experiences with patients and are geared toward research and academics. Fellowship programs allow students to research in different specialties as well.
Both fellowships and residencies allow a new grad pharmacist to gain valuable experience before working full-time with a hospital or clinic.
Certifications
Finally, a pharmacist must obtain a license to practice pharmacy in their specific state.
They do so by passing the pharmacy licensing board known as the North American Pharmacist Licensure Examination (NAPLEX).
This test is administered by the National Association of Boards of Pharmacy or NABP.
After passing their test, pharmacists will submit to a background check and complete all other state requirements to practice pharmacy.
Your Future Starts Here
Search thousands of featured schools to find the best degree program for you. Get results instantly. (it's FAST and FREE!)
What is a Registered Nurse?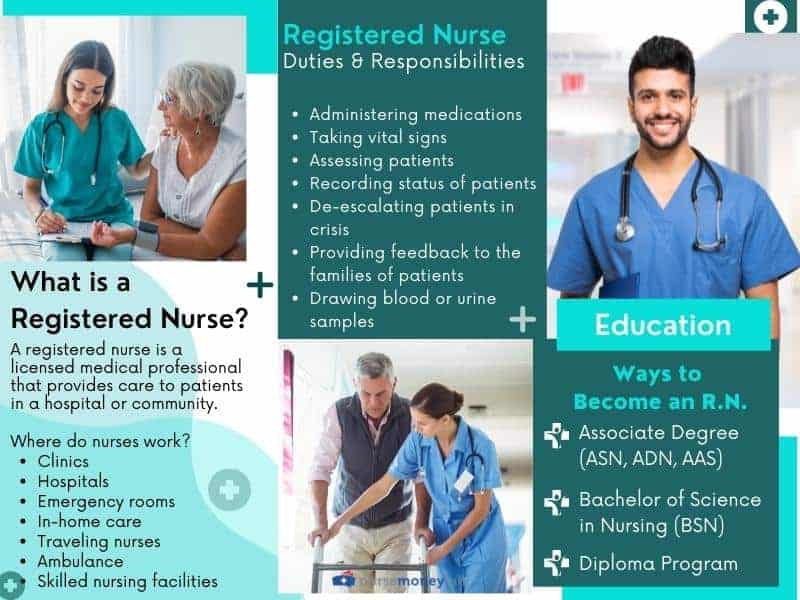 If you're new to this blog, congratulations! You're in the right place to learn about what it means to be a nurse. There are different types of nursing careers, including:
Licensed Vocational Nurse (LVN) / Licensed Practical Nurse (LPN)
Registered Nurse (RN)
While not technically a nurse, I will also include certified nurse aides (CNAs) here as well.
CNAs are often used interchangeably with the terms:
Nurse aides
Nursing assistants
Patient care techs
Techs
These are typically unlicensed personnel who assist nurses in providing care to patients.
I bring up nurse aides because, for many people, this is their gateway to the world of healthcare and eventually to nursing.
Check out this linked article where I compare CNAs to RNs and LPNs if you want more information.
Registered nurses are also medical providers that work by treating patients and aiding other medical providers. Registered nurses work in a variety of settings, including:
Clinics
Hospitals
Emergency rooms
In-home care
Traveling nurses
Ambulance
Skilled nursing facilities
In administrative capacities
Related: Clinic Nursing vs. Hospital Nursing
Due to the wide variety of areas where nurses can work, there's no shortage of job duties registered nurses are responsible for.
In general, various duties fall under registered nurses, including:
Administering certain medications
Taking vital signs
Providing compassionate care
Assessing patients
Recording status of patients
De-escalating patients in crisis
Providing feedback to the families of patients
Drawing blood or urine samples
Relaying information about a patient to doctors and other healthcare staff
Providing specific treatments such as end-of-life care
As a nurse, these are just some of the many duties you will be required to perform with various patients.
Nurses can work with the pediatric population, infant population (known as NICU nurses), or with the adult and geriatric population.
Education
There are two routes to becoming a registered nurse. The first route is to obtain an associate of science in nursing degree, also known as an ASN in nursing.
This is a two-year degree that can be obtained at a community college or a fast-track program.
Getting an associate of science degree is more cost-efficient and quicker than obtaining a four-year degree in nursing. This is also known as a Bachelor of Science in Nursing (also known as a BSN)
Although you might not want to pursue a four-year degree, it's important to know that some states now require all their nurses to have a BSN, such as New York.
During your nursing studies, RNs will brush up on a variety of courses, including:
Medication
Biology
Chemistry
Patient care
English
Math
Physiology
Anatomy
After completing nursing school, nurses will need to pass the National Council Licensure Examination (NCLEX) and complete other state requirements before being able to work as a nurse.
Your Future Starts Here
Search thousands of featured schools to find the best degree program for you. Get results instantly. (it's FAST and FREE!)
Pharmacist vs. Registered Nurse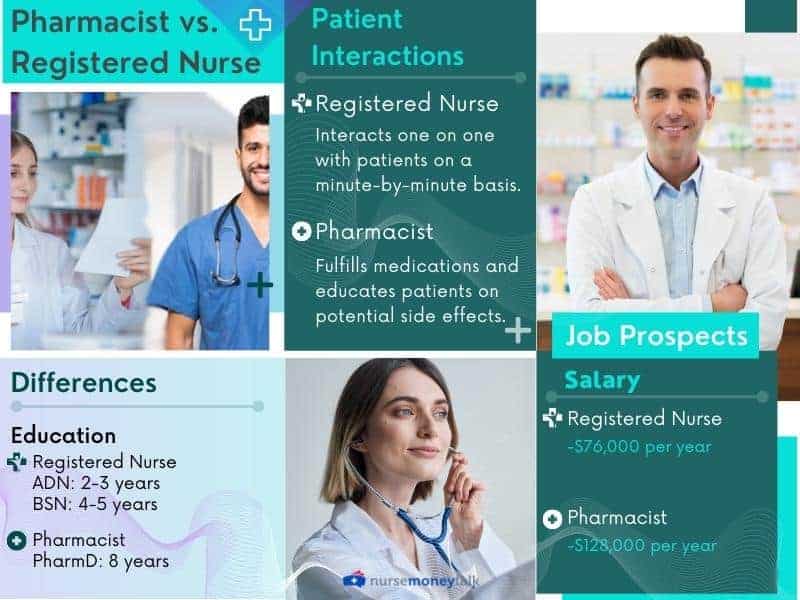 There are several factors to consider when deciding whether to become an RN or pharmacist. Below are a few.
Differences Between a Nurse and a Pharmacist
Education and Debt
Perhaps one of the most glaring differences between pharmacists and RNs is the level of education required for both.
Although RNs can pursue a Master's Degree in Nursing to work in an administrative capacity, it's not required to work hands-on with patients.
On the other hand, pharmacists have to complete a four-year undergraduate degree in addition to another four-year graduate degree before working as a pharmacist.
This can, unfortunately, open the possibility of debt for a pharmacy student. It's best to try to obtain as many scholarships and financial assistance as possible before starting pharmacy school.
Consider whether the debt you will accumulate during pharmacy school is feasible and if this is something you'll be able to work through.
Patient Interactions
In addition to the differences in education requirements, there is also a stark contrast between pharmacists and RNs when it comes to interacting with patients.
RNs interact one on one with their patients on an almost minute-by-minute basis.
On the other hand, pharmacists focus primarily on fulfilling medications and educating their patients on the side effects once dispensing the dose.
Although pharmacists play an essential role in patient care, they do not interact with patients as much as nurses do.
Job Prospects
According to the US Bureau of Labor Statistics, the salary for pharmacists is significantly more (on average) than that of an RN, with $128,000 vs. $76,000 per year, respectively.
Nevertheless, the Department of Labor predicts a decline in pharmacist job growth by 2%, while also expecting a 9% increase in nursing jobs.
Similarities Between the Pharmacy Profession and the Nursing Profession
Stress and Burnout
Sadly, both professions carry the risk of burnout, with over 50% of pharmacists experiencing burnout and 70% of nurses experiencing the same.
Patient Care
Both of these jobs are also critical for the functioning of patient care.
Both pharmacists and nurses can work in a variety of settings, including clinics, hospitals, rehab centers, and more.
If you're interested in delving deep into medicine, both these careers are excellent choices.
Nurse
Pharmacist
Is a License Required?
Yes
Yes
Is a Doctorate Degree Required?
No

Yes

Can You Work With an Associates Degree?
Yes
No
How Long Does it Take to Get Licensed?
1.5 – 4 years
8 years
What's the Annual Salary (average)?
LPN: $48,820
RN: $76,300
$128,000
What's the Job Growth?
9%
-2%
This chart compares being a nurse versus being a pharmacist.
To Summarize
If your goal is to make a difference in patients' lives, both of these career choices are excellent.
However, both carry their pros and cons depending on how much debt you want to acquire, the level of patient interaction, and the setting you'd like to work in.
Comment below which career best suits you?
Your Future Starts Here
Search thousands of featured schools to find the best degree program for you. Get results instantly. (it's FAST and FREE!)
Have You Read These Yet?
Frequently Asked Questions