15 Best Healthcare Jobs Similar to Nursing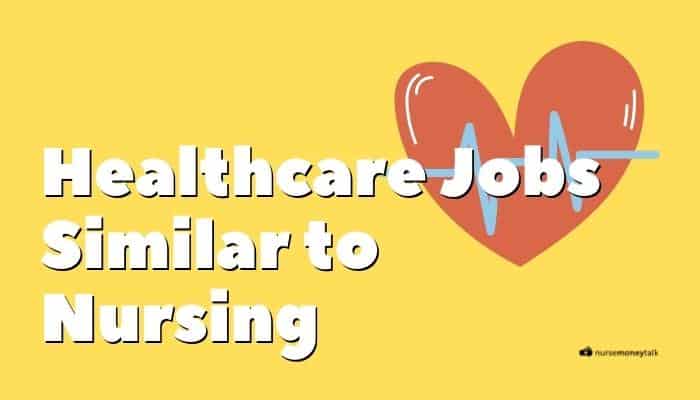 When people think of careers in the medical field, the obvious choices are always doctors and nurses.
Yet, the medical field is wide and varied.
Here's a quick rundown of 15 career choices for those who want to work in a medical setting but do not want to become a nurse.
*Disclosure: This article on jobs similar to nursing may contain affiliate links. If you click and make a purchase, I may receive a commission. For more info, please see my disclaimer.
Healthcare Jobs Similar to Nursing
Some of these careers pay really well, and others not so much.
The general tradeoff is that the better the profession pays, the higher barrier to getting into that carrier field.
The higher barrier is usually either a longer training period that's needed. Or the path to the school is more challenging.
Your Future Starts Here
Search thousands of featured schools to find the best degree program for you. Get results instantly. (it's FAST and FREE!)
1. Medical Assistant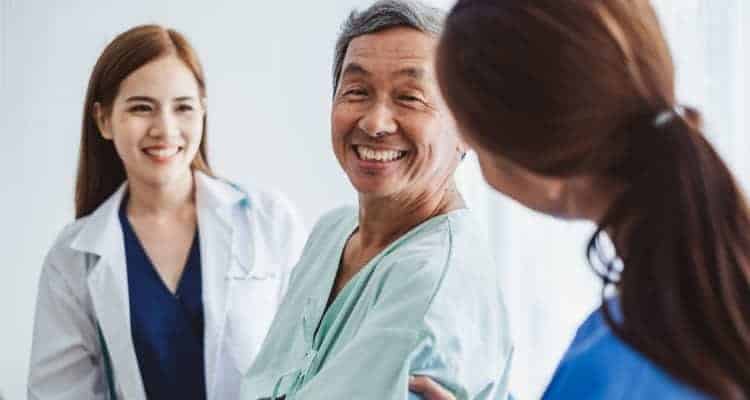 A medical assistant works under the direct supervision of a physician.
They help prepare patients before their appointments by taking a health history, vital signs and completing any patient needs preparation.
They also help a doctor with treatment procedures like taking blood and handling the specimens during the appointment.
Also, they will complete patients' medical records, so their duties are a combination of clinical and administrative tasks.
According to the Salary.com website, the national average pay for a Medical Assistant is $37,819. The actual salary you can expect will depend on your education, certification, additional skills, and experience in the field. 
The job market is expected to grow by 18 percent each year from 2020 to 2030, as reported by the U.S. Bureau of Labor Statistics. There are 104,400 job openings predicted for each year over the next decade. 
To become a medical assistant, you need to earn medical assistant training at either a vocational college, community college, or university and obtain certifications.
Educational prerequisites will take nine months to 2 years (or longer). There is also a possibility to learn on the job, but most doctors and employers prefer you to have the necessary certification before you start working. 
Search for medical assistant programs.
2. Dental Hygienist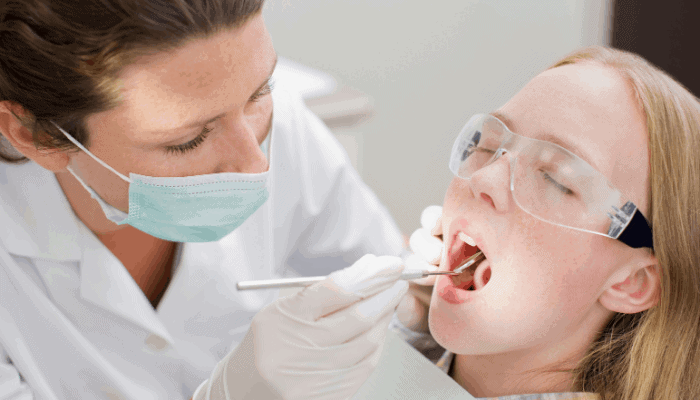 Dental hygienists use various tools to remove plaque and tartar deposits from teeth to prevent tooth decay.
Working in partnership with dentists, they ensure a healthy mouth and a bright smile for their patients.
They work primarily in dentist's offices, but some have their own practice.
The national average pay for a dental hygienist is $77,810.
The Bureau of Labor Statistics projects the number of employment opportunities to increase by 11 percent in the decade between 2020 and 2030. Those numbers translate to 15,600 open positions each year. 
To receive a dental hygienist license, you need to complete at least an associate degree program or a bachelor's degree. To become a dental hygienist, you need to enroll in an accredited dental hygienist program. The accreditation is governed in the U.S. by the Commission on Dental Accreditation (CODA).
The shortest time it will take to reach certification is two years to complete the Associate Degree. If you choose to complete a Bachelor's degree, it can take four years. 
Search for dental hygienist programs.
3. Chiropractic Assistant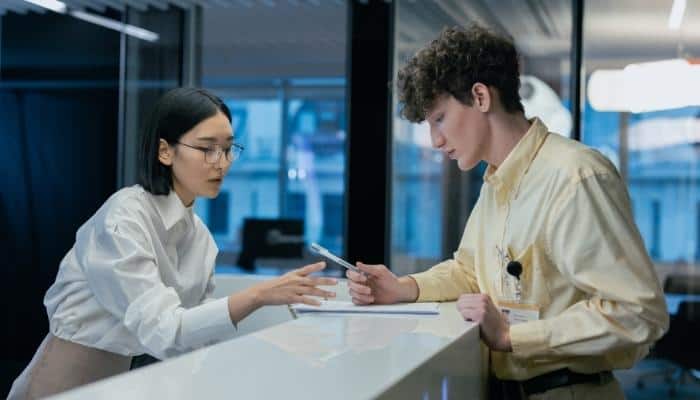 Chiropractic assistants provide support for chiropractors in administrative and clinical duties to ensure the smooth operation of the practice.
They answer the phone, schedule appointments, answer patients' questions, and greet patients.
Occasionally, they assist with clinical work, including administering diagnostic assessments.
The Indeed website reports an average base salary for a chiropractic assistant as $34,273, depending on the state you work. 
The Bureau of Labor Statistics predicts a growing market for chiropractic assistants. 
It's possible to get a job as a chiropractic assistant with only a high school diploma and learn on the job. But if your position requires clinical work, it's wise to obtain a Chiropractic Assistant Certification. The Federation of Chiropractic Licensing Boards (FCLB) offers a Certified Chiropractic Clinical Assistant program for individuals assisting with chiropractic therapy in a clinical setting. 
The time it takes to enter this career will depend on whether or not you choose to pursue the certification program. If you choose to become a certified practitioner, expect the program to take at least two years. 
Search for chiropractic assistant programs.
4. Sonographer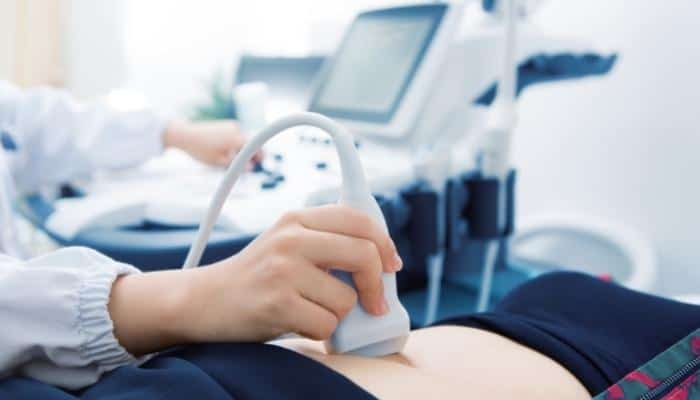 Sonographers operate special imaging machines that help doctors assess and diagnose medical conditions.
The non-invasive imaging equipment works with sound waves that create an image to help visualize internal organs.
Sonographers are trained to analyze and interpret these images to help reach a patient's diagnosis.
Glassdoor reports that the national average salary for a sonographer is $74,203.
According to the Bureau of Labor Statistics, the sonographer job market is expected to grow by 14 percent from 2020 to 2030. Job seekers should expect to find approximately 12,000 vacancies each year. 
To start your career as a sonographer, you can choose one of three ways of obtaining qualifications. You can obtain a certificate from a vocational-technical school or community college. Or you can earn an associate degree that offers areas of sonography specialization. Your third option is to enroll in a bachelor's degree, which will give you opportunities to advance your career down the line.
 A certificate in Sonography will take about 12 – 18 months, an associate degree 18 – 24 months, and a bachelor's degree will take four years. Of course, there are also post-basic qualifications available for people who want to go that route.
Search for sonographer programs.
5. Radiologic Technologist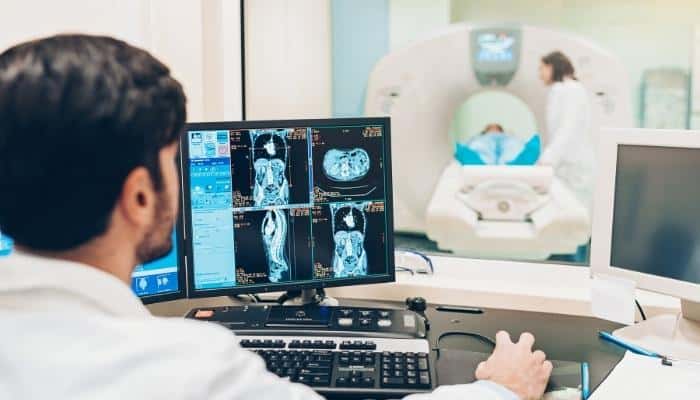 A Radiologic technologist will operate X-ray, CT scan, and MRI scan machines at doctor's offices, hospitals, and specialized imaging centers.
The scans help doctors collect information about the patient's condition.
The radiologic technologist's job is to help patients through the scanning procedure while ensuring that the patient is not exposed to unnecessary radiation.
According to the Salary.com website, the average Radiology Tech salary in the United States is $62,701.
The field of Radiologic technologists is set to grow around 9 percent in the decade from 2020 to 2030. There are, on average, 20,800 job openings available each year. 
To start your career, you need an associate's degree, and to become an MRI technologist, you need to gain several years of work experience. Some U.S. states require licensing and certification before you can work as a radiology technologist. 
Most entry-level radiologists must earn an Associate Degree, so it will take you around two years to achieve your goal.
Search for radiology tech programs.
6. Respiratory Therapist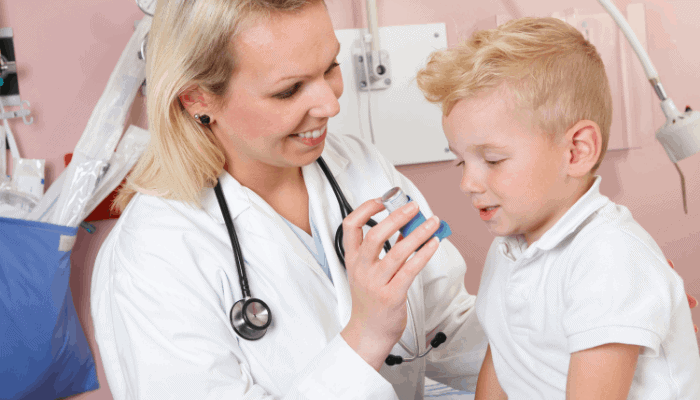 A respiratory therapist is a breathing and airway specialist that's trained in the field of critical and cardio-pulmonary medicine.
RTs help patients with acute and chronic breathing difficulties like asthma attacks, emphysema, and lung trauma.
Your Future Starts Here
Search thousands of featured schools to find the best degree program for you. Get results instantly. (it's FAST and FREE!)
The median salary for a respiratory therapist is $62,810. 
The field of respiratory therapy is expected to grow 23 percent over the ten years from 2020 to 2030. The job seekers can expect 10,100 openings to apply for. 
To work as a respiratory therapist, you will need a degree and The National Board for Respiratory Care (NBRC) certification. 
The education for this career will take you at least two years if you complete an associate degree and about four years if you earn a bachelor's degree. Once you complete the degree, you will need NBRC certification.
Search for respiratory therapist programs.
7. Physical Therapist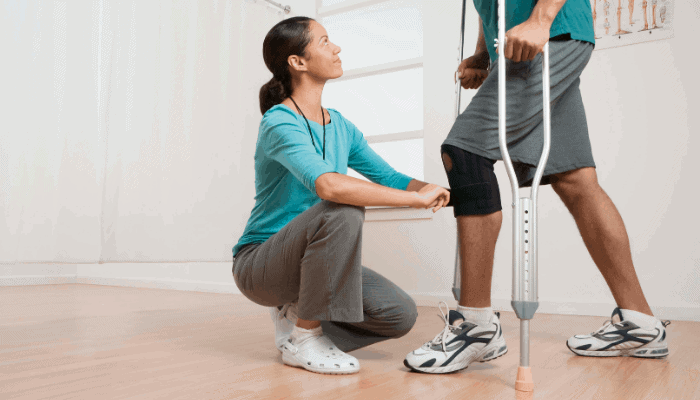 As a physical therapist, you will work with patients and help them manage pain and regain their physical strength after a setback caused by an accident or a disease.
Physical therapy is an important part of preventive care, rehabilitation, and treatment for patients with chronic conditions, illnesses, or injuries.
A physical therapist can earn, on average, $91,010.
It is a field expected to grow by 21% in 2030, with 49,100 jobs needing to be filled.
Preparation to become a physical therapist is quite intense. It requires years of education and training in kinesiology, anatomy, and fitness. To have your own practice, you will need to complete a doctorate in a physical therapy program.
Training can take anything from three to eight years. 
Search for physical therapist programs.
8. Speech Pathologist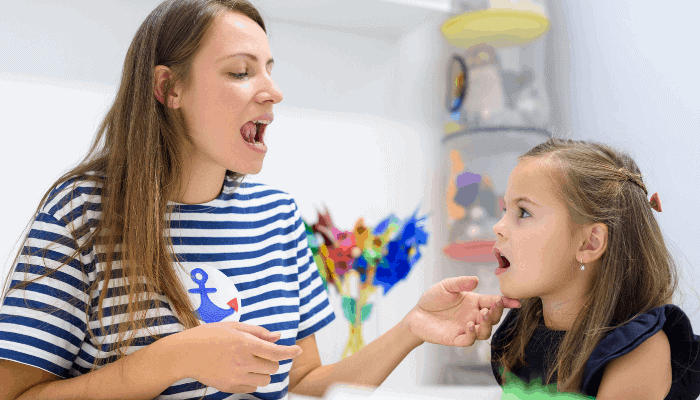 A speech pathologist diagnoses and treats individuals with speech, language, or swallowing difficulties.
It's a broad field where you work with individuals throughout their lifespan.
Your patients can range from babies born with a cleft palate struggling to swallow to elderly stroke survivors learning to speak again.
Similarly, you will treat speech disorders like stuttering and pronunciation difficulties and manage children's speech delay problems.
The median salary of a speech pathologist is $80,480, as reported by USnews.com.
The Bureau of Labor Statistics predicts a massive 29 percent increase in the speech therapy job market, with 15,200 job openings expected each year from 2020 to 2030. 
To become a speech pathologist, you need to complete six educational and certification milestones. Starting with an undergraduate in Communication Sciences and Disorders and culminating in the Speech-Language Pathology Certificate of Clinical Competence (CCC-SLP) obtained from the American Speech-Language-Hearing Association (AHSA).
The total time it takes to become a professional speech pathologist takes up to 8 years. The time is divided as follows: an undergraduate degree takes 4 years, a graduate degree (including 400 hours of supervised clinical experience) takes 2 years, and a clinical fellowship (including 1,260 hours of mentored clinical experience) takes the last 2 years.
Search for speech pathologist programs.
9. Registered Dietitian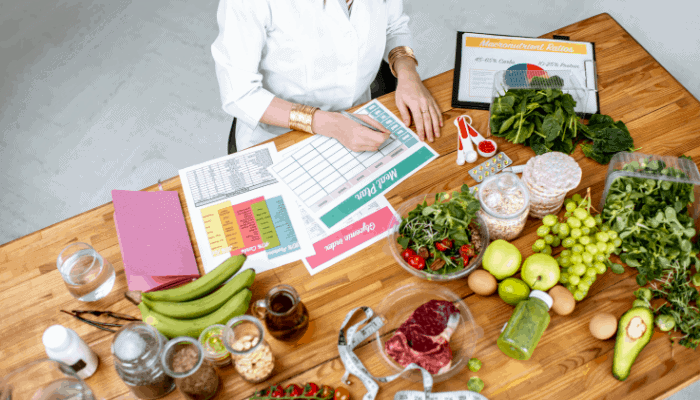 These food experts support their patients by providing nutritional care.
They teach patients with specific dietary needs to nourish their bodies while improving their general health, like the heart or diabetic diet. ,
According to US News, the average salary for a Registered Dietitian is $63,090.
The Registered Dietitian job market is relatively small. With the projected growth of 11 percent from 2020 to 2030, there are only 5,900 positions available each year for new graduates.
To become a registered dietitian, you need a bachelor's degree. A large portion of education is gained through an internship with 1,200 supervised clinical hours necessary to qualify for the Commission on Dietetic Registration (CDR) exam. This exam validates your proficiency in practice. 
It takes around 6 years to become a registered dietitian (4 year bachelor's degree and 2 year internship program).
Search for registered dietitian programs.
10. Occupational Therapy Assistant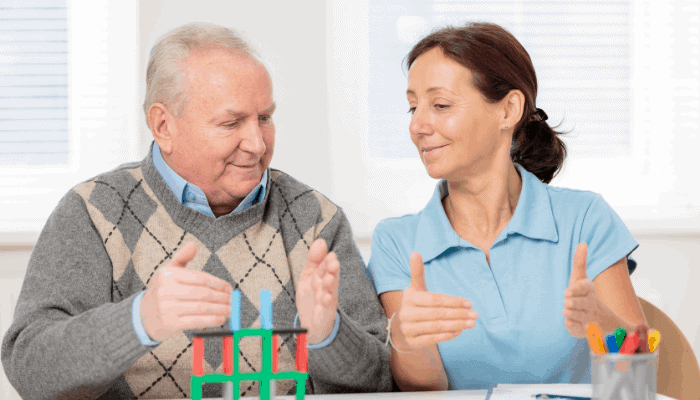 Occupational Therapy Assistants help patients develop, improve, restore, and maintain skills necessary for job performance and daily living activities.
The job is physically demanding, where most of your day is spent on your feet preparing equipment and providing therapy to patients.
Still, it's a rewarding career as you help patients improve their quality of life.
The Occupational Therapy Assistant earns on average $70,529 as reported by the Indeed website.
The job opportunities will increase by 16 percent in the next ten years (2020-2030). It means that there will be 8,800 available job openings each year.
Typically, an associate degree that the Accreditation Council accredits for Occupational Therapy Education is needed to enter the profession. The coursework is followed by 16 weeks of hands-on experience in the field. Although each state regulates its practice, most require candidates to pass the National Board for Certification in Occupational Therapy (NBCOT) exam.
Qualifying for this position will take approximately 30 months (2-year associate degree and 16 weeks of practical experience).
Search for occupational therapist programs.
11. Pharmacy Technician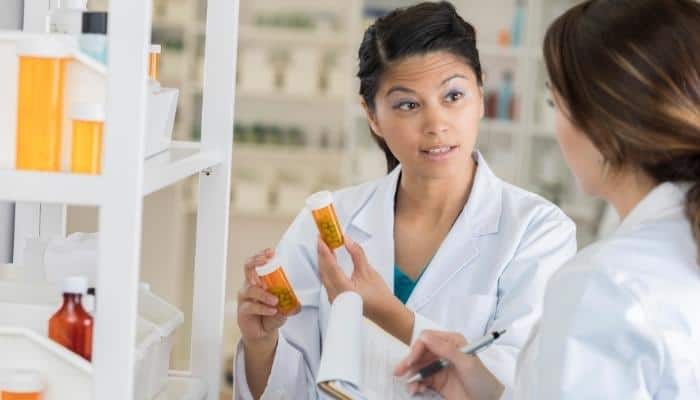 A rewarding career in the medical field without much direct contact with patients is a pharmacy technician.
You will work in a pharmacy and dispense medication under a licensed pharmacist's supervision.
Your duties will also include correctly filling medication bottles, mixing medications, and ensuring accurate records and charging.
Indeed quotes an average salary of $36,740. Variations in pay will occur in different states. Your experience and certification will also determine your actual salary.
Although the pharmacy technician's employment demand is predicted to grow at a slow rate of 4 percent per annum from 2020 to 2030, there will still be at least 31,700 positions available each year. 
To be considered for employment, you need to finish high school (or equivalent), and complete at least an American Society of Health-System Pharmacists (ASHP) accredited training program, including passing the certification exam.
The time to complete the certification program is about one year, comprising coursework and working a prescribed number of hours in the field. 
Search for pharmacy tech programs.
12. Emergency Medical Technician (EMT)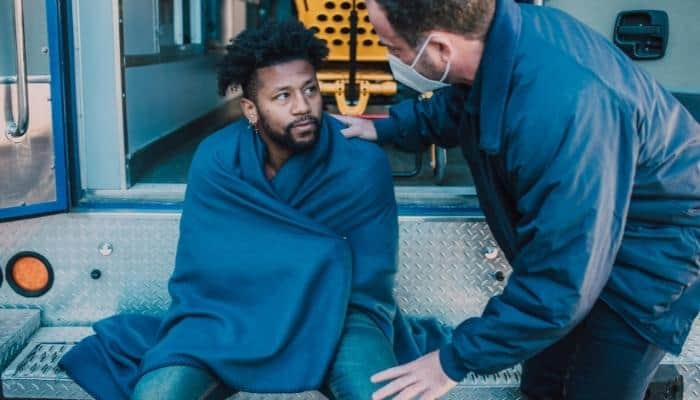 Emergency Medical Technicians have the essential skills to help patients in life-threatening situations.
They are the first responders in an emergency, quickly assess injuries, and provide life-saving care.
Please Note:
EMT is an entry-level position in the Emergency Medical Service.
The average yearly salary for EMTs was $36,930 in May 2021.
EMT employment is predicted to grow by 11 percent from 2020 to 2030. The U.S. Bureau of Labor Statistics predicts 28,500 available positions to fill each year. 
You don't need previous medical knowledge to enroll in an EMT course but check with the school you want to attend for exact enrollment criteria as there are some differences.
Once you complete the EMT course, you must pass the National Registry of Emergency Medical Technicians (NREMT) exam.
The basic EMT training takes at least 170 hours. 
13. Phlebotomist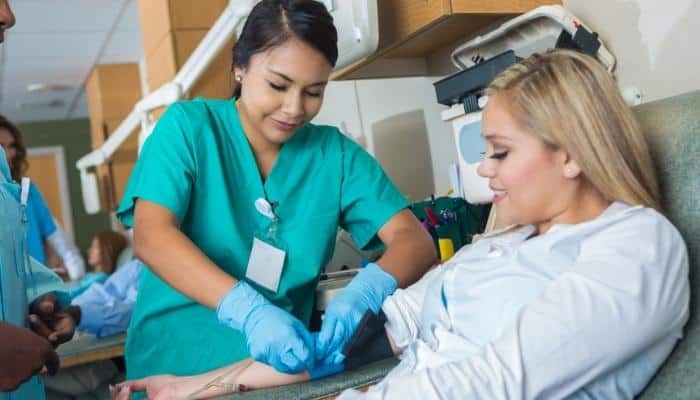 Phlebotomists collect blood samples from patients through venipuncture.
It's a job in high demand and lets you work with different types of patients.
You can also choose what setting you want to work in, e.g., hospital, pathology lab, clinic, or travel to a patient's homes to collect blood samples for insurance companies.
Your Future Starts Here
Search thousands of featured schools to find the best degree program for you. Get results instantly. (it's FAST and FREE!)
The average pay for phlebotomists is $50,564, as reported by Indeed.com. Please note U.S. Bureau of Labor Statistics reports an average yearly wage of $37,80.
Employment opportunities are predicted to increase by 22 percent from 2020 to 2030, and it is predicted that there will be 19,500 job openings advertised each year. 
To become a phlebotomist, you can choose to complete a training program from a vocational college that offers it, or you can complete a Phlebotomy Technician Program. National certification is not required. 
Education can be completed in as little as eight weeks or take up to one year, depending on which program you attend. Vocational colleges offer short courses, while a diploma from a community college will take longer.
Search for phlebotomist programs.
14. Surgical Tech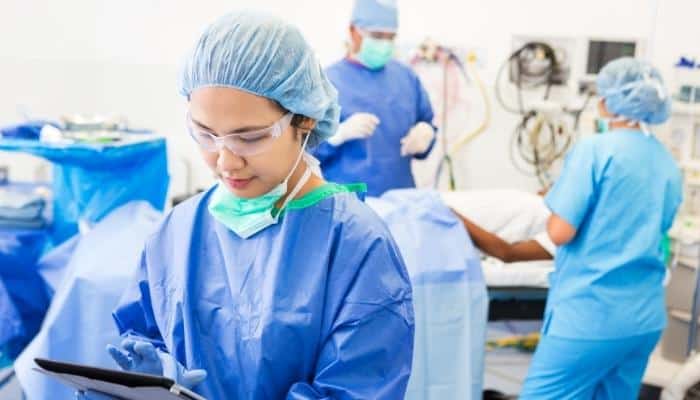 Some find being a surgical tech a great way to enter the heart of the medical field without the need for the extensive training nurses and surgeons receive.
A surgical tech works in an operating room suite, scrubs in for surgery, and is responsible for all the equipment and instrumentation needed for each surgical case.
The Indeed.com website reports an average salary for a surgical tech is $106,990. The average varies by the state where you work, and there are also differences in salary according to the surgical specialty. 
The employment of surgical technologists is expected to grow 9 percent from 2020 to 2030. The growth is on par with the average employment growth, and you can count on at least 9,000 positions to become vacant each year.
Education credentials needed may be earned through a vocational college, community college, or a university. Once you complete your chosen training, it is recommended that you obtain credentials as a Certified Surgical Technologist (CST) that is offered by the National Board of Surgical Technology and Surgical Assisting (NBSTSA). 
The training programs may be as short as 12 months for a certificate. If you pursue the associate degree route, it will take two years to complete.
Search for surgical tech programs.
15. Nursing Assistant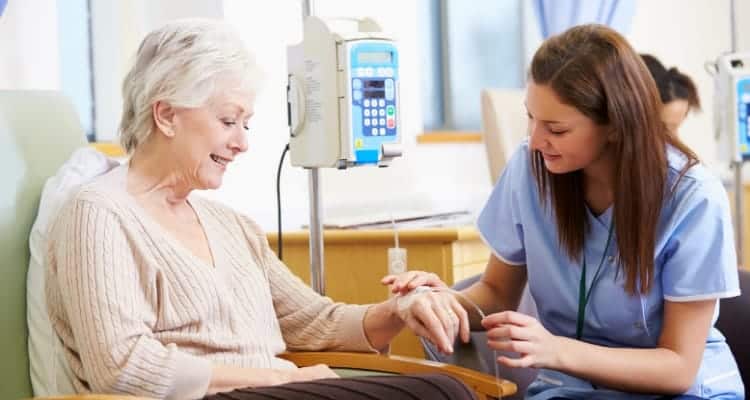 Nursing assistants provide basic care to patients and help them with activities of daily living.
Most of the time, you will work in a hospital or a nursing home facility. This job is very similar to nursing, with a more limited scope of duties.
Salary.com website reports an average national salary of $32,322.
The projected employment growth in this sector is only 8 percent, but it is a large market. Bureau of Labor Statistics predicts that there will be 192,800 vacancies to fill by newly qualified nursing assistants each year.
You can become a nursing assistant (CNA) without a college degree, but you will need to earn a certificate or a diploma that includes training in patient care. You will also need to pass a competency certification exam to obtain your license to practice.
Becoming a CNA can take as little as four to twelve weeks to complete a certificate program. 
Search for nursing tech programs.
Your Future Starts Here
Search thousands of featured schools to find the best degree program for you. Get results instantly. (it's FAST and FREE!)
Key Takeaways
The medical field is varied, and there is much more to it than becoming a nurse.
I hope that this list of medical occupations has inspired you to enter this field and helped you choose a career you can be passionate about.
Related Articles