Nursing vs Engineering: Find Out the Best Career for You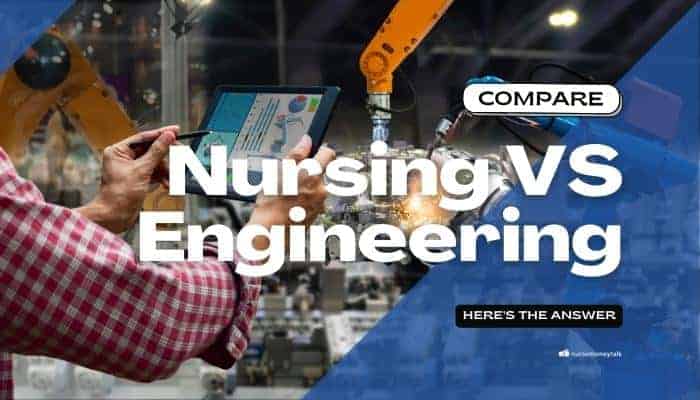 There's a lot of career options out there.
With so many choices, many students are confused about which career path they should choose.
One of those hard choices is choosing between nursing school and engineering school.
*Disclosure: This article on nursing or engineering may contain affiliate links. If you click and make a purchase, I may receive a commission. For more info, please see my disclaimer.
Should I Major in Nursing or Engineering?
If you're a people person and you want to touch the lives of others directly, you should consider nursing. If you're less of a people person and would prefer to touch the lives of others indirectly, then you should consider engineering.
I'm oversimplifying things, but I have to compare both of these professions. As a whole, they're both excellent professions that pay well with a great job outlook.
Your Future Starts Here
Search thousands of featured schools to find the best degree program for you. Get results instantly. (it's FAST and FREE!)
What is An Engineer?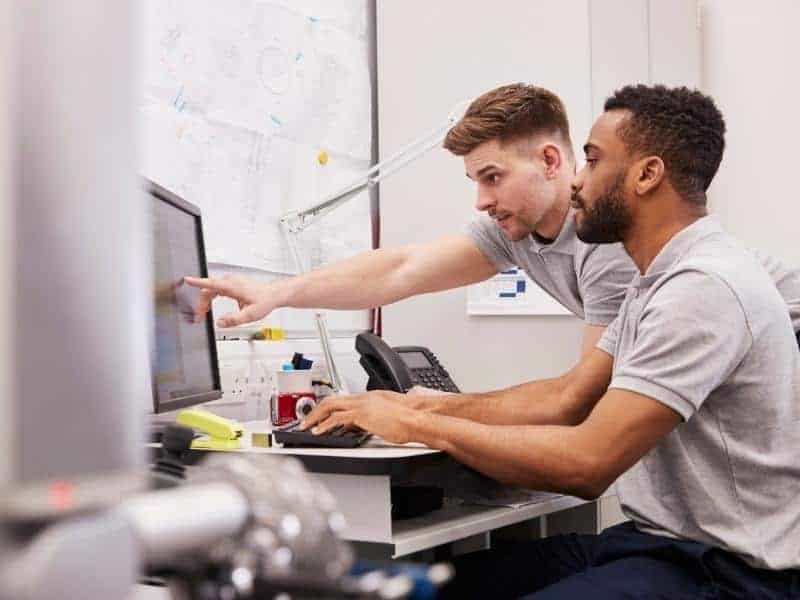 Engineers are experts at designing, maintaining, and inventing various machines, systems, data, practically anything you can think of. In short, without engineers, the world's technology would cease to function properly.
As you can see, engineers are one of those professions essential to society as a whole.
Engineering Specialities
Just like nurses, there are a variety of engineers specializing in different engineering fields of study. Some types of engineering specialties include:
Chemical engineering.
These engineers work to synthesize and produce chemicals like diesel fuels and oils. They are in high demand and can work with oil companies, gas companies, and as city employees.
Mechanical engineering.
These types of engineers work with mechanical systems, from desiring, repairing, and replacing the smallest bolt on your door to designing and maintaining powerful combustion engines, steam gas turbines, and much more.
Electrical engineering.
Engineers working in this field specialize in electrical systems and designing of schematics. They can be found working in home and property construction, laboratories, manufacturing firms, and industrial plants, just to name a few.
Civil engineering.
Civil engineers make up an important part of our infrastructure. They help design structures as large as skyscrapers, highways, bridges, and even home developments.
Civil engineers can work with small design companies, focusing on a single device such as water supply and sewage equipment, or for larger developers designing, building, maintaining, and completing infrastructure projects.
Nuclear engineering.
This highly specialized engineering career focuses on fission and sub-atomic particles and how they interact. The systems they aid include aircraft carriers, military systems, and power plants.
Engineering Educational Requirements
Engineers must have a four-year degree before working in their respective fields. These four-year degrees are usually in engineering subjects.
Some colleges will even group internships with the degree itself, such as a five-year co-op plan.
A minimum of a bachelor's degree in science, engineering, mathematics, or a related field is required by most hiring agencies for engineers.
Pro-Tip
This is probably one of the biggest distinctions between nursing and engineering. In nursing, the lowest barrier to entry is working as an LPN.

You can start working as an LPN after about a year and a half of training. More information is below.
Engineering Pay
Although the educational requirements might be rigorous, the pay incentive for an engineer is outstanding. The average salary for engineers is over $90,000 per year.
Your Future Starts Here
Search thousands of featured schools to find the best degree program for you. Get results instantly. (it's FAST and FREE!)
What is Nursing?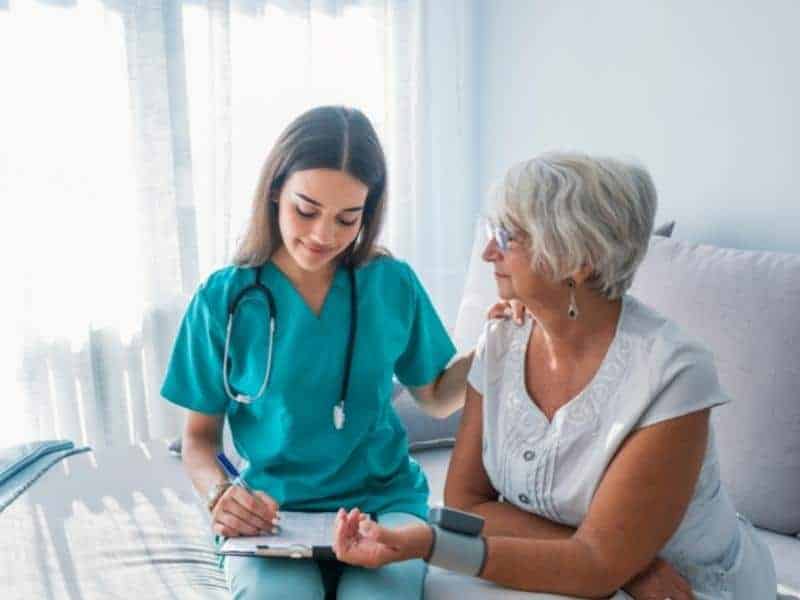 Nursing is a medical professional that is highly involved in one-on-one patient care, patient education, and patient advocacy.
Nurses provide updates and information on patient health and safety to other medical staff and use their critical thinking skills to directly plan a course of action in treatment.
There are various levels of nursing, with each varying in education levels, scope of practice (meaning what they are legally allowed to do and not do in terms of patient care), and educational and licensing requirements.
Keep in mind these scope of practice levels will vary from state to state, but in general, include the following.
Certified Nursing Assistants.
Also known as CNAs. Like all nurses, they help patients complete their activities of daily living. A CNA's job duties include:
Dressing them
Bathing them
Helping them eat their food
Taking and documenting vital signs
Along with relaying all relevant information to the licensed nurse.
Pro-Tip
CNAs are not technically nurses, they're nurse aides. CNAs work so closely with nurses that I included them on this list.

On top of that, many nurses start as CNAs before furthering their education. Or they work as CNAs while they're in nursing school.
Licensed Practical Nurses | Licensed Vocational Nurses.
They are also known as LPNs and. These nurses can do everything a CNA does in addition to handing out medication and doing other nursing tasks for patients.
These other tasks can include drawing blood, starting IVs, giving immunizations, and administering medications through intravenous means.
Registered Nurses.
Also known as RN's, Registered nurses can do what CNAs and LPNs/LVNs. Depending on the state and facility they may have expanded roles. The other big distinction between the RN is that they are usually supervidsing the LPNs and CNAs.
Pro-Tip
I know the differences between a CNA, LPN, and RN may be difficult to grasp if you don't have a good reference point.

I wrote an article comparing a CNA vs. an LPN vs. an RN. Check out the linked article for more information.

In short, it's a progression of expanding scope of practice. A CNA is the most limited in what they can do, and an RN has the broadest scope of practice.

Because of their broader scope of practice, RNs earn more than LPNs and CNAs.
Advanced Practice Registered Nurses.
Known as APRNs, these include:
Nurse Practitioners (NPs)
Clinical Nurse Specialists (CNSs)
Nurse Anesthetists (CRNAs)
Nurse Midwife (CNM).
These APRNs have a higher scope of practice than even the registered nurse. For example APRNs can diagnose and treat illness. They also have prescriptive authority (i.e. they can prescribe medications).
APRN's, RN's, LVN's, and CNA's all work as a team (along with physicians and others) to help keep hospitals and clinics running.
They can be found working in various healthcare settings such as:
Obstetrics
Surgery
Mental Health
Critical Care
Nursing Educational Requirements
Like engineers, many states now require that RN's obtain a four-year bachelor of science degree in nursing from an accredited university to work in their field.
However, many other states don't need an RN to obtain a four-year degree and simply require RN's to have an associate's degree in nursing or ADN.
APRN's, on the other hand, must obtain their masters of science in nursing. That standard is supposed to eventually change where APRNs will be required to get their doctorate of nursing practice.
Nursing Pay
The average salary for a career in nursing starts at around $30,000 for a CNA to about $200,000 for APRNs.
Your Future Starts Here
Search thousands of featured schools to find the best degree program for you. Get results instantly. (it's FAST and FREE!)
Differences Between Engineering and Nursing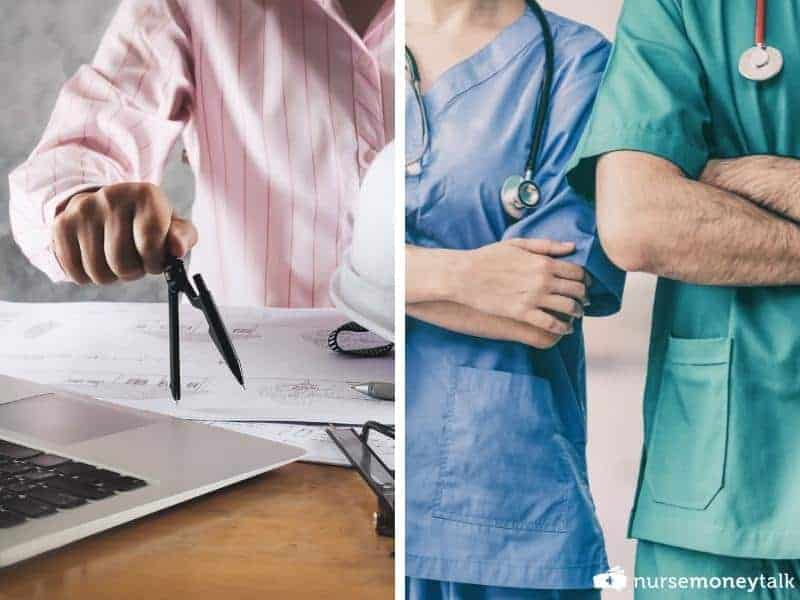 The first significant and most obvious difference between engineering and nursing is they're in different fields.
Whereas engineering is a science-based field focusing on manufacturing and infrastructure, nursing is a medical career that sometimes delves into research, education, and public outreach.
There are other differences that are key to determining which career is right for you.
People Interaction
Working as a nurse requires a deeper level of interaction with people than most other professions do, engineering included.
Nurses interact with patients physically by helping them complete their activities of daily living, providing medication, and other nursing skills.
They also provide emotional support for them and their families during their stay at a hospital.
On the other hand, engineers don't reach this level of interaction with their clients, bosses, or peers.
Although group projects are standard for engineers, there is little emotional connection during engineering, which can be good if you prefer to keep interactions with people limited to business and casual meetings.
On the other hand, nurses have a duty to help others, and their day might consist of caring for anywhere from 10 to 15 or more patients a day.
Work Environment
As an engineer, your work will primarily be sedentary and in an office setting.
You will be working to draw up schematics, draft projects, and plans. Or work with other advanced systems in places such as factories and chemical plants.
You will be required to visit project planning sites during stages of development, as well as get the opportunity to travel abroad or to other states for various engineering projects. This will depend on how big your firm is.
On the other hand, nurses work long hours and stand on their feet most of the day. Depending on what nursing specialty you specialize in, there are ways around this.
Education and Cost
As we mentioned earlier, both engineering and nursing jobs will require some level of education.
Obtaining a four-year degree in either engineering or nursing can be quite costly.
The average yearly cost of obtaining an engineering degree is around $13,000 for state residents and $44,000 for out-of-state residents.
Obtaining a nursing degree is not that far behind. The big difference is that nursing has a lower entry barrier (LPN) that takes less schooling. So you'll pay less on education (you'll also make less if you go the LPN route).
Fortunately, both engineering and nursing programs offer scholarships, and colleges offer financial aid to help students finish school.
Job Prospects
The US Bureau of Labor Statistics has great job prospects for both of these fields.
They predict over 139,000 new engineering jobs to emerge from 2016 to 2026. From 2020 to 2030, the number of new nurses' jobs is projected to be 276,800.
With explosions in new technology, both fields in engineering and medicine are expected to continue to grow, making both of these fields solid career choices.
Certifications
All nurses must be licensed and credentialed by their state and local board of nursing.
In the US, an LPN or RN must pass the NCLEX exam. Afterward, they must register as a nurse with their respective state and continue maintaining their license.
Maintaining a license requires a certain amount of hours toward nursing continuing education and maintaining certificates such as BLS CPR cards. This is true (to a certain extent) for CNAs all the way to APRNs.
Engineers don't have to be certified, depending on where they work. However, most engineers will obtain a PE license that shows high levels of expertise.
PE licenses can make it easier for engineers to get hired by larger companies.
Nurses
Engineers
Years of Education Required
Can become an LPN in about 1.5 years.
4-year degree. Many students elected to get their masters.
Requires Licensure
Yes
No, but preferred.
Requires Certifications
Yes
No, but preferred.
Team Environment
Yes
Yes
Job Outlook and growth
It's really good.
It's really good.
Average Salary
CNA: $30,830
LPN: $48,820
RN: $73,300
APRN $117,670
Engineers: $91,010
Find Your Dream School
Find a School for Engineering
Find a nursing program
Key Takeaways
There are fundamental differences between nursing and engineering.
However, if you love to work on a team, want to use your quick-thinking and problem-solving abilities, and work in a career with excellent job prospects, both of these fields can suit you.
If you want a job where you can interact one-on-one with patients, move around and have exciting new days, and make a difference in individual people's lives, nursing is the right path for you!
To get started on your nursing career path, look at our school's list to explore programs.
Your Future Starts Here
Search thousands of featured schools to find the best degree program for you. Get results instantly. (it's FAST and FREE!)
Have You Read These Yet?
Frequently Asked Questions