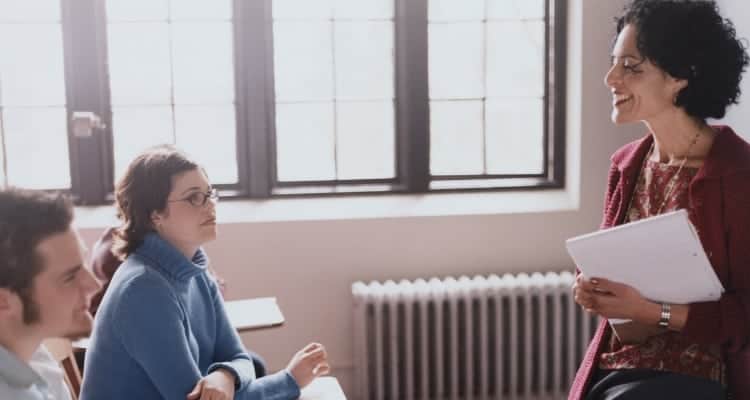 With 1 in 25 Americans experiencing serious mental illness every year, psychiatric nurses are needed more than ever.
Psychiatric nursing is a calling and can be a very difficult position, requiring the professional nurse to have undergone training to include Mental Health Nursing.
*Disclosure: This article on how to pass mental health nursing in nursing school may contain affiliate links. If you click and make a purchase, I may receive a commission. For more info, please see my disclaimer.
What is Mental Health Nursing?
Mental health nursing, or psychiatric nursing, is a position within the medical community designed to care for vulnerable patients experiencing mental illness or mental illness crisis.
In nursing school, mental health nursing teaches you the basics of what you need to know in order to best care for patients who are struggling with mental illness.
If you've been struggling with mental health nursing class, we have a few tips that can help you out!
Tips for Passing Mental Health Nursing Class
Here are 10 effective ways you can pass mental health nursing class (without pulling your hair out!)
1. Form Study Groups
Study groups are a great way to get together with friends, socialize, and build on your mental health nursing foundations you learned in class.
By talking with each other about concepts you've learned in class, you can learn from each other while solidifying your knowledge to pass mental health nursing.
Forming a good study group is important, so make sure you include people with similar goals and motivations in order to get the most from your group.
2. Hire a Tutor
Hiring a tutor with experience in mental health nursing class can be a great way to keep a set study schedule and get any additional questions you may have answered.
Many schools offer free tutors for their students and employ senior students to help guide younger ones.
Check with your school regarding a free tutor, or talk to a classmate about who they recommend as the best tutor.
Hire a Tutor for Psychiatric Nursing Class
Another great option for finding a mental health nursing class tutor is by using an online tutoring platform like Wyzant. You can search for a tutor, see the reviews, and then pick one that works best for you.
3. Get a Flashcard App
If you're ready to ditch the traditional flashcards, there are a number of great apps available that can help you study and retain information.
Many apps, such as Quizlet, provide a variety of learning tools within the app including a "learning" feature as well as a quiz and test option.
Another added benefit is being able to have access to your flashcards at the touch of a button, which is extremely useful while waiting in line or at a restaurant.
Related: How to Study for Med-Surg
4. Create a Study Schedule
Setting a schedule and sticking to it is critical in your success during nursing school, it becomes even more critical while you are taking mental health nursing class.
Color coding your classes, different chapters you need to study, etc. can be very useful when trying to keep everything organized.
If you don't want to try and create one yourself, there are many scheduling apps available for free or for purchase, as well as physical, store-bought options.
Related: How to Study for Exams
5. Get a Study Guide
Various premade study guides and flashcards can be found on Amazon, and they are a great addition to your assigned textbook.
One option is Psychiatric Mental Health Nursing Success, which is available for purchase and for rent.
By adding these supportive guides to your study plan, you can pass mental health nursing much easier than without, just make sure you find the right supplementation for your study style.
6. Know Your Learning Style
Everyone learns differently, and knowing how you learn can help you to direct your studies in the most efficient manner possible.
Certain online quizzes, such as this one, can help you determine which type of learner you are.
Once you have your answers, you can search online for the best way to study the information you are given or talk to a professor who is knowledgeable in learning styles.
7. Office Hours
Visiting your professor during office hours is a great way to connect with your professor as well as get your questions answered directly.
Your professor should have their office hours listed in the syllabus, and you can also ask them directly when the best time is to make an appointment.
Make sure you go prepared to the appointment, bring questions you have about mental health nursing, and if they will allow it, record the session to reference at a later date.
Related: How to Study for Pathophysiology
8. Don't Just Read Your Textbook
Mental health nursing is a bit different than other nursing classes, as it requires a different way of thinking.
With all of the information listed in your textbook, it can be difficult and even discouraged to attempt to memorize all of it.
Tailor your reading to support the information given to you by your professor via powerpoints and other notes, and be sure to focus on the bold text and boxes as well.
9. Record Lectures
While I was never really a fan of recording lectures, many of my classmates where and found it very helpful.
The nice thing about recording lectures is you can always go back and listen to them again at a later date.
You can either use your phone or a dedicated recorder like the EVISTR Digital Voice Recorder (on Amazon) to record the lecture.
Pro Tip
Make sure you ask permission beforehand. Some instructors will NOT allow you to record their lectures.
10. Take Good Notes
There's a right and wrong way to take notes. I already covered some tips on taking good notes in nursing school. You can go check out that article.
One of the tips that I mentioned in that article is about changing up the format of how you take notes.
One of the formats I've used in the past and have found helpful is the Cornell-Notes format (or C-notes).
The video below does a pretty good job explain it.
Final Thoughts
Have you successfully completed mental health nursing and have your own tips to share?
We want to hear from you! Let us know your struggles and tips in the comment section, you may be able to help other students with your advice.
Related Articles