Psych Nursing vs Med Surg Nursing: Similarities and Differences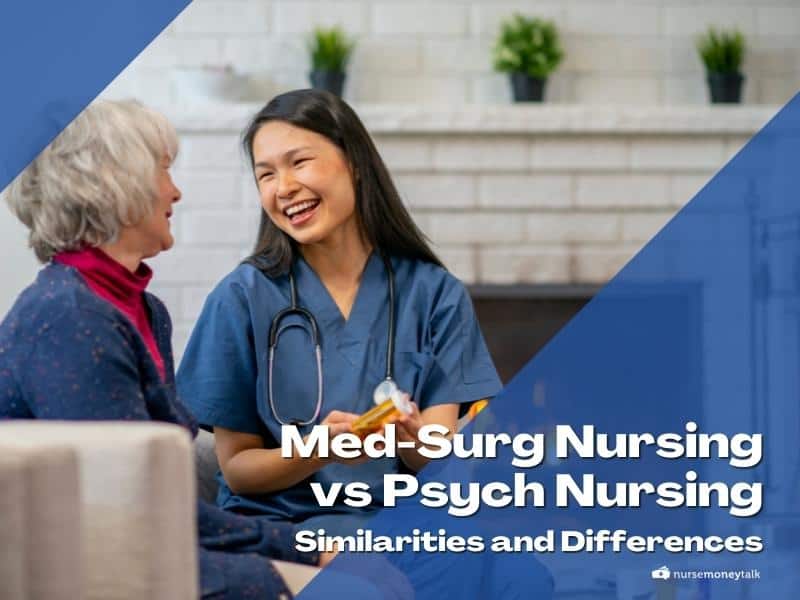 With so many nursing specialties to choose from, it is important to consider which best meets your personality and goals.
In some ways, medical-surgical and psychiatric nursing are quite different.
However, you will find that the education required along with the options for career advancement for each are similar.
Psychiatric Versus Medical-Surgical Nursing
What Is Psychiatric Nursing?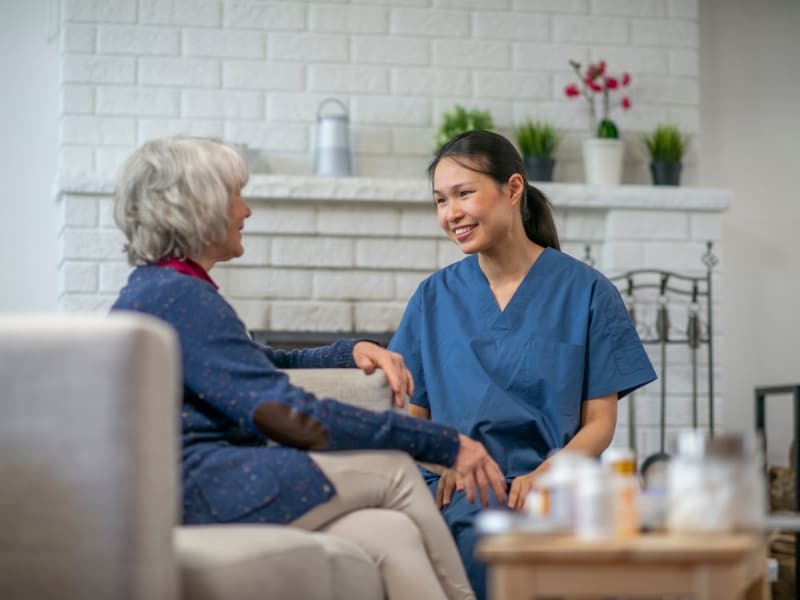 A psychiatric-mental health nurse cares specifically for people who are struggling with a variety of mental health issues as well as trauma, dementia, substance abuse and similar diagnoses.
Although other nursing skills, such as those employed by typical medical-surgical nurses, will be necessary for the complete nursing care of an individual, mental health jumps to the forefront of the nursing care plan in psychiatric nursing.
To become a psychiatric nurse, you must receive either an associate's or a bachelor's degree in nursing.
However, the bachelor's degree is more highly favored among potential employers these days.
Find Your Next Nursing Job
Use the NurseMoneyTalk job board to look for and apply to great nursing jobs near you.
Of course, you will then need to pass the National Council Licensure Examination to become licensed by the board of nursing in your state.
In some areas, you may find it difficult to land a psychiatric nursing job without having previous experience in other bedside patient care areas.
However, previous experience is not a necessity, and some new graduates can find satisfactory positions in mental health care centers immediately.
What Is Medical-Surgical Nursing?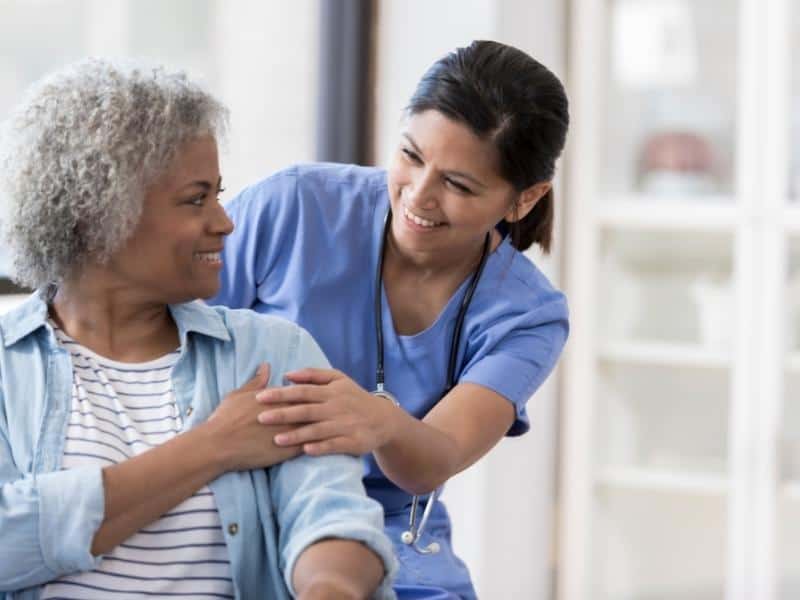 On the other hand, medical-surgical nursing is seen as a perfect jumping-off point for new nursing graduates.
In this type of unit, you will see patients with a wide range of both acute and chronic diagnoses and will care for patients who have recently had surgeries. Because so many patients need this type of care, medical-surgical nursing is the largest nursing specialty area in the United States.
These nurses are incredibly well-rounded professionals who have the knowledge and skills necessary to take care of a wide range of diagnoses.
Because they take care of numerous individuals on each shift, they must also be experts at prioritizing tasks, delegating to other nursing personnel, such as LPNs and CNAs, and performing quick yet thorough assessments.
Similarities and Differences in Job Duties
Both psychiatric nurses and medical-surgical nurses will spend valuable time taking care of both the mental and physical health concerns of their patients.
However, the primary focus is on their specialty area with secondary concerns taking the backseat.
In addition, both types of nursing professionals will need to create nursing care plans for each of their patients, give prescribed medications and other forms of prescribed treatments and report adverse conditions to the primary physician.
Because psychiatric nurses are primarily focused on developing a positive mental state in each of their patients, they may spend a lot more time providing personalized treatments as well as simply talking with and listening to their patients.
In some cases, they may also have to help distressed patients calm down with the use of medications and, in rare situations, restraints.
Patients often stay longer in psychiatric facilities than they do on medical-surgical units, giving nurses more of an opportunity to form long-term, therapeutic relationships with their patients.
Medical-surgical nursing is usually a much faster-paced environment with far more delegation of minor patient-oriented tasks.
There is also far more interaction with a variety of primary care doctors and specialists and faster discharge dates whenever possible.
These nurses stabilize patients before discharging them home or to rehabilitation centers in order to open up more beds in the medical-surgical department.
In addition to standard medical care of acute and chronic diseases, these nurses also prepare patients already in the hospital for surgeries and provide follow-up post-operative care on the unit for stable patients.
Similarities and Differences in Salary
Because both psychiatric nurses and medical-surgical nurses usually have similar degrees and licensures, both can make similar salaries depending on the type of unit they work on, where they are employed in the country and how much experience they have.
However, medical-surgical nurses tend to make a bit more per year with an average salary of $102,004 while psychiatric nurses claim an average salary of $80,740.
Find Your Next Nursing Job
Use the NurseMoneyTalk job board to look for and apply to great nursing jobs near you.
According to the U.S. Bureau of Labor Statistics, nurses who work for the state or federal government make a bit more than those working in hospitals or residential care facilities.
Both medical-surgical and psychiatric nurses can potentially improve their salaries with advanced credentials even without returning to school for a master's degree.
The American Nurses Credentialing Center offers the Medical-Surgical Nursing Certification (MEDSURG-BC) as well as the Psychiatric-Mental Health Nursing Certification (PMH-BC), both of which are valid for five years following successful completion of the board certification examination.
Similarities and Differences in WorkFlow
Both psychiatric and medical-surgical nurses begin their shifts with a thorough handoff from the outgoing nurse and rely on strong teamwork from fellow nurses and ancillary personnel throughout the workday to complete each of their tasks successfully.
Typical shifts begin with complete patient assessments, although the focus of the assessments will vary greatly based on each patient's specific diagnosis.
Throughout the day, both types of nurses will be giving prescribed medications and treatments, ensuring that patient needs are met while also charting everything that happens with the patient.
Despite these many similarities, psychiatric nurses will notice a significant difference in the flow of their days when compared to their medical-surgical counterparts.
The psychiatric unit is usually a slower-paced environment that must stay calm and drama-free for the benefit of the patients.
Patient rooms and nursing stations will look much different than those found on a medical-surgical unit because patients often spend longer times in these facilities.
Conversely, a medical-surgical nurse will find that her day is often hectic while seeing multiple patients onto and off the unit and constantly receiving new doctor's orders that must be implemented immediately.
Similarities and Differences in Work Environment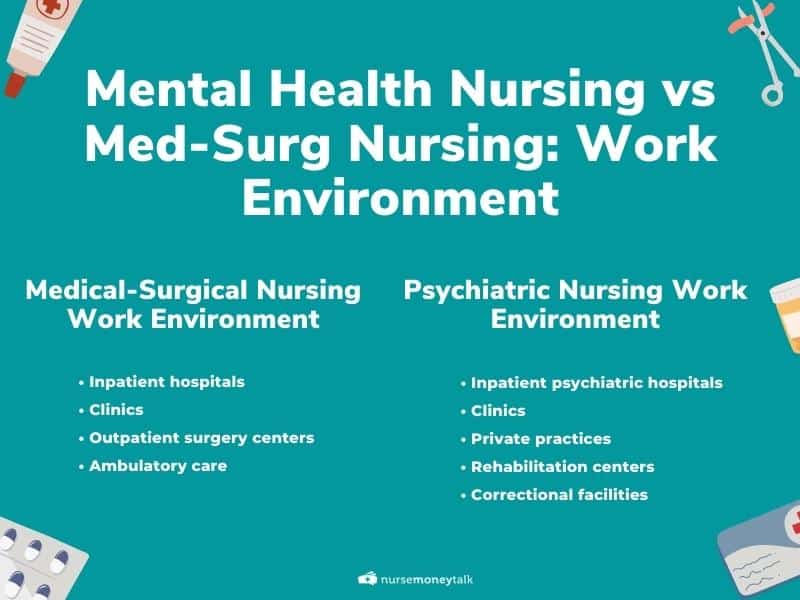 All nursing facilities are designed to be safe for patients and as comfortable as possible.
Both psychiatric and medical-surgical nurses will have designated nursing stations or other areas that are quiet and designed for charting.
Beyond this, however, there are usually many more differences than similarities in these two environments.
A typical medical-surgical nurse could work in the following facilities, although inpatient hospital settings are usually seen most frequently.
Inpatient hospitals
Clinics
Outpatient surgery centers
Ambulatory care
Psychiatric nurses may work in the following areas among numerous others.
Inpatient psychiatric hospitals
Clinics
Private practices
Rehabilitation centers
Correctional facilities
Some psychiatric facilities are locked down to prevent troubled patients from leaving. However, medical-surgical units are easily open to friends and family who wish to visit with no locked-down areas.
Determining Whether Psychiatric or Medical Surgical Nursing Is Right for You
Neither psychiatric nursing nor medical-surgical nursing are better or worse than the other.
In fact, because of some of the similarities, nurses can feel equally comfortable in either specialty area. However, there are several ways to make your decision easier.
First, consider what specialty interested you more during clinical rotations during college.
Although nursing is certainly different as a registered nurse than it is as a student, you will have a good idea which option appeals to you most if you were able to have a psychiatric nursing rotation during school.
However, an associate's program may not offer a psychiatric-mental health clinical rotation.
Second, consider what type of work environment and work flow you thrive in and ultimately prefer.
If you like quick changes and a fast working pace that may help your day pass more quickly, medical-surgical nursing could be right for you.
However, if you are an excellent active listener who likes to take more time with each of your patients and who prefers long-term relationships with your patients, psychiatric nursing could be the better fit.
Third, consider which specialty area your personality best matches. Psychiatric nurses are usually very good listeners with a great deal of compassion and empathy.
The best medical-surgical nurses are able to think quickly on their feet, thrive on busyness and are decisive.
Ultimately, there is no need to worry about making the wrong choice in your nursing specialty because you can easily change work areas with either an associate's or a bachelor's degree.
For example, you may find that you want to spend a couple of years on a medical-surgical unit before moving on to psychiatric nursing.
To learn even more about these two nursing specialty areas, check out this video below, which offers an array of helpful examples.
Also, refer to the following table for a quick glance at the similarities and differences between the two areas.
| | Medical/Surgical Nursing | Psychiatric Nursing |
| --- | --- | --- |
| Education Required | Associate's or Bachelor's Degree | Associate's or Bachelor's Degree |
| Length of Education | 2-4 Years | 2-4Years |
| Annual Salary | $102,004 | $80,470 |
| Number Employed in the US | 600,000 | 26,600 |
| Primary Place of Employment | Inpatient Hospital | Inpatient Hospital or Rehab Center |
| Advanced Credentials | MEDSURG-BC | PMH-BC |
A comparison table on the differences vs. similarities of psychiatric nursing vs medical-surgical nursing.
Key takeaways
While either nursing specialty can offer plenty of rewards, keep in mind that you can easily switch jobs over the years to reinvigorate your career.
Check out our job board today for current openings in numerous types of nursing specialties.
Find Your Next Nursing Job
Use the NurseMoneyTalk job board to look for and apply to great nursing jobs near you.
Have You Read These Yet?