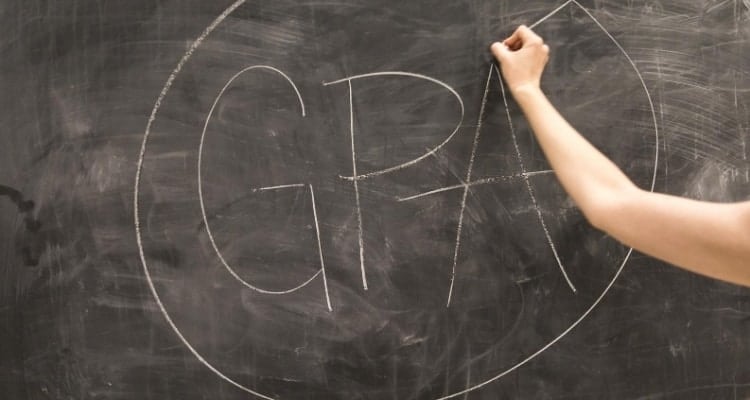 If you're interested in attending nursing school, having a strong GPA prior to applying is important.
Across the country, nursing schools are getting more competitive and increasing requirements for both admission and graduation.
It's important to keep in mind that the type of program you apply to will also create some variance in GPA requirements.
*Disclosure: This article on "what gpa is needed for nursing school" may contain affiliate links. If you click and make a purchase, I may receive a commission. For more info, please see my disclaimer.
What GPA is Required for Nursing School?
Overall, nursing schools are very competitive and can be difficult to get into. As a general rule of thumb, you should have at least a 3.0 to apply to a bachelor program, whereas an associates program may let you slide with a minimum GPA of 2.5. LPN and CNA programs may not have a GPA requirement.
Keep in mind that every school is different, and some may include work history in addition to their GPA decision.
Find Nursing Programs
Search our school database to find schools and get information on the right programs for you. (Don't worry, it's fast and free!)
Getting In: Keeping Up Your GPA
No matter what classes you are in, it's important to start and finish strong if your ultimate goal is to get into nursing school.
It's important to research each program you are considering applying to and making sure you tailor your educational resume to fit their idea of the perfect candidate.
If your school places a strong emphasis on work history, it can help to obtain your CNA license and work in a healthcare setting while you are completing your prerequisites.
If you're someone who's struggling with getting their grades up for nursing school here are so tips below.
1. Plan Strategically
If you're planning on taking microbiology, anatomy, physiology, and statistics all at the same time, you're setting yourself up for a very stressful semester and one you may not succeed in.
Strategically planning your semesters to include easier classes is important to ensuring your GPA stays competitive.
For example, if you are taking microbiology and anatomy, pad the semester with an easier class such as psychology or another class you know you will do well in with minimal effort.
This way, you can focus more time and energy on the demanding classes (microbiology) and still end the semester with your sanity and GPA intact.
2. Eat, Sleep, and Breathe Your Prerequisites
Keeping your GPA up is going to be difficult if you are sleep deprived and living on a diet of ramen noodles and goldfish.
For example, a diet low in saturated fat can be linked to better memory, whereas diets high in saturated fats tend to impact our cognitive function.
Make sure you are reaching for healthy, whole foods and getting 8 hours of sleep each night.
Scheduling a set amount of hours each day is also a good idea to help make sure that you get as much study time as possible. It's a lot to commit to, but it's worth it in the end!
Related: 10 Best Places for Nursing Students to Study
3. Creating a Study Space
If you're sitting in a cluttered mess of papers and books, chances are your study time is going to be less than enjoyable and your GPA could suffer in the long run.
Make sure you set your study space up to be a reflection of things you enjoy.
Utilizing color psychology and listening to healing tones is a great way to create a relaxing space that you can enjoy being in.
In addition to creating a calm space, you should make sure you have everything you need organized and within reach to avoid making multiple trips to various rooms and potentially getting distracted.
Find Nursing Programs
Search our school database to find schools and get information on the right programs for you. (Don't worry, it's fast and free!)
4. Make Good Friends and Study Groups
It is very likely in your science prerequisites that there will be another student in your courses with the same goals as you.
Find those students and make a study group, and if you're lucky you might all end up in the same program together.
Study groups are an excellent tool for success because it allows you to compare notes, get clarification on concepts you don't understand, and allows you to teach others, which will solidify your understanding on the material.
This is one of the best ways you can ensure your GPA stays competitive for your nursing program applications.
Final Thoughts
If you're ready to start your nursing school journey, you can search for nursing schools in your area on our database.
Frequently Asked Questions
What is a competitive GPA for nursing school?

A competitive GPA for many nursing schools will be a GPA close to 3.8. Make sure to double check with your nursing school of choice because a competitive GPA can vary widely between nursing schools.

Is a 3.2 GPA good for nursing school?

A 3.2 GPA may be competitive for some nursing school programs. The best way to be sure is to contact your nursing school of choice and speak to one of their admission counselors.

Can you be a nurse with a 2.5 GPA?

It is possible to be a nurse with a low GPA. A low GPA may limit your school choice and it might mean you have to attend an LPN program or an ADN program first.
Related Articles