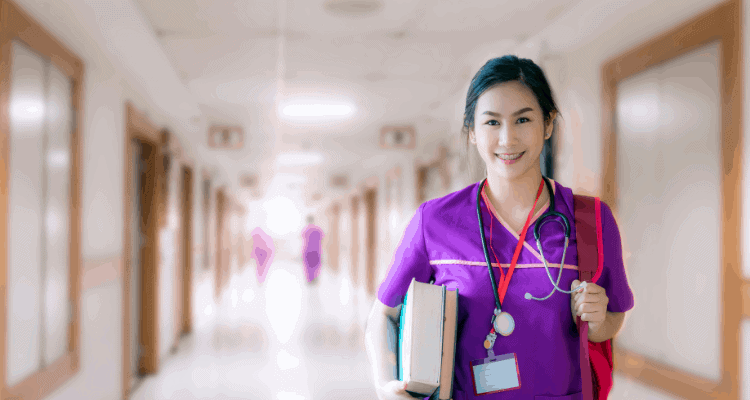 If you're planning on going to RN school, you can expect to have to take a few classes before getting into the depth of your program.
These classes are designed to give you a solid understanding of the human body and mind to help improve your education and make you a fantastic nurse.
Here's what you need to know about prerequisites for RN school!
*Disclosure: This article on What Prerequisites do I Need for RN School may contain affiliate links. If you click and make a purchase, I may receive a commission. For more info, please see my disclaimer.
What Prerequisites Do I Need for RN School?
Most nursing schools will require the following classes as prerequisites: Biology, Anatomy, Physiology, Chemistry, Pathophysiology, Microbiology, Psychology, and Nutritional classes. In addition, you'll also need to complete general education classes such as History, Math, English, etc. 
The prerequisites for RN school can be a bit daunting, but if you plan them out strategically and know what to expect, you can succeed and become a great nurse!
Find RN Programs Near You
Use our school search to find schools and get information on the programs that's right for you. (Don't worry it's fast and free!)
RN School Prerequisites
Make sure you keep in mind before diving into this list that there are tons of ways to make it through your RN prerequisites with your sanity intact!
From study groups to flashcards, there are a million and one ways to succeed in these classes.
Biology
During this class, you can expect to cover cell theory, how cells work, how the scientific method works, and the various ways that nature interacts with each other to produce life as we know it. This class can be rough, so make sure you record lectures, take good notes, and make a study schedule to keep you on your A-game.
Related: This is the Easiest Class in Nursing School
Anatomy
This class dives into the location of organs and bones in the body. It can be a lot to learn, but there are premade flashcards you can purchase, study apps to download, and (as always) study groups to form!
Physiology:
This is often taken in conjunction with anatomy, but some schools may split it up. Physiology studies how the body works when it is working properly (we'll get into the class that focuses on what happens when it works improperly in just a minute).
Pathophysiology:
If physiology is how the body works when it's working properly, pathophysiology covers what happens when things get wonky. It's a very heavy course, so make sure you dedicate a lot of time to it in order to succeed.
Related: This is the Hardest Class in Nursing School
Microbiology
If you like experiments and microscopes to check out all the grossest germs you could think of, microbiology will be a blast for you. This class studies life cycles and how to identify various organisms that are far too small to be seen with the naked eye.
Chemistry
Chemistry is all about atoms and molecules and how they interact with each other. This class is loaded with a ton of fun experiments so it might feel more like a hobby than a class (if you're into this kinda thing).
You'll want to brush up on your periodic table of elements to ensure you have a good foundation going into chemistry.
Merka Periodic Table of Elements
FUN AND EDUCATIONAL TOOL: This comprehensive study pack was designed by teachers to provide young scientists with all the tools they need to master the elements. Featuring colorful informative study...
PEACE OF MIND FOR PARENTS: This kit is a parent's dream come true. It includes everything needed for academic success for children. With 4 large wall posters, 118 flashcards, and a practice book with...
CONVENIENT SIZES: Our educational products are designed for convenience and ease of use. Our set of 4 large wall posters is each 17" x 11", featuring clear and legible fonts for easy reading. The...
Psychology
Psychology is the study of how the mind works. In addition to this, you may need developmental psychology, which studies how the mind works and how people behave throughout their lifetime.
This is important to nursing because it helps you understand your patient better.
Find RN Programs Near You
Use our school search to find schools and get information on the programs that's right for you. (Don't worry it's fast and free!)
Nutrition
Obviously, nutrition is extremely important in nursing. In this class, you'll learn about various nutrients and which ones you need in order to have your body functioning at an optimum level. 
If these seem intimidating, try to stay calm. Thousands of nurses before you have completed these and if it's possible for one it's possible for you!
Pro Tip:
If you need help with your courses you can use the platform we recommend for online tutoring.
Final Thoughts
Are you working your way through your RN prerequisites?
How are they going and what are you doing to get through them? Let us know in the comment section!
If you're looking to start applying to RN schools. You can find nursing programs near you by clicking here.
Frequently Asked Questions
Do you have to be good at science and math to be a nurse?
While being good at math and science can make some coursework easier, you can still be a successful nurse even if you're not.
Related Articles: