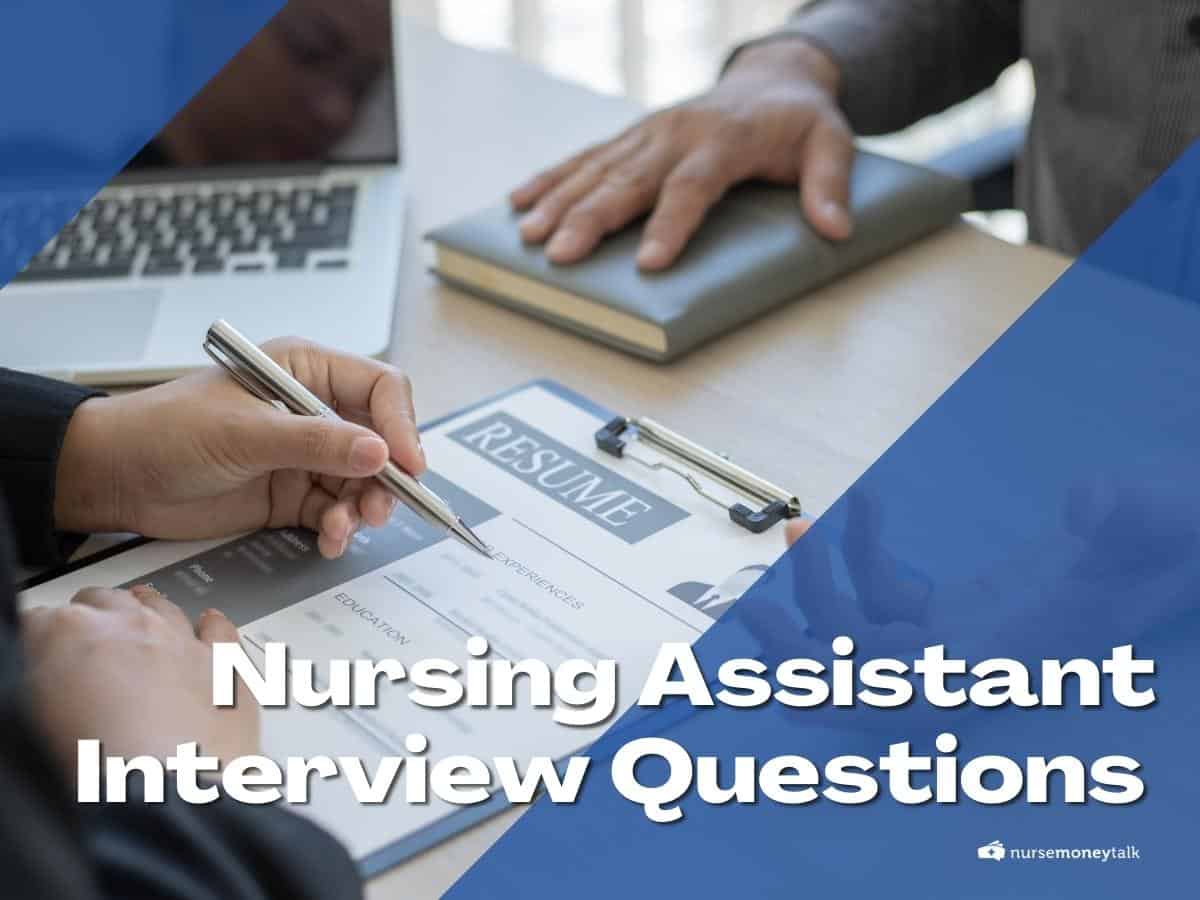 Securing an interview as a nursing assistant is a significant step in your healthcare career.
However, it is just the beginning.
Navigating the interview with confidence and assurance is equally crucial.
This guide will discuss some of the commonly asked nursing assistant interview questions (along with sample answers).
This will provide you with the insight you need to impress your potential employer.
Nursing Assistant Interview Questions with Sample Answers
1. Can You Describe the Role of a Nursing Assistant?
Interviewers pose this question to ensure that you have a clear understanding of the nursing assistant role, its responsibilities, and the value it brings to patient care.
When answering, draw from your knowledge and experience to describe the role accurately.
Example Answer:
"A nursing assistant, often known as a Certified Nursing Assistant (CNA), is an integral part of the healthcare team.

Their primary duties involve assisting patients with daily living activities, such as feeding, bathing, and dressing, as well as performing fundamental healthcare tasks like measuring vital signs.

A nursing assistant also provides emotional support to patients, establishing a crucial emotional connection within the healthcare ecosystem."
2. What Skills Make You a Great Nursing Assistant?
This question aims to assess your fit for the role by exploring your relevant skills.
Your answer should align with the job requirements and demonstrate your suitability for the role.
Example Answer:
"I believe my interpersonal and communication skills are key to being a successful nursing assistant.

These skills enable me to interact effectively with patients and their families, as well as the broader healthcare team.

Additionally, I am physically capable of performing necessary tasks, such as lifting and transferring patients.

My attention to detail ensures that I accurately document patient data, while my empathy and patience allow me to provide respectful and compassionate care."
3. Can You Describe a Time You Dealt with a Difficult Patient or Situation?
With this question, the interviewer aims to evaluate your problem-solving skills and resilience in handling challenging situations.
Discuss a specific incident, detailing how you managed the situation and what you learned from it.
Example Answer:
"In my previous role, I worked with an elderly patient with dementia who resisted following their treatment plan.

It was challenging, but I used clear, simple communication to explain the importance of the treatment consistently.

I also collaborated with the healthcare team to implement behavior management strategies.

This experience underscored the importance of patience, perseverance, and teamwork."
4. Why Did You Choose to Become a Nursing Assistant?
This question seeks to uncover your motivation for choosing this career.
A clear understanding of your 'why' can reflect your passion and commitment to the role.
Example Answer:
"I decided to become a nursing assistant because of my inherent desire to help others.

I find it rewarding to have a direct impact on a patient's health and well-being.

The nursing assistant role offers the perfect blend of personal interaction and hands-on healthcare tasks that align with my abilities and aspirations."
5. How Do You Approach Patient Care?
Your approach to patient care is crucial to your role as a nursing assistant.
Interviewers ask this question to see if your philosophy aligns with their institution's values and mission.
Example Answer:
"My approach to patient care is holistic. I believe in treating the whole person, not just their symptoms.

This means attending to their physical needs but also considering their emotional, mental, and social well-being.

I respect each patient's individuality and strive to provide compassionate care that respects their dignity and autonomy."
6. How Do You Handle Stress in the Workplace?
Working in healthcare can be stressful.
Interviewers want to ensure you have effective coping mechanisms to prevent burnout and maintain a high level of patient care.
Example Answer:
"To manage stress effectively, I believe it's essential to maintain a healthy work-life balance.

I take short breaks during my shifts to refresh my mind and regularly engage in physical activities like running after work to relieve stress.

Open communication with my team also helps to address issues promptly and prevent them from escalating."
7. How Do You Handle Constructive Criticism?
This question is designed to evaluate your ability to accept feedback and improve.
Your reaction to criticism can indicate your attitude towards personal development and teamwork.
Example Answer:
"I view constructive criticism as a tool for professional growth.

I'm open to feedback as it helps me identify areas where I can improve.

I value when my colleagues offer insights on my performance as it ultimately helps me deliver better patient care."
8. Can You Describe an Experience Where You Worked as Part of a Healthcare Team?
Healthcare delivery is a team effort. This question assesses your ability to collaborate effectively with a diverse team.
Example Answer:
"In my previous position, I was part of a multidisciplinary team that cared for post-operative patients.

It required close collaboration and communication to manage patient care effectively.

My role involved reporting any patient concerns and changes to the nurses and doctors, which highlighted to me the value of each team member's role in patient outcomes."
9. Where Do You See Yourself in Five Years?
Understanding your long-term career goals can give employers an insight into your ambition, commitment, and fit within the organization.
Example Answer:
In five years, I envision myself taking on more responsibilities as a nursing assistant and possibly furthering my education to become a registered nurse.

I'm particularly interested in geriatric care, so I may consider specializing in this area."
10. Are You Committed to Continuous Learning?
In the rapidly evolving field of healthcare, a commitment to continuous learning is vital.
Interviewers ask this question to gauge your willingness to stay updated and provide the best patient care.
Example Answer:
"Absolutely! I am deeply committed to continuous learning.

I believe that in healthcare, there's always something new to learn, whether it's a new protocol, a new technology, or a new way of approaching patient care.

Staying updated ensures that I provide the best possible care to my patients."
Key Takeaways
Boost your confidence during your nursing assistant interview with these questions and example answers.
Show your knowledge, skills, and passion for patient care to impress your interviewer. Best of luck!
Have You Read These Yet?
Frequently Asked Questions