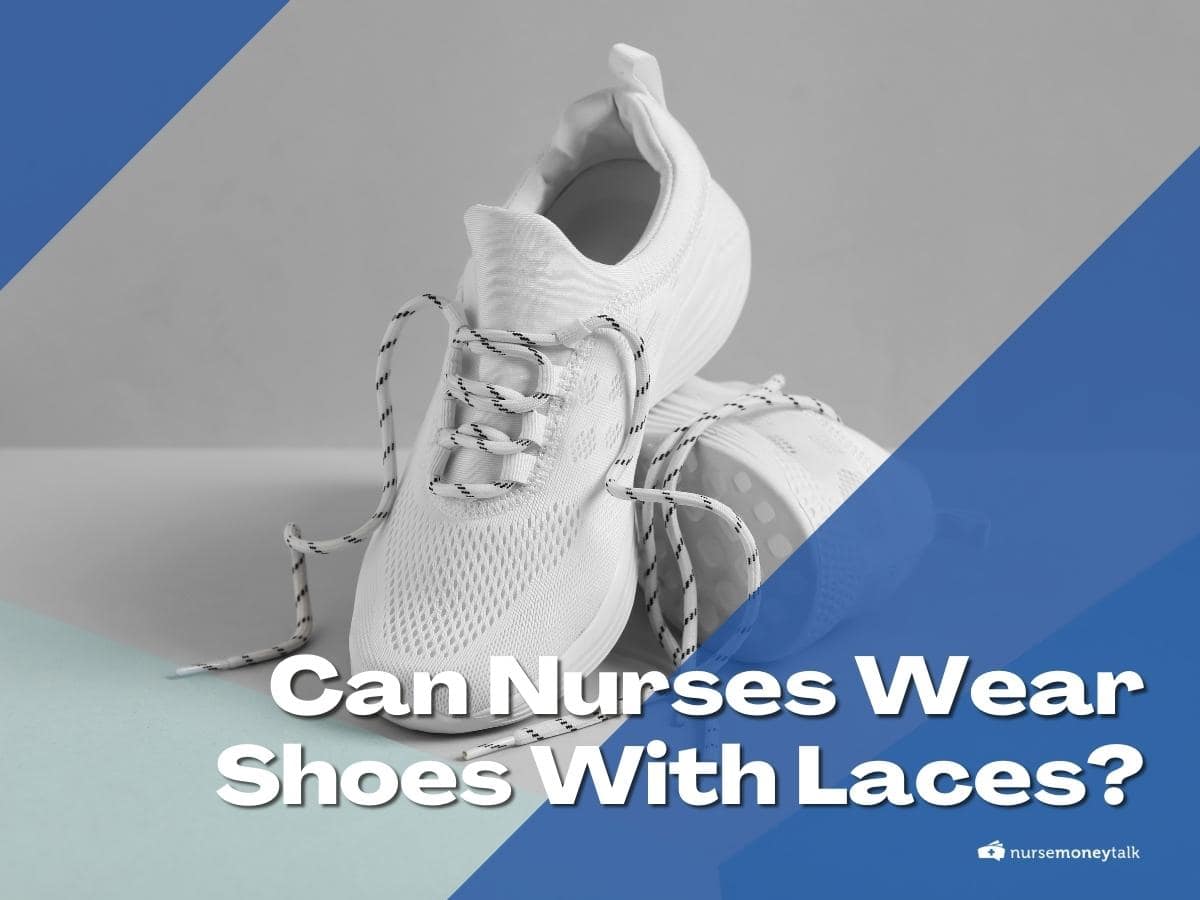 The footwear you choose as a nurse is not only for comfort but for safety and efficiency.
One common question is, "Can nurses wear shoes with laces?"
Can You, as a Nurse, Wear Shoes with Laces?
Yes, you can wear shoes with laces. The most comfortable shoe I wear for my hospital shifts are tennis shoes with laces. However, there are factors to consider, such as the type of laces, your work environment, and your comfort level.
Factors to Consider When Choosing Laced Shoes
When selecting laced shoes, one important point to consider is the potential tripping hazard.
As a nurse, you're always on the move, and untied laces can pose a risk.
On top of that, laces can harbor germs, given that they often touch the floor.
The Pros and Cons of Laced Shoes for Nurses
Advantages of Laces in Shoes for You
Laced shoes can provide excellent support and a customizable fit.
They can adapt to the size of your foot, preventing too tight or loose shoes.
They can also add a stylish flair to your standardized nursing uniform.
Drawbacks of Laces for Your Nursing Shoes
Conversely, laced shoes can come untied, leading to potential falls.
They can take time to put on and take off, which is not ideal during emergencies.
Lastly, they can act as carriers for germs, a significant concern in healthcare.
Alternatives to Laced Shoes for Nurses
Slip-On Shoes
Slip-on shoes are popular among nurses.
They're easy to put on, save time, and remove the risk of untied laces.
Many slip-on models also provide excellent arch support and cushioning, making them a viable choice for long shifts.
Clogs
Clogs are another footwear choice for nurses. They offer sturdy support, are easy to clean, and come in a variety of styles.
The closed-toe design provides protection against spills and dropped objects, making clogs a practical choice for the nursing profession.
Maintaining Hygiene with Laced Shoes
Whether it's laced shoes, slip-ons, or clogs, maintaining cleanliness is paramount in a healthcare environment.
For laced shoes, the laces should be washed or replaced regularly, and the shoes themselves should be wiped down with an appropriate disinfectant.
Here's a more thorough guide on how to clean your nurse shoes.
Choosing the Right Shoes for Nursing
What Makes a Good Nursing Shoe?
A good nursing shoe should offer you comfort, support, and stability. Read this article for more information on how to pick the right nursing shoe.
The Importance of Non-Slip Soles
An important factor is non-slip soles. Hospitals and clinics can have slippery floors, so shoes that grip the floor can help prevent accidents.
Ensuring the Right Size and Fit
Getting the right size and fit can't be stressed enough.
If your shoes are too tight, you'll have blisters and sore feet. If they're too loose, you risk injuries from your shoes slipping off.
Finding that sweet spot where your shoe fits just right is critical.
The Impact of Footwear on a Nurse's Health
Foot Health and Comfort
Foot discomfort and injuries are common among nurses like you, who spend most of their shifts on their feet.
The right footwear can minimize these issues, ensuring your feet stay comfortable and ultimately preventing long-term foot health problems.
Impact on Posture and Back Health
Good footwear isn't just about foot comfort.
It significantly impacts your posture and back health.
Inadequate support can lead to back pain, a common complaint among nurses.
Choosing shoes that provide good support can help maintain good posture and prevent back issues.
Find the Right Shoes
The best shoes for nurses offer comfort, support, and stability while being easy to clean and maintain.
Whether these are laced shoes, slip-ons, or clogs, depends on your preference and work environment.
With that said, check out these articles below to find the best shoes for nurses.
Frequently Asked Questions About Nursing Footwear