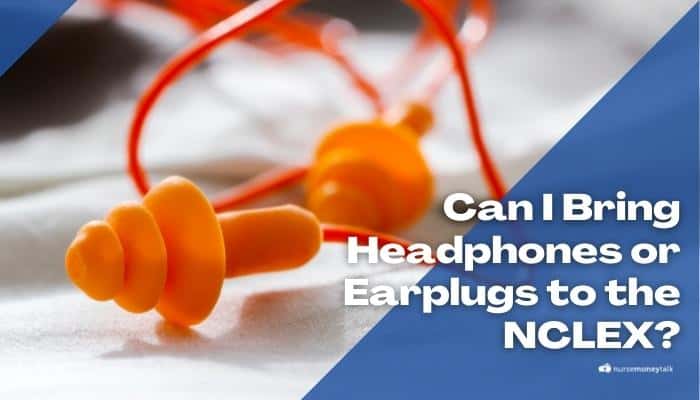 So you're about to take the NCLEX, and you're wondering if you should bring a pair of headphones.
After all, you've heard that some questions can be pretty tough, and you want to make sure you can focus.
Can I Bring My Earplugs or Headphones to the NCLEX?
No, you cannot bring your own headphones or earplugs to the NCLEX exam. It's NOT allowed. On the other hand, earplugs are available at the testing site if the nursing student requests one.
The only NCLEX prep you'll need. Check out the nclex prep course that helps graduate nurses pass their state board.
What does it cover?
Just to name a few.
You Can't Bring Outside Materials or Equipment to the NCLEX
As stated above, you're pretty limited on what you can bring to the NCLEX.
Minus a government-issued ID (i.e., driver's license), they really don't want you bringing anything else to the Pearson Vue testing site. This is especially the case for headphones, which for very obvious reasons, are also not allowed.
What you can do is request earplugs when you get to the testing site, and according to the NCSBN website, you'll be provided with one.
This will inevitably lead to another question you might have, which is what are the pros and cons of using earplugs?
Pros and Cons of Wearing Earplugs to Take the NCLEX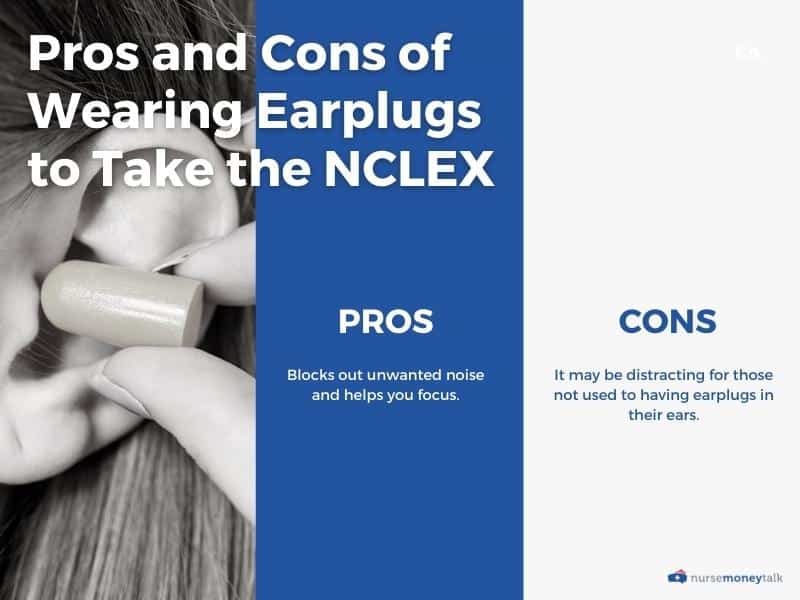 There are a few benefits to wearing earplugs during the NCLEX and a few cons. Let's start with the advantages.
Pros of Wearing Earplugs to The NCLEX Exam
1. It Helps You Focus
First of all, it can help you focus. If you're easily distracted by noise or tend to get nervous in testing situations, having a pair of earplugs can help block-out distractions and give you some peace of mind.
2. It Blocks Out Unwanted Noise
Secondly, wearing headphones can also help drown out any background noise in the testing room.
Even if it's not particularly loud, things like the air conditioner's hum or people shifting in their seats can be enough to break your concentration. Ear plugs can help minimize those distractions so you can focus on the task at hand.
3. It's What You're Used to
If you're accustomed to taking tests with earplugs on (or headphones), then it would make sense if given the opportunity to continue doing what makes you feel comfortable.
Related: What Should I Wear to the NCLEX?
Cons of Wearing Ear Plugs to Take the NCLEX
Of course, wearing earplugs has a few downsides, but they primarily come down to this.
If you're not accustomed to wearing earplugs while taking a test, I wouldn't recommend starting the day of the NCLEX examination.
Considering how nervous you will be, I don't think it would help to suddenly change how you take a test.
Besides, it's unlikely that given the nature of NCLEX testing facilities, it will be very noisy.
NCLEX Prep Academy
Check out the comprehensive NCLEX prep review that I recommend. Don't bother with other NCLEX preps that overpromise and underdeliver. Did I mention they have a 99.86% NCLEX pass rate?
Key Takeaways
So should you bring headphones and earplugs to take the NCLEX? Nope, you're not allowed, but you can request for earplugs at the testing site.
Should You wear earplugs during the NCLEX? If that's what you've always done for exams, then sure, why not? Otherwise, I probably wouldn't start something new for the NCLEX.
Whichever way you choose to go, just remember that ultimately what's most important is that YOU feel prepared and confident going into test day!
This leads me to recommend this NCLEX prep course that has helped countless nursing students pass boards and become licensed nurses.
Have You Read These Yet?