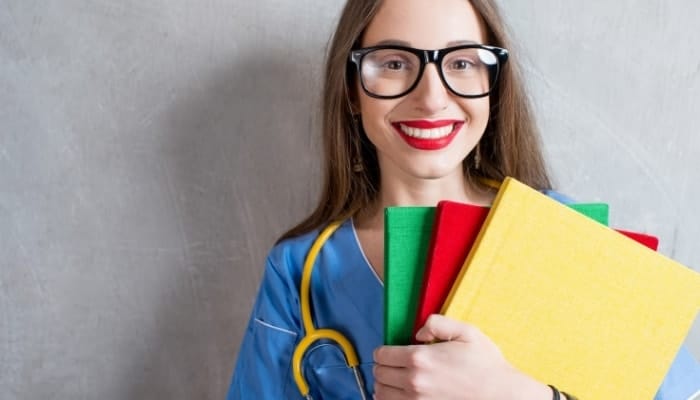 If a fear of the unknown or a hasty conversation with a frazzled nursing student has you feeling down about nursing school, you should know the truth.
Is it really as hard as some people say it is? Will you be able to handle the classes and pass the tests?
*Disclosure: This article on how hard is nursing school compared to other degrees may contain affiliate links. If you click and make a purchase, I may receive a commission. For more info, please see my disclaimer.
Is Nursing School Harder Than Other Degrees?
While getting through classes and constant test-taking can be stressful in nursing school, there are actually other majors that rank higher than nursing on the difficulty scale when looking at average GPAs.
Find Nursing Programs
Search our school database to find schools and get information on the right programs for you. (Don't worry, it's fast and free!)
How Hard Is It to Get Into and Successfully Complete Nursing School?
While other STEM majors, such as engineering and biology, may rank higher in difficulty level and student GPA averages than nursing does, this does not mean that nursing school is a walk in the park.
Nursing is a highly competitive field to which many are currently flocking.
However, because colleges and universities cannot take in an unlimited number of students, it may be difficult for some to get into the program of their choice.
Getting into a program is not the only concern for would-be nursing students.
Nursing schools frequently insist that students earn high grades in all their classes in order to continue on in the program.
Clinical experiences can be stressful and draining while cutting into study time and outside work hours.
Of course, the climactic event in the nursing school experience is passing the NCLEX-RN examination, which proves that students learned exactly what they needed to care for patients as registered nurses.
By taking apart the typical nursing school experience and looking at each piece of the puzzle individually, you may be able to feel a bit better about your choice.
Instead of looking at a nursing degree as a single unit, which can lead to great overwhelm, simply taking the process one step at a time can feel much more doable.
Getting into a Nursing School
One of the most competitive parts of nursing school is getting into a program in the first place.
Often, colleges and universities have long waiting lists for interested individuals because the number of people they can accept into each graduating class is typically set by the state.
When waiting lists are part of the equation, a school will only take the brightest and best applicants, and they will typically determine this by looking at high school grade point averages as well as scores on college entrance examinations.
For these reasons, if you have any plan to pursue a nursing degree, you will want to focus heavily on your academics before applying to a college or university.
This is especially important for math and science courses. Being trained and working as a CNA could also give you an edge over other applicants.
If you are having trouble getting into a BSN program, you could also consider applying to an ADN program or even an LPN program, which moves faster.
Related: Do I Have to Be an LPN/LVN Before Becoming an RN?
Passing Individual Classes
Once you get into nursing school, your next hurdle will be your individual classes.
You may find that some are very easy for you while others are difficult. For example, I found that psychiatric nursing was a cinch for me but that pharmacology seemed like learning a foreign language.
It is vital that you stay on top of your classes and make regular study sessions a priority.
Also, start in on any assignments or special projects early to ensure that you have sufficient time to finish them.
Time management is going to need to be a priority at all steps in the process.
You can find more tips for making nursing school as simple and painless as possible below.
Completing Clinical Hours
Besides your classes, you will also have plenty of clinical hours.
These hours will usually be started in an on-campus nursing lab but will be mainly completed at local hospitals, clinics, long-term care facilities and public health agencies.
Once again, your experience at clinicals may differ from that of your classmates.
Some find clinicals to be the easiest part of the nursing school experience. However, my experience was the opposite.
At clinicals, you will find that you are given increasing amounts of responsibility.
You will be caring for real patients under the guidance of a nursing professor and actual nurses.
Not only will you need to practice some difficult hands-on tasks, such as starting an IV or inserting a Foley catheter, but also you will feel the stress of the constant supervision.
Related: Do Nursing Students Get Paid for Clinicals?
Graduating
Congratulations on making it to the end of your nursing school experience!
Usually, your last semester or two of a four-year BSN degree will be spent more at off-campus nursing facilities than on campus in the classroom.
Other than this, you should not find that your final classes or tests are any harder than those you experienced at the beginning of your time in school.
However, remember that successfully graduating from nursing school is not your last step.
You must still pass the NCLEX-RN examination before you can begin working as a registered nurse.
Passing the NCLEX-RN Examination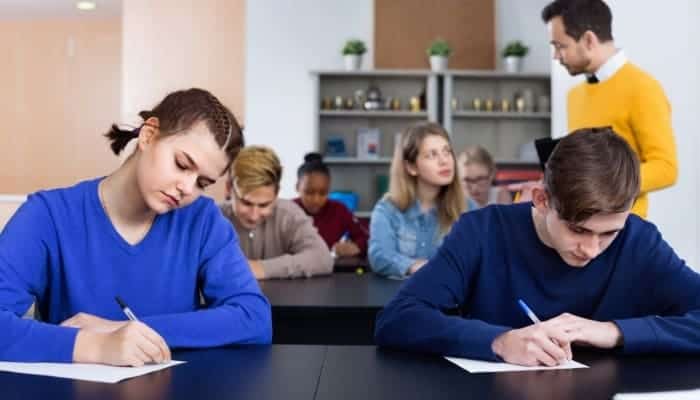 This is your final hurdle before you can accept your first position as a registered nurse.
Of course, this is what also causes the most stress for individuals because not passing this test can make students feel that all of their years in nursing school were wasted.
The great news is that 88% of first time NCLEX-RN test takers passed the test on their first try as of 2018.
Before taking the NCLEX-RN examination, there are a couple of things you should know.
First of all, you will need to answer a minimum of 75 questions.
The digital examination uses a special algorithm to determine how well you are doing and whether it should give you harder or easier questions depending on how many you get right.
Once the system determines that you have answered enough questions correctly, it will automatically turn off.
You could get up to 265 questions, and you must complete the test within six hours.
Tips for Making Nursing School Easier
While the difficulty level of nursing school is no joking matter, there are some ways that you can make it easier for yourself.
Here are a few tips to deal with a heavy class load, hours of clinicals and difficult assignments as you work toward the finish line.
Find Nursing Programs
Search our school database to find schools and get information on the right programs for you. (Don't worry, it's fast and free!)
1. Put a Priority on Study Time
While students in every major should be studying regularly, nursing majors must put in even more of an effort.
If the life of a patient swings in the balance, you definitely want to know what the right answer is.
With such a heavy workload and a tightly packed school and work schedule, you will need to schedule regular study times and stick to them just as if they were appointments you made with yourself.
Related: 10 Best Places to Study
2. Always Give the Best Answer Rather Than the Right Answer
One of the hardest things to get used to in nursing school is that there may be more than one right answer for any test question.
This mirrors the real world of nursing where there are plenty of good options for treating a patient but only one option that is the best.
The key is to consider what treatment would be the most appropriate or the most helpful.
The great news is that this test-taking technique will come in handy when you take the NCLEX-RN examination where you will find plenty of critical thinking questions with multiple good answers.
3. Start Studying Early for the NCLEX Examination
Although your nursing education should prepare you well for taking the NCLEX-RN examination, you will still want to put some extra effort into studying on your own.
It is wise to invest in one or two NCLEX-RN study books. Be sure to choose up-to-date copies that will mirror the current best practices.
During your last semester or two of school, schedule a couple study sessions in these books every week.
Make a note of questions that you get wrong so that you can study them more and understand why the given answer is correct.
4. Reach Out to Your Professors
A rookie nursing school mistake is trying to follow this path on your own.
Although your nursing professors may be busy, they are there to help you.
If you do not understand an assignment, feel that you need to practice a nursing task more or need extra help understanding a difficult concept discussed in class, schedule a time to meet with your professor.
This is particularly important if you notice that your grades are beginning to slip.
5. Find a Tutor
Reaching out to professors is important, and should probably be your first option. Sometimes that's not enough and you might need more of a 1-1 tutor.
Your professor might be able to give you the name and number of tutors they recommend, if not check out this online tutoring platform.
I like this platform because they make it super easy to find nursing tutors that they have already vetted and than you can pick the time that best works for you.
It's also a great resource for finding tutors for the NCLEX and even your nursing preq courses.
6. Dedicate Yourself to Your Education
Because nursing school is so hard, you must remain dedicated to your chosen career path.
Although there may be days that you feel as if you want to give up, consider how your future will look if you press forward.
While you may have plenty of other things going on in your life simultaneously, try to make your nursing education your top priority.
7. Make Time for Yourself
Although plenty of study time is vital for getting through nursing school successfully, you still need to take time for yourself.
Schedule some quiet time at least once or twice each week, and give yourself permission to take a bath, read a new book or do something else that brings you peace.
In addition, make sure that you remain connected to your family and friends because these are the people who will help give you the emotional strength to power through nursing school even when classes get tough.
Related: How to Stay Motivated in Nursing School
8. Consider Alternatives
If you are having difficulty getting into a four-year nursing school or want an alternative that may be a bit easier, you may want to consider a degree from a vocational school.
These nursing degrees usually only take two years to complete, meaning that you will not have as many extra classes or as many clinical hours to complete.
If you are considering this route, you should know that you will still have to pass the NCLEX-RN examination at the completion of your education and that you will probably not be able to go as far in your nursing career with an associate's degree in nursing rather than a bachelor's degree.
Never Underestimate Yourself
One bad grade, a negative comment from a professor or a hard week at clinicals may be enough to make you want to throw in the towel on your education.
However, nursing students bounce back from these and similar difficulties all the time.
Do not underestimate what you are capable of doing. When you come out on the other side of nursing school, you will feel proud, strong and confident and will be ready to start your career.
Final Thoughts
While it is difficult to compare nursing school to other degrees, it can certainly be considered one of the harder programs.
However, in the end, nursing school is definitely worth the time and effort you put into it.
Check out nursing schools here on our Website to get started.
Related Articles