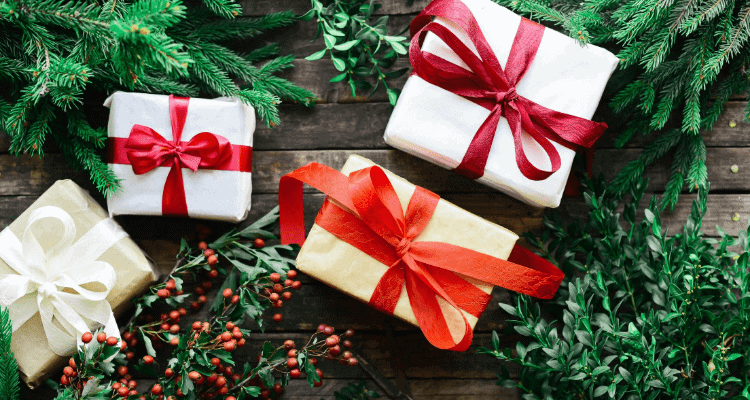 A special person deserves a special gift at Christmastime, and there's no one more deserving than a hardworking nursing student.
Between clinical rotations, studying for the NCLEX, and regular classes, nursing students can use a little pampering.
Here are 20 Christmas gift ideas for the nursing student in your life.
*Disclosure: This article on the best Christmas gifts for nursing students may contain affiliate links. If you click and make a purchase, I may receive a commission. For more info, please see my disclaimer.
Christmas Gifts for Nursing Students
1. Fitbit
A Fitbit is a great gift if you know a health-conscious nursing student. It has basic features like sleep tracking, heart rate monitoring, and a helpful alarm feature.
Aside from the health benefits it offers, there are also other features that make it useful for a nursing student, including access to Amazon Alexa and Spotify.
Many of these additional features do require the user to purchase a monthly subscription. Not all of the features are compatible with different smartphones either. Android phones are the most compatible with the Fitbit.
What we like about this gift:
Health monitoring
Access to Spotify and other apps
Works well with Android smartphones
Check the price of the Fitbit on Amazon.
Related: 5 Best Fitbits for Nurses
2. Apple Watch
If the nursing student in your life has an iPhone, then they will love this Apple Watch. It's compatible with the iPhone 6s or later, and can do an abundance of useful things.
It's got a heart rate monitor and ECG app, GPS, motivational rings that encourage you to get active, the ability to stream over 60 million songs, and so much more.
The battery life is shorter than other similar products, which may be an inconvenience for busy nursing students on-the-go. The watch does charge quickly though and can last up to 18 hours if minimal features are used.
What we like about this gift:
ECG app
Access to Apple Music library
Water-resistant up to 50 meters
Check the price of the Apple Watch on Amazon.
Related: 5 Best Smartwatches for Nurses
3. Bose QuietComfort 35 II Wireless Bluetooth Headphones with Noise Canceling and Alexa Voice Control
These Bose QuietComfort 35 II Wireless Bluetooth Headphones are the ideal Christmas gift for the nursing student who spends a lot of time studying in busy environments like the library. With 20 hours of battery life, they will last through many study sessions.
They're also lightweight and comfortable, which is an important factor if they're going to be worn frequently. Some complaints of occasional crackling sounds have occurred, but the sound levels can be adjusted on the app.
What we like about this gift:
20 hours battery life
3 layers of noise-canceling protection
Lightweight
Check the price of the Bose QuietComfort 35 II Wireless Bluetooth Headphones on Amazon.
4. Apple iPad
The tablet that doubles as a laptop, the Apple iPad is the gift that every nursing student needs.
The full-size keyboard turns into a protective cover when not in use. It's lightweight at just around a pound, so it can be taken anywhere a nursing student needs to go.
There's a sketch pad option, plenty of handy apps, an 8MP rear camera that's great for shooting videos and taking pictures, FaceTime compatibility, and so much more. The battery lasts around a day if not used frequently, but it can drain quickly if a lot of apps are running.
What we like about this gift:
Doubles as a laptop
Lightweight
Excellent rear camera for videos
Check the price of the Apple iPad on Amazon.
Related: 5 Best Tablets for Nursing Students
5. Amazon Alexa
Make the life of a nursing student a bit easier with the help of Amazon Alexa.
This handy gadget has so many cool features, like playing songs with a simple voice request or answering common and not-so-common questions. It can also control other smart home features like lights and thermostats.
New apps, music, and knowledge are being added every day, so Alexa is only getting smarter. One of the only downfalls is that setup is a bit tricky and it can be difficult to pair it with other devices. Tech support at Amazon is helpful with solving these issues.
What we like about this gift:
Play music with voice commands
Control smart devices
Set alarms
Check the price of the Amazon Alexa on Amazon.
6. Zyllion Shiatsu Back and Neck Massager
The job of a nurse can be a stressful one, so help a nurse you love unwind with this Zyllion Shiatsu Back and Neck Massager. Massage nodes target tight, sore areas with firm pressure and heat, relieving pain and stress. It's small enough to fit on many different areas of the body.
It does need to be plugged in for it to work, so it can only be used if you're near a wall outlet. It doesn't need to be charged, though, so you can just plug it in and go. There's also a safety feature that shuts off the heat when it gets too hot.
What we like about this gift:
Heated nodes
Target different body parts
Heat safety feature
Check the price of the Zyllion Shiatsu Back and Neck Massager on Amazon.
7. UV Light Sanitizer Bag
Sanitizing items after work or school is a very important part of keeping nursing students healthy. This No products found. does the trick. It can fit many items, including cell phones, keys, tablets, clothing, and stethoscopes.
It's also easy-to-use. Simply place the items in the bag, zip the top, and press the button to turn it on. The purple indicator light will tell you when it's done sanitizing. It's important to follow the instructions exactly to avoid any injury, since UV light can be harmful if exposed to it.
What we like about this gift:
Quickly sanitizes items
Fits many different sized items
Sanitized indicator light
Check the price of the No products found. on Amazon.
8. Audiobook Subscription from Audible
For the nursing student who's a book lover, consider getting them an Audiobook Subscription from Audible for Christmas.
An annual membership gets them access to 12 audiobooks right away, plus free Audible Originals every month to choose from. If they don't like an audiobook, they can switch it out for another, no questions asked.
They will also get a discount off any additional audiobooks. If they don't want to renew the subscription after a year, they can still keep the audiobooks they've chosen. Canceling the membership is easy and only takes a few clicks.
What we like about this gift:
12 audiobooks immediately
New audiobooks each month
Keep downloaded audiobooks forever
Check the price of the Audiobook Subscription from Audible on Amazon.
9. Settlers of Catan (or another Board Game)
Let the nursing student in your life unwind after a long week of classes with a board game, like Settlers of Catan.
It's won multiple awards, and it's a game of strategy, which should be no problem for the nursing student who's a critical thinker.
The game is meant for ages 10 and up, and requires at least three players. Once the game is set up, players began building their own civilization. The goal is to be the first one to accumulate 10 victory points to be crowned the winner.
What we like about this gift:
Suitable for ages 10 and up
Only requires 3 players
No two games are alike
Check the price of the Settlers of Catan on Amazon.
10. Underscrub Shirt
Nursing students can always use some new clothing for school, and this Underscrub Shirt will make the perfect gift.
It's soft and comfortable and will keep them at the ideal body temperature while they're working. It's long-sleeved but also lightweight, and thin enough to be worn underneath any scrub top.
The rayon fabric is breathable, so sweating during a busy school day won't be an issue. It comes in 10 great colors, including basic black and white and vibrant colors like pink and red. It looks great worn alone or underneath a scrub top. The fabric does tend to wrinkle easily and can't be ironed.
What we like about this gift:
Soft fabric
Lightweight and breathable
10 color choices
Check the price of the Underscrub Shirt on Amazon.
11. A New Stethoscope
Stethoscopes can get worn out over time, especially for nursing students who are using them both in class and during clinical rotations. A new Stethoscope is a practical gift to give a nursing student for Christmas.
One that has features like a large chestpiece and deeper bell for clearer sounds and sturdy tubing for durability is ideal for a busy nursing student.
Eartips that conform to the ear canal, eliminating exterior noises is also important, especially for nurses working with patients in a critical care setting. This particular stethoscope from Littman offers all of those features, but does have some complaints of the tubing causing skin irritation.
What we like about this gift:
Large chestpiece
Deep bell
Soft eartips
Check the price of the 3M Littmann Cardiology IV Diagnostic Stethoscope on Amazon.
12. Nurse Socks
Socks are always a great choice when it comes to gift giving, and these Nurse Socks are both a useful and fashionable gift for the nursing student in your life.
They are compression socks, so they apply firm pressure to the lower legs and feet, which promotes blood flow and reduces pain and swelling for people who are on their feet a lot.
The nylon construction is breathable, so it also keeps feet cool and dry. Each set comes with 8 pairs of socks, one for each day of the week and a spare. They aren't medical-grade compression socks, but they are helpful with minor pain and swelling.
What we like about this gift:
Reduces pain and swelling
8 pairs
Fun designs
Check the price of these Nurse Socks on Amazon.
If you like the idea of getting your favorite nursing student socks. You should also think about checking out Etsy for some more options on personalized socks.
13. Personalized Badge Reel
Once a nursing student starts their clinical rotations, they'll receive a badge granting them access to the medical facility. This Personalized Badge Reel makes the perfect gift for the nursing student who is just about to embark on this portion of their school career.
It comes in many different styles, including a lanyard and belt clip. It also comes in a variety of color options.
Since it's personalized, there's no worries about the badge reel being misplaced or stolen. The swivel clip is the best option for nursing students who need to identify themselves frequently at new medical facilities.
What we like about this gift:
Many style options
4 color choices
Personalized for security
Check the price of these Personalized Badge Reel on Etsy.
14. Personalized Stethoscope ID Tag
Let the nursing student you care about spruce up their stethoscope with this Personalized Stethoscope ID Tag. It comes in three different base color options: black, white, and clear. You can choose from dozens of fonts and personalize it with a name and credentials.
It doesn't fit on stethoscopes with thicker tubing. Keep that in mind if you aren't sure of the tubing size. It's easy to snap on, but once it's on, it's difficult to remove. The button includes a pretty floral design, and it's made from mylar so it's easy-to-clean.
What we like about this gift:
3 base color choices
Dozens of fonts to choose from
Pretty floral design
Check the price of these Personalized Stethoscope ID tag on Etsy.
15. Personalized Nurse Bag
Nursing students have a lot of items to carry to class and clinical rotations. Laptops, snacks, water bottles, stethoscopes, writing materials, and more means that a sturdy bag is necessary to keep things organized. This Personalized Nurse Bag securely holds all the items a nursing student needs, while also looking great.
There are separate compartments for pens, water bottles, and other smaller items like cell phones. The main compartment is just one large space, which may not be ideal for every nursing student. The bag can be personalized with up to 14 letters, and includes your choice of font style and thread color.
What we like about this gift:
Polyester construction
Compartments for small items
Personalize with up to 14 letters
Check the price of these Personalized Nurse Bag on Etsy.
16. I Wasn't Strong Like This When I Started Out: True Stories of Becoming a Nurse
Help motivate and inspire a nursing student by gifting this with them incredible compilation of real-life stories told by nurses, I Wasn't Strong Like This When I Started Out: True Stories of Becoming a Nurse
Nurses at all stages of their nursing careers- from just starting out to veteran nurses- share the stories that shaped them. The stories are very powerful, and are meant to recognize the hard work and dedication nurses put into their jobs and patients.
What we like about this gift:
Real-life stories
Relatable for nurses at all career levels
Can skip over essays that don't apply to your situation
Check out the price of I Wasn't Strong Like This When I Started Out: True Stories of Becoming a Nurse on Amazon.
17. Yeti Tumbler
Busy nurses on-the-go need to stay hydrated, and this Yeti Tumbler makes that an easy task. Its double-wall insulated construction keeps hot drinks hot and cold drinks cold for hours. It's also easy-to-clean and dishwasher safe on the top rack, but it's best to hand wash the plastic lid.
The lid includes a magnet that keeps it locked in place when not in use, so spills aren't an issue. It's also the perfect size to fit inside of a cup holder or mesh pocket. It's offered in dozens of colors, all with a sweat-proof exterior.
What we like about this gift:
Insulated construction
Locking lid with magnet
BPA-free, sweat-proof exterior comes in 18 colors
Check out the price of the Yeti Tumbler on Amazon.
18. Silicone Wedding Band
If you're married to a nursing student, or know a nursing student who is married, this Silicone Wedding Band would make an excellent Christmas gift.
Given the nature of the job, not every nurse feels comfortable wearing their regular wedding band to work or school. This silicone band is a great alternative because it's lightweight, easy-to-clean, and breathable.
The silicone is strong and medical-grade, so it won't be ruined by strenuous activity or substance it may encounter while being worn at work or school. It also comes in several cool colors to coordinate with scrubs.
What we like about this gift:
Lightweight and flexible
Sturdy silicone construction
Attractive colors coordinate well with scrubs
Check out the price of the Silicone Wedding Band on Amazon.
19. Allbirds Women's Tree Dashers Running Shoes
Nursing students are constantly on their feet, so a comfortable pair of running shoes is a must to keep their feet comfortable. These Allbirds Women's Tree Dashers Running Shoes do that and more. The shoes have been thoroughly tested to ensure they can withstand even the toughest conditions.
They're also just as good for the environment as they are for the feet. Crafted from eucalyptus trees and a midsole that leaves behind no carbon footprint, these shoes are the perfect gift for the environmental enthusiast. They're also breathable and flexible, so they will keep feet dry all day long.
What we like about this gift:
Environmentally-friendly
Breathable upper
Flexible midsole
Check out the price of these Women's Tree Dashers Running Shoes on Allbirds.com.
20. The Ridge Slim Minimalist RFID Blocking Metal Wallet
Help the nurse in your life keep their information protected both at school and work with The Ridge Slim Minimalist RFID Blocking Metal Wallet. The wallet is meant for men due to its rugged construction, but it's also equally beneficial for female nursing students.
Since it's made from metal, it has RFID-blocking properties that virtually eliminate the possibility of scammers stealing credit card information. It holds up to 12 cards without adding bulk to the wallet, and it features a money clip for conveniently storing cash. Each wallet is backed by a lifetime guarantee for replacement parts.
What we like about this gift:
Metal construction
RFID-blocking capabilities
Stores up to 12 cards and cash
Check the price of The Ridge Slim Minimalist RFID Blocking Metal Wallet on Amazon.
Christmas Gift Buying Guide for Nursing Students
Techie Gifts
Keep the recipient in mind when purchasing technology-driven gifts. Not everyone is knowledgeable about technology, like smartwatches and tablets, so purchasing something that is user-friendly and easy to setup is important in those cases.
If you really want to purchase a techie gift for a person who isn't savvy with technology, you can always set it up for them prior to gifting it, or take it to a store or technician to have them set it up. Then the gift will be ready-to-use upon opening.
Sizing
If you don't know a person very well, it can be difficult buying clothing or shoe items that require a specific size. It's best to err on the side of caution and only purchase clothing or shoe items if you know the recipient's size, or if it's a one-size-fits-all item.
Socks are an excellent alternative to clothing or shoe items that come in specific sizes. You can also ask for a gift receipt when making a purchase, so the recipient can return the item if it doesn't fit.
Entertainment
Gifts that entertain and allow the recipient to relax are always a good idea, especially for busy nursing students who likely don't have a lot of downtime. Think of gifts that will help them unwind, like listening to an audiobook or playing a board game.
Gift cards, or subscriptions to a service like Audible, allow the recipient to choose the items they like from a certain store or subscription service.
This is ideal if you don't know the recipient very well and want to get them a gift that's guaranteed to please, no matter their personal preferences. It's also great for the picky recipient who seems to return every gift they receive.
Health-Conscious
For the health-conscious nursing student, gifts that help keep them safe and healthy are ideal. Things that help them sanitize their items, like a UV light sanitizer bag, will allow them to feel safe upon returning home from school or work.
Don't forget keeping their body and minds healthy, also. Fitness watches, neck massagers, compression socks, and subscriptions to audiobook services all help to keep the mind and body sharp and healthy.
Nurses are more likely to be overweight or stressed out than those that work in many other sectors, so a health-conscious gift is both thoughtful and practical.
Practicality
As much as nursing students want to relax after a day of classes, they also want to receive gifts that are practical. Gifts that help:
Make their life easier
Keep them on schedule
Keep them healthy and hydrated
will be appreciated more than gifts that will just end up in the junk drawer. There are some gifts you can never go wrong with, like socks, subscriptions to useful services, and inspirational books.
Final Thoughts
Finding the perfect gift for a nursing student doesn't have to be difficult. There are many ways to show the nursing student in your life that you care for them and appreciate them.
Consider these gift ideas the next time you need to buy a nursing student a Christmas gift.
Related Article