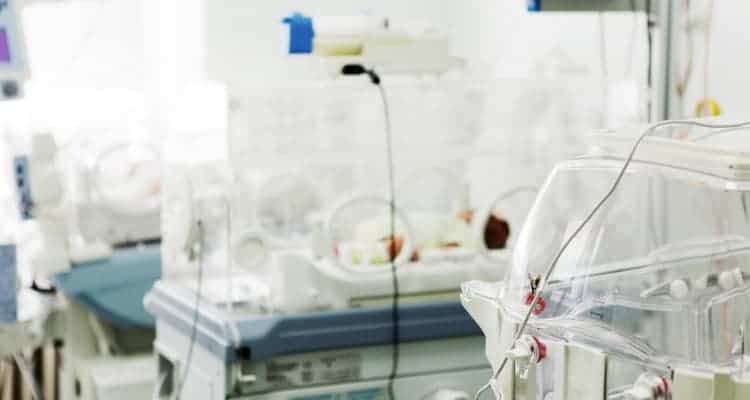 NICU nurses tend to the tiniest, most fragile patients, which is why the tools they use need to be top-notch and capable of detecting even the slightest change in patient status.
A stethoscope is one of the most important tools NICU nurses use, and these are 2 of the best.
*Disclosure: This article on the best stethoscopes for neonatal intensive care unit nurses may contain affiliate links. If you click and make a purchase, I may receive a commission. For more info, please see my disclaimer.
Quick Look
2 Best Stethoscope for NICU Nurses
Important:
Please note that some facilities may provide a disposable stethoscope for each NICU patient.

While it's not every facility it may be yours. So make sure to double-check before buying any stethoscope for a NICU nurse job.
1. 3M Littmann Classic II Infant Stethoscope
The reliability of a Littmann combines with the sensitivity of a pediatric stethoscope for this 3M Littmann Classic II Infant Stethoscope.
The chest piece is dual-sided and allows you to rotate between the diaphragm, for high-frequency sounds, and the bell, for low-frequency sounds.
Patient comfort is the center feature of this stethoscope with the non-chill rim and diaphragm.
Nurse comfort is also at the forefront with the latex-free materials, angled headset which sits correctly inside of the ear canals, and flexible 28-inch tubing that fits nicely around the neck.
Pros:
Dual-sided chestpiece
Non-chill rim and diaphragm
Angled headset
Cons:
No replacement parts included
Only 1 color
Check the price of the 3M Littmann Classic II Infant Stethoscope on Amazon.
Related Article: 5 Best Littmann Stethoscopes for Nurses
2. ADC Adscope 605 Infant Clinician Stethoscope
Durable stainless steel and flexible PVC tubing make this ADC Adscope 605 Infant Clinician Stethoscope one that's built-to-last.
The chest piece is dual-sided so you can switch from high-frequency to low-frequency sounds quickly.
There's also a non-chill rim and diaphragm for patient comfort.
Each stethoscope comes with soft silicone eartips in two sizes- small and large.
Properly-fitting ear tips help seal out exterior noises so it doesn't interfere with patient diagnosis.
There are several color options offered, including basic black and vibrant metallic Caribbean. A spare diaphragm and ID tag are included for added convenience.
Pros:
Two sizes of silicone eartips
6 color options
Spare diaphragm included
Cons:
Eartips break easily but are replaceable
Only intended for infant patients
Diaphragm may dent
Check the price of the ADC Adscope 605 Infant Stethoscope on Amazon.com.
Stethoscope Buying Guide for Nurses
1. Non-Chill Rim and Diaphragm
A baby's skin is sensitive and premature babies have skin that is even more sensitive.
A cold diaphragm against their skin might be shocking and can cause them distress, making an exam even more difficult.
A non-chill rim and diaphragm is meant to provide patient comfort, which is crucial in critical-care settings like the NICU.
While most chestpieces are made from stainless steel, which can be cold, a non-chill rim and diaphragm is made from a rubber-like material that stays room temperature.
2. Latex-Free
A latex allergy is more likely to occur in young patients with health conditions that may cause them to spend time in the NICU.
Babies born with spina bifida are the most likely to have a latex allergy, with more than 3 out of every 5 children diagnosed with spina bifida also being diagnosed with a latex allergy (source).
Since many parts of a stethoscope may be made with rubber materials which could contain latex, it's important to avoid those with latex-containing materials if you work in the NICU.
Other materials, like PVC tubing, are naturally latex-free and are more desirable for a critical-care setting.
3. Dual-Sided Chestpiece
Switching between high-frequency and low-frequency sounds with a stethoscope can occur in many ways, included by applying different levels of pressure or with a dual-sided chestpiece.
A dual-sided chestpiece is more appropriate for patients in the NICU because:
Their skin is more sensitive and may not take well to pressure being applied
A deeper bell, which is often only found in dual-sided chest pieces, is usually needed to hear low-frequency sounds in young patients
Time is critical for sick babies and changing chestpieces, like with some stethoscopes, isn't the best option
4. Eartips
The eartips on a stethoscope are important for two reasons.
One, eartips that don't seal properly can allow exterior noises to interfere with diagnosing a patient.
Two, eartips that don't fit comfortably in the ear canal can be a distraction for health care workers.
Silicone eartips that mold to the ear are the most comfortable option and also eliminate the exterior noise problem that can present with harder eartips.
Eartips that are removable and come with the option of different sizes are even better.
Since ear tips tend to break easily, ones that are replaceable for free are the most economical option.
5. Tubing
Tubing that is too long can make sounds more muffled while tubing that is too short may not sit comfortably around the neck.
Tubing that is flexible and made from latex-free materials is the best option for NICU nurses.
6. Cleaning Instructions
Stethoscopes can come into contact with dozens of patients throughout one shift, so it's important to clean it in between each patient and thoroughly sanitize it after each shift.
To clean the stethoscope in between patients, wipe the chestpiece and tubing down with an alcohol-based disinfectant wipe.
To thoroughly disinfect a stethoscope after a shift (source):
Lay the tubing out flat and wipe it down with an alcohol-based wipe or specialized stethoscope cleaner.
Remove the eartips (if possible) and place them in a bowl of warm, soapy water to soak. Rinse them thoroughly and allow to air dry before putting them back on.
If the diaphragm is removable, take it apart and wash it in warm, soapy water and allow all parts to air dry. If it's not removable, wipe it down with an alcohol-based wipe or specialized stethoscope cleaner.
Important:
If you have an electronic stethoscope or any other specialty stethoscope please make sure you follow the manufacturer's instructions.
Final Thoughts
Having a stethoscope that works well and is specifically-designed to use on infants can make the job of a NICU nurse a little easier.
Both of these stethoscopes would work well in a critical-care setting like the NICU because they're made for patient and nurse comfort and are reliable.
Related Articles on NICU Nurse Stethoscopes