Do Grades Matter in Nursing School?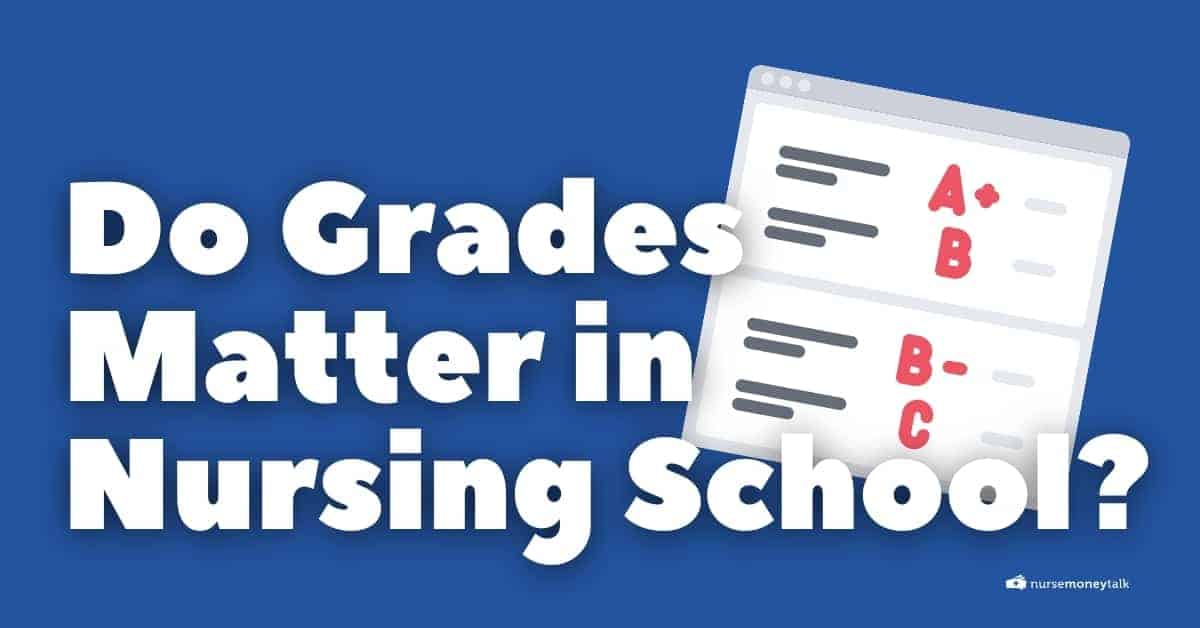 In nursing school, your grades may seem to be the most important part of your existence.
However, do they really matter once you're no longer a nursing student? Moreover, does your GPA affect your future job potential?
Discover the answers to these and other pressing questions right here.
*Disclosure: This article on does your grade matter in nursing school may contain affiliate links. If you click and make a purchase, I may receive a commission. For more info, please see my disclaimer.
Do Grades Matter in Nursing School?
Grades in nursing school are important because of the minimum GPA requirements of nursing programs and for graduate school if you decide to go later. This holds even though GPAs in nursing school will not be a great predictor of your career success.
How Important Are Nursing School Grades for Your Future?
While there are certainly more important predictors of your future in nursing than any single test score or even your nursing school GPA, it's still worth your while to try your hardest to get the best scores you can and to raise your grade point average if it's low or sinking quickly.
First, keep in mind that grades do not objectively show how well prepared you are for the hands-on work of nursing. Like me, you probably know some nursing students who excel on tests and nursing papers but who struggle through every clinical experience.
Second, many students can cram for a test, spitting out the answer faster than anyone else in the class. However, they may not be able to retain the information they memorized or utilize that information in any meaningful way during clinicals.
Despite this, it's still worth your while to work hard for the best grades you can get in nursing school and to raise your grade point average if it's lower than you would like.
Here are a few reasons why this is important, along with some reasons why you should not stress too much about this subject.
Related: Does it Matter What Nursing School You Go to?
Do Hospitals Look at Nursing School Grades?
Hospitals and other health care organizations rarely base a hiring decision on grades for a newly graduated nurse.
Although they will most likely request your transcripts and discuss difficult classes with you during an interview, it's rare, if not unheard of, for a healthcare organization to turn down an applicant because of a C grade point average.
The only thing that a hospital will be looking for is a passing grade on the NCLEX examination, which shows that you have adequate nursing knowledge, along with current state licensure.
Pro-Tip
I've applied and interviewed for many different nursing jobs, and I can't remember a time when my nursing school GPA was asked about.

This also holds even for the nursing jobs I got soon after graduating from my BSN program.

Another reason why I don't think this matters as much is that in many nursing programs that I know of, they have a GPA requirement.

For example, the nursing program I went to required a minimum of a B in each nursing class.
Do Grades in Nursing School Affect Your Reputation as an RN?
In nursing school, you may feel defined by your grades. However, you can experience real freedom from this burden once you start your nursing job as your employer, managers, and coworkers will only be looking at your performance on the job rather than your past class grades.
This is good news for someone who excels in clinical experiences but has trouble taking this knowledge and applying it to a classroom examination.
Do Grades in Nursing School Affect Your Future?
Although I believe you can get the job you want after nursing school, regardless of your nursing school grades, there is a time when I think bad grades will definitely come back to haunt you.
That's if you decide later in life to go back to school for your master's degree.
To get into a post-graduate program, many of the best schools require a minimum GPA of 3.0.
Others may say they'll consider lower GPAs, but you may need a more extensive work record or may be passed over for an applicant with higher grades if the prospective class is large.
Pro-Tip
You can probably get into a master's program for a nurse practitioner program with a low GPA, but it's probably not going to be the school you want.

If your aspiration for a master's in nursing degree is to become a certified registered nurse anesthetist, then your GPA (among other things) will definitely matter.
How Can You Maximize Your Nursing School Grades?
Whether you want to raise your nursing school grades to improve your knowledge or to cement your future potential, there are a few things you can do to raise your grades, improve your overall GPA and maybe even see more A's on your transcript.
Find a Tutor
Getting a tutor is one of the best ways to set yourself up for success in any nursing program, especially if you're in something like an accelerated nursing program track.
Most programs will have a list of tutors they can refer to you, or you can check out the platform I recommend for finding tutors.
I'll be honest with you finding a tutor is not the easiest thing, and hiring one can be expensive. This platform makes it easier to find one and immediately see their rates, plus reviews from other students.
If you're close to not meeting the minimum grade requirements of your degree program, then it's worth a look.
Get a Course that Bridges the Gap
There are so many study aid materials students can use. Most likely, your program probably has a list of ones they recommend (or had you buy at the very beginning).
I personally never really found the supplemental materials my nursing school recommended helpful. I know many students that did. So if it's working for you, keep using it.
If it's not working for you and you want access to study materials that I think does a better job in helping to bridge the gap and explain information in a less "fluffy" way like some of those overpriced textbooks, then check out this course.
Related: Why Do Nursing Students Fail?
What GPA Should You Have in Nursing School?
There are two GPAs you should be aware of when it comes to your grades in nursing school.
First, I discovered that most nursing schools require students to have a minimum of a 2.0 GPA to remain in the nursing program. This is a C grade point average. Some require even higher than this, such as a C+or B GPA.
Second is the GPA you will need if you have aspirations to go to graduate school in the future. You'll most likely need a 3.0 GPA (a B grade point average) if you desire to further your education in the future.
Of course, the higher you can get your GPA in nursing school, the better your options in the future will be. You may even find that this book knowledge will help you ace the NCLEX examination and experience less anxiety before test day.
Pro-Tip
These are all general information, so double-check with your nursing program or the school you would like to go to for graduate school to see their admission grade requirement.
Is It Possible to Get All A's in Nursing School?
As you probably have already experienced for yourself, nursing school is difficult. You're dealing with plenty of life-and-death situations and need to be adequately prepared to treat a wide array of diseases and injuries.
For this reason, very few nursing students are able to pull off A's in all of their classes. Solid A's was my goal when I first began nursing school.
By my junior year, I realized this goal might be a bit too lofty if I wanted to have any type of social life or hold down a job while in nursing school.
However, I did have two or three classmates who graduated Summa Cum Laude with 4.0 GPAs.
Therefore, it's not impossible to receive all A's, but you will have to work hard at it and probably forego some fun experiences or money-making opportunities in other areas of your life.
Some tips for getting your best possible GPA include the following:
Stop studying topics that you already know thoroughly.
Ask your teachers for help during office hours.
Focus on papers and research projects that heavily affect your class grade.
Take good class notes, and study from your teacher's class outline.
Focus on pathophysiology, which is the foundation for all other topics.
Get the Best Grade You Can
Your nursing school grades, are not the absolute predictor of future potential success that you may have thought they were, but they are still important. They're important for graduation and future educational opportunities.
What do you need help with? If it's to find a nursing program you can go here.
If you're already in nursing school but you need help finding a tutor for nursing school or you want to check out this course that helps nursing students get good grades in nursing school.
Related Articles
Frequently Asked Questions