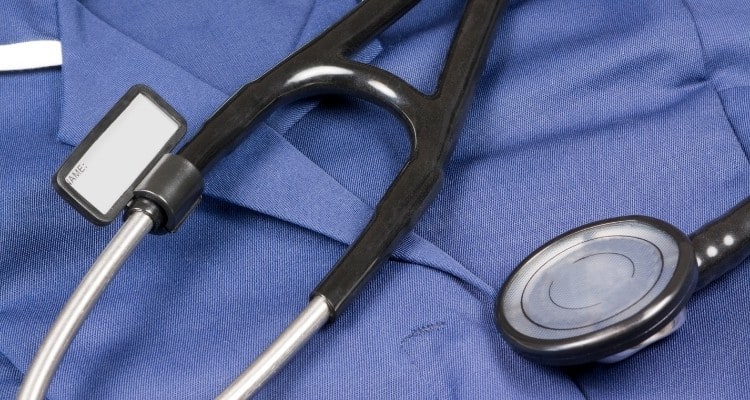 It is rare if a medical employer buys nurses their very own private stethoscopes.
The nurse must buy this essential tool and call it his or her own.
You never know where the free for all stethoscopes found at work have been, and who had them last.
*Disclosure: This article on does engraving damage a stethoscope may contain affiliate links. If you click and make a purchase, I may receive a commission. For more info, please see my disclaimer.
Does Engraving a Stethoscope Damage It?
Engraving the side of the bell of the stethoscope does not damage the tool. However, engraving the tubing can cause damage and impede the sound as engraving the tubing can make it fracture or crack.
One Essential Tool Nurses Must Buy
Very few medical employers purchase personal tools of the nursing trade for nurses and CNAs.
However, institutions like hospitals may help medical personal buy personal equipment such as stethoscope at bargain and discounted prices.
Every nurse would agree that when you buy a stethoscope, you need to buy a decent stethoscope.
Meaning, you need to sink a decent amount of money into this all-important nursing tool.
The cheaper stethoscopes do not offer the quality of sound that more expensive stethoscopes offer. More expensive stethoscopes provide a better patient assessment.
As an added note, your new stethoscope comes with a warranty. Engraving a stethoscope does not typically harm this warranty. Many times when you're buying a stethoscope the manufacturer will give you an option to engrave it.
Why Medical Personal Need to Personalize a Stethoscope
When you sink a fair amount of money into a nursing tool like a stethoscope, you want to mark it as your own; it is an excellent idea to have your name or initials and phone number engraved on the bell.
Some nurses have pictures put onto their stethoscopes to identify the stethoscope as their own. Engraving offers an excellent ID.
It is so easy for any nurse or doctor to pick up a stethoscope, use it, sling it around their neck or fold it up and slip it into a pocket, and walk off with it.
Much like walking off with someone's pen or pencil. People do not mean to do this, it just happens by mistake.
But, a stethoscope costs much more than a pen or pencil.
Nurses can easily lay their stethoscope down and misplace it. If the nurse had their name and phone number engraved on the bell, the finder would hopefully return it to the owner.
Manufacturers of stethoscopes say not to engrave anything on the tubing because engraving the tubing can cause the tubing to crack. They say you can engrave the bell.
There are a few reasons why it is a great idea to engrave your stethoscope as follows.
Engraving reduces the possibility of theft
Engraving offers you easy identification if you should lose or misplace it
Engraving your stethoscope will allow whoever finds it to know who to return it to.
The best place to get your stethoscope engraved is through the manufacturer you buy it. In-house engravers are available to fill most engraving orders.
If the engraved area is wrong or a mishap occurs while engraving, the manufacturer replaces the stethoscope. In-house engraving provides a speedy send out of your order.
Play it safe and have your first and last name engraved, or your first name and last initial. You can also have your licensure (RN, LPN, etc.) engraved after the last name.
They Make Great Gifts
Stethoscopes make great gifts for a graduate nurse.
Research all of the top-quality stethoscopes in the marketplace and order a moderately priced tool for your graduate.
Order the stethoscope personalized just for the graduate? Chose a stethoscope where the tubing and chest piece compliment each other.
How Stethoscopes are Engraved
Another point to ponder is the fact that stethoscopes are not really engraved.
The engraver uses a process called etching.
Etching burns into the side of the bell what the nurse wants it to read. The etching does not alter the way you hear through the stethoscope.
It is also a good idea to have your new stethoscope tagged. While etching can be missed, your stethoscope's discoverer cannot miss a name tag attached securely to the tubing.
Buy A Stethoscope that Gives You A Good Assessment of Your Patient
A stethoscope is one of the most important and vital tools for medical personnel. It is critical to buy the best stethoscope available at a price you can afford.
One stethoscope does not necessarily fit everyone.
This highly sensitive tool must be right for you. There are some things to look for when shopping for the ideal stethoscope.
When you find the right tool be sure to have it engraved with return information should it become lost.
Your stethoscope must be accurate to give you an accurate assessment of your patient's condition.
There are many models to choose, from basic to more complex. Stethoscopes now include high digital performance and Bluetooth capability with built-in amps.
Make it a good fit for you
Must have a flexible chest pieces
Be easy to clean
Acoustics are of high quality
Made of durable materials
Versatile
Cost-effective
Flexible diaphragm
Is comfortable and easy to use
Related: What are the Different Parts of a Stethoscope?
Another Alternative Besides Engraving
If you don't want to engrave your stethoscope you can always buy a stethoscope ID tag.
It's usually not that expensive and you can get one like this one on Amazon.
Final Thoughts
A stethoscope that matches the graduate nurse's taste and style is one thing that the new nurse does not have to do before searching for the perfect job.
If you want to find the best stethoscope for you check out some of these articles.
Frequently Asked Questions
Should you get your stethoscope engraved?

You should engrave your stethoscope so you can identify it if you misplace it or someone walks off with it. Having your name engraved on a stethoscope could also deter others from stealing it.

Where can I engrave my stethoscope?

Look at the manufacturers website or the retailer you purchased your stethoscope from. Many will offer the service and if they don't they may refer you to a service near you that does.

How often should you replace your stethoscope?

Many manufacturers say 2 years. But many nurses will hold on to their stethoscope much longer than that. Examine the stethoscope to make sure there's no cracks in the tubing or bell.

How can I prevent my stethoscope from being stolen?

Engraving your stethoscope is a good deterrent from thieves stealing your stethoscope.
Related Articles