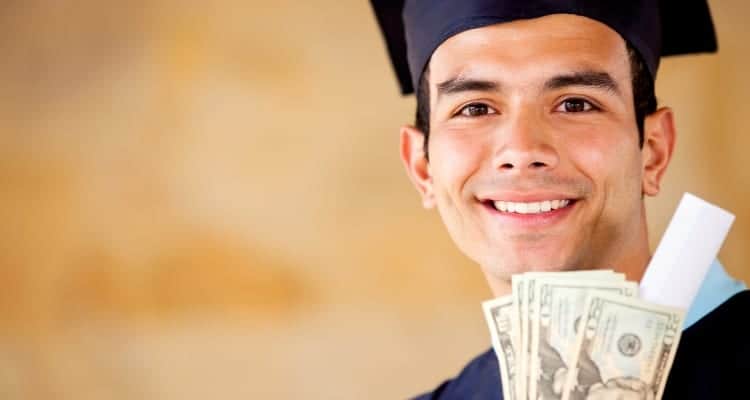 What's the average cost of nursing school? What are my options when picking an LPN, RN, ADN, or BSN program?
Questions like these might already be running in your head. You've already decided to become a nurse. Yet, you're unsure about what you're up against and whether or not you can afford it.
You're in the right place. In this article we're going to answer your questions by breaking down the cost of nursing school.
Here's everything you need to know:
What's the average cost of nursing school? The average cost of nursing school is $40,399.60 to $75,479.60 depending on the program and school of nursing you pick. Other variables will impact the total sum of your college expenses.
*Disclosure: This post may contain affiliate links. If you click and make a purchase, I may receive a commission. For more info, please see my disclaimer.
The Pathways: What Is the Cost of Getting a Nursing Degree?
First and foremost, there is more than one educational route to become a nurse. The degree you choose will determine the average cost of your nursing education. So you've got to factor that in when you plan on becoming a nurse.
Here's an overview of how much you'll have to pay for each program:
1. Licensed Practical Nurse Program (LPN)
Licensed practical or vocational nurse programs (LVN) typically include 12-18 months of coursework and clinical hours at a hospital. It's considered one of the quickest ways to get qualified to become a nurse.
How much will an LPN or LVN nursing program cost? The estimated cost of tuition for an LPN/LVN nursing program ranges from $10,000 to $15,000 in the U.S. On the lower end of things, the prices for some programs are around $4000 to $5000. Others might cost more than $30,000 (source).
Overall, if you're on a tight budget and would like to become a nurse quickly, then this is an ideal educational pathway for you.
Pro tip:
After graduation, you can find online nursing programs you can apply for to complete your ADN or BSN degree in about ½ the price and time.
2. Associate's Degree-RN Program (ADN)
The second alternative to get into the nursing profession is to complete an associate's degree in nursing. The coursework and practical work for an ADN degree generally takes 2-3 years to finish. Like, the LPN program, one of the requirements for this degree is to get clinical experience by doing rotating clinicals in a healthcare facility.
How much does an ADN nursing program cost? It's an affordable nursing program that costs approximately $6,000 to $35,000+. The price lowers significantly if you attend a public college (source).
3. Bachelor's Degree-RN Program (BSN)
Lastly, there's the bachelor's degree in nursing. It will take you 3-4 years to finish this particular program depending on the institution you choose. It's by far the most sought-after qualification for high-paying nursing positions.
There are multiple reasons for this.
The first one being that you'll study in-depth courses during this program. You'll also receive more clinical experience and training. These things set applicants with BSN degrees apart from those with LPN or ADN degrees.
These are some of the reasons why many hospitals are preferring a nursing job applicant with a BSN degree.
How much does a BSN degree cost? Unsurprisingly, BSN degrees cost way more than the other pathways due to the length and extensive clinical training of the program. You have to pay around $25,000 to $120,000 to graduate with a BSN degree. It might sound like a lot, but it's worth the effort when you consider the bright career outlook after graduation.
Related: 5 Best Jobs for Pre-Nursing Students
Online Nursing Programs
Online nursing programs are probably the quickest and most inexpensive educational option for prospective nurses. They are a feasible option for individuals who don't have the time or money to study in a traditional classroom setting.
How much do online nursing programs cost? According to Study.com, the median tuition rates for in-state courses were around $50 to $1,639 per credit hour. In contrast, out-of-state students were required to pay $177 to $2,042 per credit hour (source).
Besides tuition and fees, studying online requires minimal traveling and minimal boarding expenses.
The only setback is you'll have to take on clinical work via affiliated programs to complete the course. You also won't be in direct contact with your nursing instructors when you choose online programs.
This little detail won't be a problem to most nursing students but it might be a problem for those students who don't thrive in unconventional school settings.
So Which Nursing School Pathway Should You Choose?
In the end, all three of these nursing programs will allow you to become a nurse. Your choice should depend on:
The courses you wish to take
Your goals
Also, remember the nursing degree you pursue might have an impact on the job you get. So do make sure you understand the work opportunities available for graduates after each program before you apply.
Pro-tip:
When searching for a budget-friendly option, you should always look over the admission and tuition information to get exact details. Many nursing programs will have complete information regarding their tuition and fees and other nursing school related costs on their website. You can also call them for more information or if you have any questions.
Once you gather all the information, you should compare the rates and the job opportunities to help you select the program of your choice. You can always discuss these things with a college counselor or a healthcare staffing agency if you need an expert's opinion.
The Breakdown: Which Factors Influence the Cost of Nursing Schools?
It's important to note that your program cost will be affected by multiple factors. Sometimes the difference is a couple of hundred bucks. At others, it's more than a thousand dollars. That's why you should look over the fine print before you enroll in a university.
Here are some things to consider:
1. The Institute
Public school vs. private school: what's the difference?
This one's pretty obvious, but the school of your choice will make a huge difference in the final tuition bill. The cost of private institutions is 'significantly higher' than public ones (source). The price goes higher if your school of choice is part of the Ivy League.
Nevertheless, many private institutions offer financial aid to support lower-income students. If you qualify for that, you may receive private schooling without financial pressure. Then there's the option for merit-based scholarships and related student programs you can apply to if you meet their requirements.
3. The Location
Where do you want to study?
The average cost of nursing school varies from state to state. You need to consider this when you plan to apply to an out-of-state college.
Here are a few things we learned during our research:
Nursing schools in metropolitan cities or highly populated areas are pricey.
The ones located in rural states will be comparatively cheaper.
Many public colleges have lower tuition costs for students from their home state.
Additionally, in-state education will mean less money spent on travel expenses. You will most definitely be living at home and won't have to travel to visit your family during the holidays.
These things might sound small, but they manage to save a lot of money during your college years.
Related Article: Can I Work While in Nursing School?
4. The Length
Didn't we cover this in the nursing program section?
Kind of! This time around, we'll be discussing the duration of your nursing program.
The thing about college education is that it's quite flexible. That means you may opt for a full-time or part-time program if you want. They both have their pros and cons that ultimately influence the cost of the program.
For instance, part-time programs take longer to complete than full-time programs. That's because it takes you more time to complete the required credit hours the nursing program requires.
Apart from that, some colleges charge more for part-time programs. This is mainly because of the time duration and partly because the schedule is more accommodating.
On the flip-side, part-time programs give you a chance to work while you study (source). It's a big plus for students who can't afford to drop their day jobs until they become a nurse. The employment itself will help you pay for the tuition.
5. The Room and Boarding Charges
If you're planning to move out-of-state, then you've got to think about additional charges. The most predominant of which is the boarding cost. Most nursing schools have residential dorms on their campus. Living there would undoubtedly decrease your transportation costs.
However, it will add to your college expenses, mainly if you use their extra facilities.
What's More?
You should also remember that studying nursing is not only about the coursework and the classes. You'll also need the proper gear for nursing school.
This means more charges along with your tuition, fees and cost of books.
Here's a snippet of what that might cost:
Books ($4,500-$8,500) *
Scrubs ($30-50)
Lab Coat ($15-50)
Medical Supplies ($200 or more)
The kit includes everything from the stethoscope, penlight to proper nursing shoes.
Laboratory and Tech Room ($50-300)
Some nursing schools might not combine the lab fee and the tuition fee. So you must be prepared to pay for the facilities each semester.
Admissions fee and miscellaneous expenses ($100-500)
Liability Insurance Policy (Starts from $35 per year) The insurance protects you in case of an incident of malpractice during your clinical hours.
Besides this, nursing schools request that students get mandatory immunizations to protect them from health risks during their clinical work. The vaccines can cost $100-$400 depending on which shot you get, where you get it and your health insurance.
Adding to this is the licensing and exam fees, which can cost about $300 and $200, respectively.
Overall, the estimated cost for these items is roughly $1,030 to 1,935 per semester/year.
It's important to note that some of these expenses might be part of your semester fee. They may also vary depending on when and where you purchase these things from. However, it's important to have a rough estimate with you when you begin.
(*Prices were reference from the Missouri State University College of Nursing website.)
The Grand Total: How Much Will Nursing School Cost?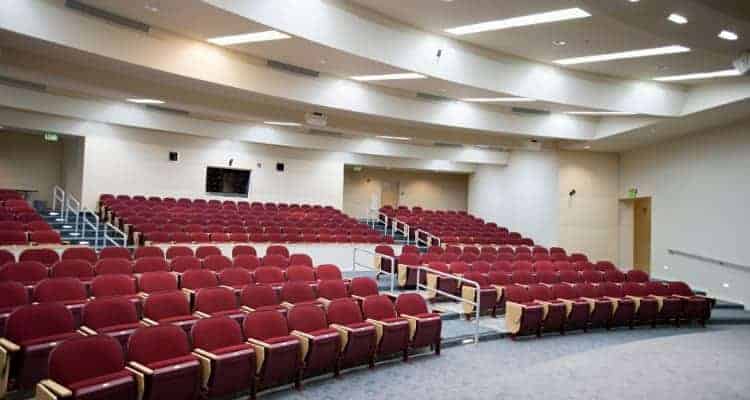 There is no straightforward answer to this question. As you can see, there are multiple variables at play when you think about the average cost of nursing school.
Because of that, you'll get different figures when you pull out numbers from your list of LPN or RN colleges.
For instance, the estimated cost of studying for an undergraduate program from Penn Nursing is around $76,444-$78,186 (source). In contrast, Missouri State University is charging $44,479-$75,479, depending on whether you are an in-state student or an out-state student (source). The fee rises when you undertake masters or Ph.D. degrees from a place like Columbia University (source).
The stark difference between their tuition and fees is a clear indication of how certain factors influence the final cost. You may want to look at each school's cost breakdown to gain further insight about each program.
How to Pay for Nursing School?
Each college has its own rules and regulations regarding paying your tuition and fees. Some want cash upfront. Others may allow you to pay by installments.
Related Article: How I Paid for Nursing School
If you think you'll face financial issues during nursing school, then you can always ask for financial aid. Scholarships and student loans can also be a lifesaver.
What else? An alternative option is to become a nursing assistant or medical assistant first. After that, you can ask your employers for tuition reimbursement (source).
Related Article: Medical Assistant vs Nurse
Your employer's support (if they offer tuition reimbursement) will lessen your financial burden immensely. The best part is that this deal provides you with job security post-graduation since many of them will want you to commit to working for them after becoming a nurse.
Is It Worth It?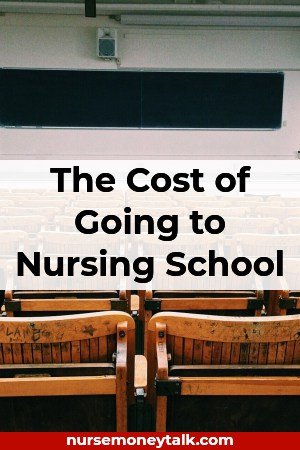 Yes, it is.
Don't let these figures discourage you from pursuing a nursing career.
According to the Bureau of Labor Statistics, the average salary of a registered nurse is $71,730 (source). Your experience and nursing specialty will affect your salary. This makes nursing one of the highest-paying professions in healthcare.
Even though nursing school seems expensive, you'll get that money back once you start your professional life. Plus, think of all the great career options you'll have once you become a nurse.
Related Article: Is Being a Nurse Worth it?
The Bottom Line
Nursing school is not cheap. But, because it's a gratifying profession, that comes with a high paying job, and the ability to serve others makes it a worthwhile option in the end.
Frequently Asked Questions
Is nursing school expensive?

Taking into account tuition, fees, books, and living expenses nursing school can cost upwards of $40,000. While it's not the most expensive degree out there it's also not the cheapest either.
Related Article to Cost of Nursing School