5 Best Scrubs for Pediatric Nurses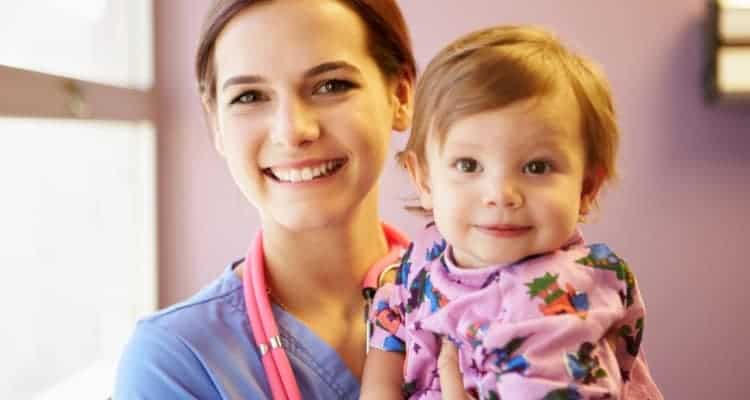 Pediatric nurses take care of some of the most fragile, sensitive patients, which makes them a critical part of the healthcare system.
As such a valued member of the healthcare field, they deserve to wear the most comfortable scrubs.
These are 5 of the best scrubs available for pediatric nurses.
*Disclosure: This article on the best scrubs for pediatric nurses may contain affiliate links. If you click and make a purchase, I may receive a commission. For more info, please see my disclaimer.
Quick Look
Best Scrubs for Pediatric Nurses
1. Cherokee Disney Women's Mock Wrap-Top (Minnie Pattern)
This Cherokee Disney Women's Mock Wrap-Top scrub top will put a smile on the youngest pediatric patients.
The cheerful Minnie Mouse pattern is made modern by a black and white base with red trim and sweet polka dot detailing on the bottom half of the scrub top.
It's made from 100% cotton so it's soft and machine-washable.
The mock-wrap top has a drawstring waistband so it creates a custom, comfortable fit for every body shape.
There are also two large front pockets for storage.
Pros:
Cute design
Modern, mock-wrap style
Two large front pockets
Cons:
Only black and white color option
Sizing runs small
Material is not stretchy
Check the price of the Cherokee Disney Women's Mock Wrap-Top on Amazon.com.
2. Dickies Women's V-Neck Top
The Dickies Women's V-Neck Top comes in 35 different colors and patterns, including fun animal prints and stylish floral prints.
In addition to the wide variety of design options, this scrub top also features a modest v-neckline that is appropriate for all different healthcare settings.
Made from a blend of cotton, polyester, and spandex, this scrub top holds its shape while also allowing for some stretch and comfort.
It's machine washable and features two large front pockets and a bungee loop for storing all of your nursing essentials like pens, stethoscopes, and thermometers. ➡ Related Article 5 Best Stethoscopes for Pediatric Nurses
Pros:
35 design options
Modest v-neckline
Two storage pockets and bungee loop
Cons:
Length of scrub top is short
Material is a little stiff
May shrink in the clothes dryer
Check price of Dickies Women's V-Neck Top on Amazon.com.
3. Dickies EDS V-Neck Scrub Top
Made with just enough spandex to provide a little give and stretch, this Dickies EDS V-Neck Scrub Top is ideal for all body types.
The cotton makes it machine-washable while the spandex helps it hold its shape and move with you while you work.
It comes in 23 great color combinations and patterns like cats and hearts so it's as appealing to patients as it is to nurses.
Two large front pockets hold several nursing tools, making it just as useful as it is stylish.
The generous length fits well on even the longest torsos.
Pros:
23 color options
Two large front pockets
Generous 26″ back length
Cons:
Sizing runs small
Odd fit in the shoulder area
Material is a little thin
Check price of the Dickies EDS V-Neck Scrub Top on Amazon.com.
4. CHEROKEE Tooniforms Women's V-Neck Top
This CHEROKEE Tooniforms Women's V-Neck Top features some of the most popular cartoon characters like Ariel, Nemo, and Moana.
The vibrantly-colored scrub tops boast a modest v-neckline and a large side pocket for easily storing nursing must-haves like pens and notepads.
The polyester/spandex fabric stretches with you as you move so you're in ultimate comfort all day long.
It's also machine-washable and can be dried in the clothes dryer without it losing its shape or fading.
Because of the superior fabric, it resists wrinkles so you look professional and put together every time you wear it.
Pros:
Fun cartoon characters
Machine-washable polyester/spandex fabric
Resists wrinkles
Cons:
Pockets tend to fray at the seams
Sizing runs big
Fabric isn't very breathable
Check the price of the CHEROKEE Tooniforms Women's V-Neck Top on Amazon.
5. Just Love Women's Scrub Tops Scrubs Nursing Scrubs
Cute designs and soft, stretchable fabric is what sets this Just Love Women's Scrub Tops Scrubs Nursing Scrubs apart from the rest.
It comes in 14 different designs, including owls and frogs.
The v-neckline is modest enough for work and features a thick border detail.
Made from a cotton/polyester fabric blend.
The material on this scrub top is thick enough that you don't need to wear a shirt underneath, but it's also breathable so you won't get hot during your shift.
It's also machine-washable and avoids wrinkling and shrinking.
Pros:
14 design options
Breathable cotton/polyester fabric blend
Machine-washable and resists wrinkles and shrinking
Cons:
Material is stiff
Colors fade with frequent washes
Sizing runs a little big
Check the price of the Just Love Women's Scrub Tops Scrubs Nursing Scrubs on Amazon.
Scrub Buying Guide for Nurses
1. Machine Washable
Nurses, particularly pediatric nurses, encounter many spills and accidents throughout the day.
By the end of their shift, scrub tops and bottoms may be stained with bodily fluids, chemicals, pen marks, and more.
Wearing scrubs made of material that is machine washable can make the cleanup process much easier.
Machine washable fabrics include cotton, polyester, nylon, spandex, acrylic, and acetate.
Fabrics that aren't machine washable include wool, silk, rayon, and linen. Follow the garment's washing instructions to avoid shrinking or damaging the fabric.
2. V-Neckline
V-necklines are one of the most popular neckline choices because they give a garment a bit of a modern touch.
Not all v-necklines are appropriate for work, however. Deep v-necklines are better suited for after work hours.
If you do want to wear a scrub top with a low v-neckline, simply wear a t-shirt underneath for added coverage.
V-necklines are also appropriate for male nurses to wear, as long as the v-neckline hits above any chest hair.
You should always check your employee handbook for the specific dress code policy for your workplace.
3. Breathable
Even in cooler weather, nurses can get hot while working during their shift.
Running from patient to patient and working on floors with very little circulation can leave you drenched in sweat by the end of your shift.
Natural fabrics like cotton and linen are more breathable than synthetic fabrics like polyester and rayon.
You can also choose a garment with moisture-wicking technology that soaks up sweat and keeps it away from the skin, leaving you cool and dry throughout your shift.
Avoid these other fabrics if you have a tendency to sweat:
4. Pockets
Nurses carry around a lot of tools during their shift, including:
Storing all of those tools in pockets keeps them handy and easily accessible while working on patients.
Most scrub tops and bottoms come with at least one pocket, but the type of pocket can make all the difference when it comes to storing your essential nursing tools.
Large, front pockets are the best for holding large items like stethoscopes.
Slant pockets aren't recommended as items have a tendency to fall out with movement.
Having a specified loop or pen slot is also a helpful feature for avoiding ink stains. If you do have ink stains, they can be removed with rubbing alcohol or hairspray.
5. Stretchy
Nurses do a lot of lifting and moving during their shift, so having scrubs made from stretchy material can be a huge bonus.
Scrub tops made from a blend of natural and synthetic fibers like spandex and Lycra are both comfortable and stretchy.
Not all synthetic fabrics are machine washable and tend to shrink when washed in hot water.
Scrubs made from spandex or Lycra should be hand washed to avoid shrinking.
Final Thoughts
Pediatric nurses feature many unique challenges, including treating patients that may be unsure or frightened of their new surroundings.
A cheerful scrub top can help put a patient at ease while also allowing the nurse to feel comfortable throughout their entire shift.
These 5 scrub tops offer all those features.
Frequently Asked Questions to Pediatric Nurse Scrubs
Related Articles