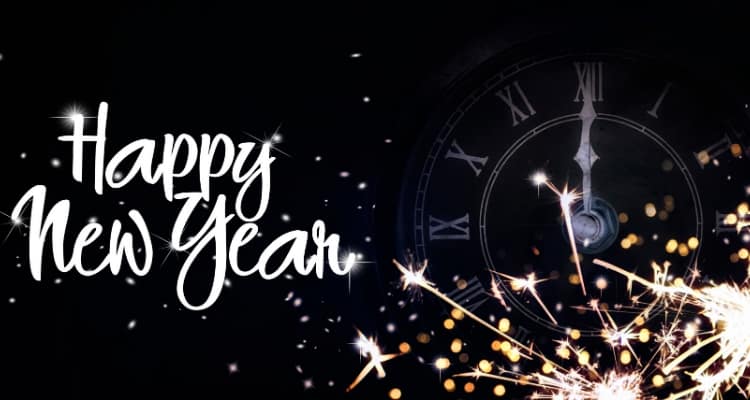 As you start the new year, one of the things you should do is to reflect on the past year.
After reflecting you'll want to go ahead and set new goals for the coming year. To help you we're going to give you some ideas.
*Disclosure: This post may contain affiliate links. If you click and make a purchase, I may receive a commission. For more info, please see my disclaimer.
New Year Goals for Nurses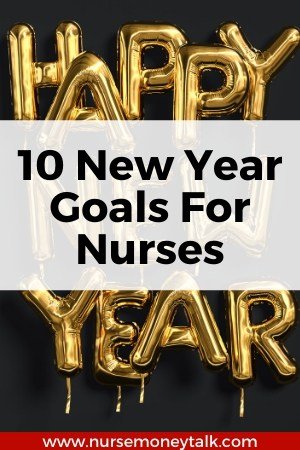 Below are some new year goals for nurses.
1. Be Healthier in the New Year
Health goals as a new year's resolution get overplayed a lot.
But honestly, we think it's still worth mentioning because your health will be even more important in the new year than the last primarily because you'll be one year older.
To achieve health goals, many of us set unrealistic expectations or try to get on fad diets that are not only not effective in the long run, but many of them can actually be harmful (source).
A better alternative is to set realistic goals and look at creating lifestyle changes. For example:
Related Articles: 15 Actionable Weight Loss Tips for Nurses
2. Go Back to School
Have you been wanting to go back to school, but have been putting it off?
Maybe you're an LPN trying to get your RN. Or an ADN trying to get your BSN.
You could be a BSN trying to get your MSN and become an advanced practice nurse.
Regardless of what you're trying to advance to let the new year be the year you finally start the process.
3. Be More Altruistic / Volunteer More in the Community
Many of us could be more altruistic. Maybe you've wanted to donate to a cause you really support.
Or volunteer your time to help those in need.
As nurses, we're fortunate that we're blessed with the monetary potential and the skill set to either donate our time or talents to serve others.
4. Being More Current with the Latest EBP
We all know health care is forever changing, and what was the pinnacle of practice 12 months ago could be considered harmful to patient care.
If you haven't read up recently on the current evidence-based practice in awhile maybe this is the year to do it.
5. Make More Money
We could always use a little more money, but perhaps you want earn more so you can save up for something.
While the obvious answer to this is to work overtime shifts there are a couple other options you have if you're trying to earn more money as a nurse.
Make sure to check out that linked article to see what all those options are.
6. Ask for a Raise
Ok, this one would go in the make more money category, but we felt like this was worth singling out.
Many nurses don't realize this is an option and while many facilities do make it difficult there are certain things you can do to try to get your nurse raise.
Pro-Tip:
Don't be fooled by the notion hospitals only pay based on seniority.

While there might be some hospitals who are sticklers for this, I would be shocked if you didn't find a nurse who was your junior making more money than a senior nurse.

It's all about negotiation.
7. Become a Travel Nurse
If you've always wanted to be a travel nurse and you've been holding back your dream, why not make this year your year to do it.
I know it's not that easy, and you probably have so many hesitations like the fear of always working in a new facility or how to deal with certain benefits you might not have anymore once you start traveling.
Maybe your issues are more practical, like you have a pet, and you don't know if you can bring a pet with you travel nursing.
A quick google search or looking at some of the resources we have on this site might be able to shed some light on some of the questions holding you back.
Pro-Tip:
Many nurses have found travel nursing as a way to make more money than they would as a staff nurse.

Or many nurses use it as a way to travel around to different cities or states.
8. Be Financially Savvier
This new year's goal is all-encompassing and can mean different things to different nurses and their families.
Maybe you need to start saving for your nurse retirement. Or do you need to learn how to better budget?
Perhaps you have too much debt, and you need to get a plan to pay it off.
Here are some helpful articles on improving your finances:
There's a lot of freedom that comes with your finances being financially sound. The other thing is that getting a handle on your finances is a good way for you to accomplish your goals such as buying a house.
9. Be a Better Nurse
Every year you should have some goal of bettering yourself. This could be as simple as just trying to be more positive in the new year. Some other ways:
Providing better patient care
Being a better nurse coworker
10. Read More
Reading is such a wonderful thing. You can read for fun and leisure or you can read to learn new things.
If you didn't read a book this past year maybe make a goal of reading one book for the upcoming year.
Check out some of our recommended books for nurses. If you're a nurse leader we also have some recommended nurse leader books.
11. Get a New Job
If you've been unhappy in your current job all year and it probably won't change in the new year, maybe it's time to find another job.
Some things to keep in mind is to understand why you're unhappy at your current job. Is it:
Because you don't like your manager.
Because you don't like the facility.
Because you don't like the nursing specialty you're in.
Are you getting burned out of nursing?
Understanding why you're unhappy will help you decided what you need to do next.
If you do decide you're going to switch jobs:
Figure out what jobs you're interested in. (You can check out our list of top nurse job boards).
Prepare your nurse resume.
Prepare a nurse cover letter.
Apply to the jobs you're interested in.
When you get called back for an interview make sure to prepare for the interview. Some helpful articles include:
Pro-Tip:
Don't forget to send your interviewer a thank you letter after the interview.
Pro-Tip:
Make sure to give a two-week notice and a resignation letter to your current employer. Don't just quit without notice.
Frequently Asked Question About New Year Nurse Resolutions
1. What are some tips for picking a new year's resolution?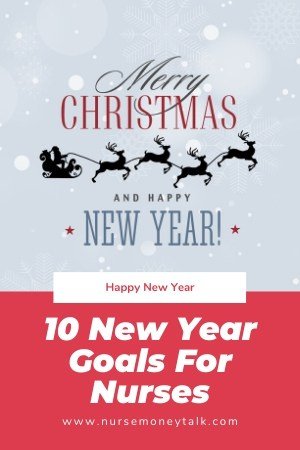 If you're trying to pick a new year's resolution, you should make them SMART goals. While I go over how to pick SMART nursing goals in the linked article, I'll go over it briefly here.
The first is to pick SPECIFIC goals. (If you don't choose a specific goal, you're going to get overwhelmed eventually.)
Pick MEASURABLE goals. (If you can't measure it, how will you know when you accomplish it.)
Pick actually ATTAINABLE goals. (In other words, don't set goals that are so unrealistic that you never had a chance to achieve it.)
Pick RELEVANT new year goals. (Your goals should be directly related to what your efforts are.)
Pick a TIMELY new year's resolution. (In other words, your goals should have a time frame, so you know what your target is.)
Final Thoughts
Happy New Year! We hope this article will help you reign in the new years with the right goals.
What are your new year goals? Let us know in the comment section below.